Categories: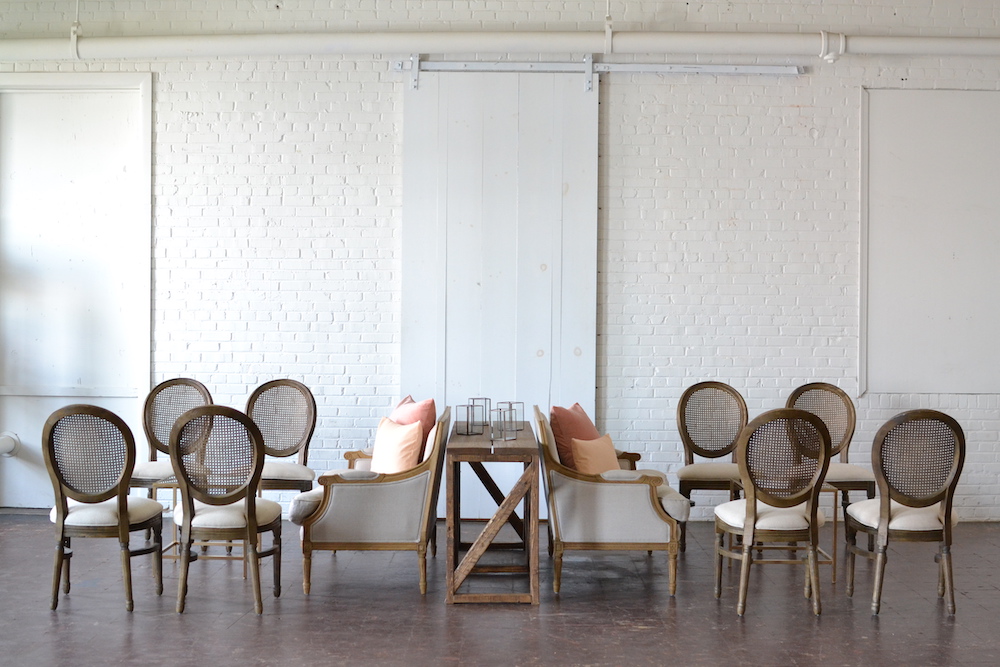 Today on #inspirationstation we wanted to share how to utilize the Wooden Console Tables! These custom built pieces are a great way to layout lounge area either facing each other or facing away from each other. They provide a visual divide between two set ups and offer additional surface space for florals, decor, and lighting!
Below, we laid out two matching lounges with our Linden line! This line included the Linden Settees, Linden Chairs, and the gold and glass tables!
The first set up shows two Console Tables hugging the two lounges facing each other to create a larger footprint!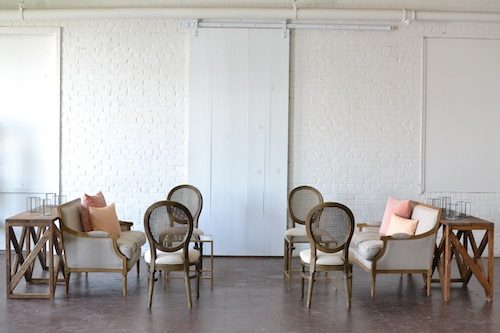 This second options shows a single Console Table dividing the 2 lounge set ups so they are facing opposite directions!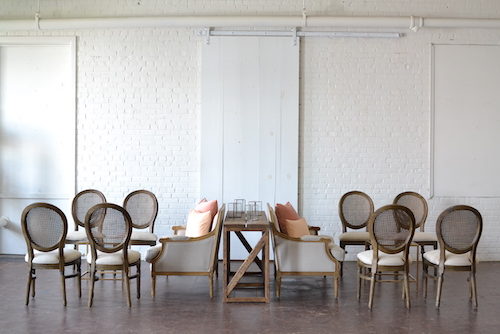 So when would you do this you ask?
These are design options when filling a large space like a ballroom or under an airy tent. Perfect for separating the reception dinner from the dance floor area!
A real wedding where the console table was utilized beautifully was this colorful celebration at the Science Museum of Virginia by Jessica Maida Photography and designed and planned by Alyson Taylor Events with florals from the Proper Petal!
The client chose some of our favorite colorful upholstered items to utilize in their cocktail hour. Seen below is the navy blue velvet couch, Billings / raspberry pink sofa, Isabella / eucalyptus settees, Westbys / vibrant green tall back arm chairs,Wicklows / and the burgundy settee, Marceline!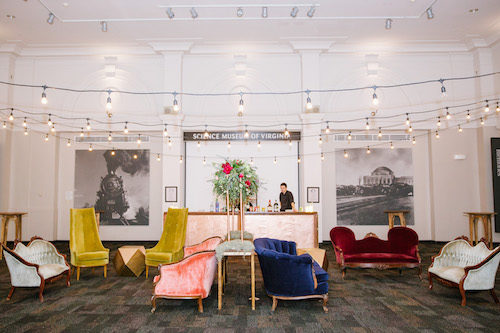 Paisley & Jade is a vintage & specialty rental company based in Richmond, VA and serving Virginia, North Carolina and Washington, DC.  We maintain an inventory of gorgeous & unique furniture and decor pieces that you can use to create one-of-a-kind event spaces, weddings, photo shoots, and trade show displays.  To learn how Paisley & Jade can help enhance your next  visual display or special event, please contact us today!