Categories: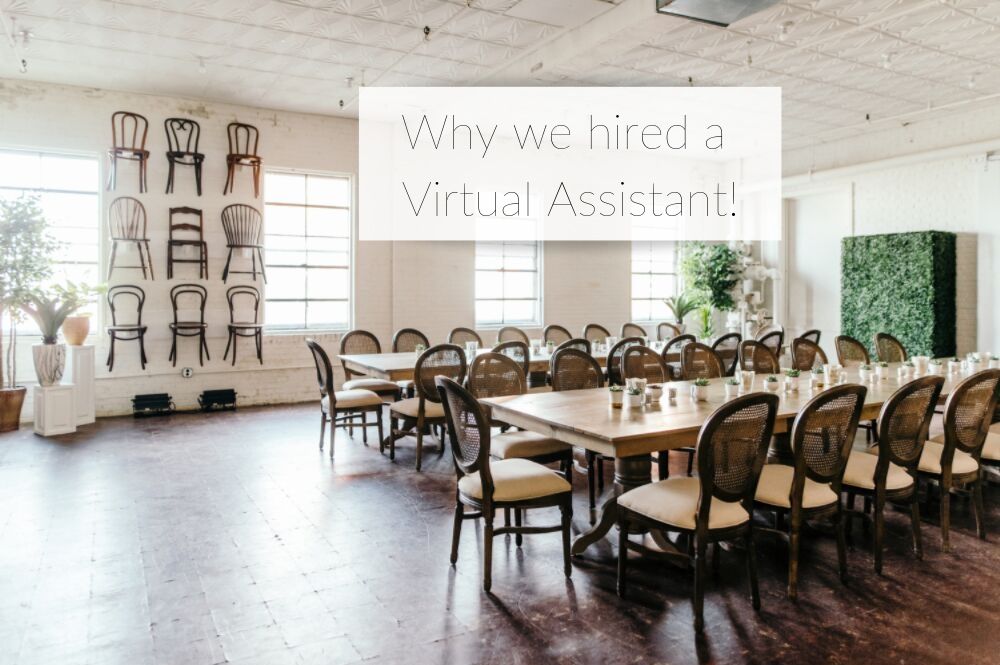 We added a Virtual Assistant to our team in April of this year, and it has been a GAME CHANGER for our team & business.  We thought we'd take some time today and talk about why we decided to hire a VA, why we chose Rock Solid Assistants, and what our VA does for us!
If you're interested in hiring a VA, we definitely recommend reaching out to Rock Solid Assistants!  If you mention we sent you along, you'll receive 10% off your first invoice!!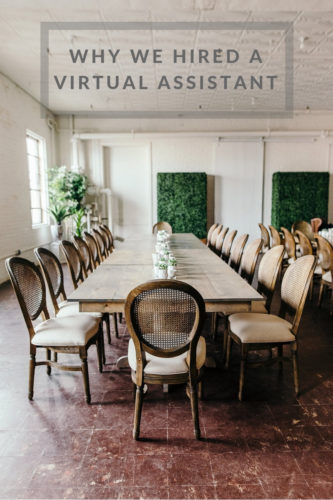 Why did we hire a VA?
As we moved into our spring season this year, we knew we had some higher-level projects we wanted to accomplish this year, but felt like a lot of our team was spending time just "doing the things" that needed to get done day to day.  We also realized that the list of things we would do "when we have time" was growing, and that the extra time just wasn't materializing!!  We made a list of all the things we'd like to delegate, and then chatted through the cost-benefit analysis of getting some help.  We knew that adding to the team would have a cost, but felt strongly that our team could work more efficiently, serve our clients better, and accomplish bigger projects if we delegated some tasks to someone else.  We discussed potentially hiring someone to work here at the office, but decided to go with a VA for two main reasons – 1) Working here at #highpointandmoore is distracting!  With rental orders going in and out constantly and event "emergencies" popping up, it can be hard to focus.  None of the tasks we were delegating required a physical presence, and we felt that whoever took these on could be much more productive if they only had to focus on their responsibilities. 2) Going virtual meant that we could find the perfect fit for us with fewer restrictions – no need to worry geography, time zones, etc – as long as they could perform the tasks, they could be anywhere!
Why did you choose Rock Solid Assistants?
We looked into several options for hiring a VA, and going through Rock Solid Assistants was an easy choice for us!  We knew from the get-go that we wanted to hire a VA through a company (rather than directly hiring an individual).  We just didn't have the bandwidth at the time to go through a formal hiring process, and we wanted to reduce the risk of hiring someone who wasn't the perfect fit!  We had a great video call with Tracy, the owner, and she wanted to know all about us – as a business AND as people.  She asked all the usual questions – what we thought our VA would do for us, and what skills we wanted them to have, but she also wanted to know about our pet peeves, and what qualities in people we admired.  She told us all about their vetting process for VA's, and it is THOROUGH – quite honestly, more thorough than what we could have done on our own!  We also loved the flexibility they offered – there isn't a long term contract, and we could start with having our VA do just 10 hours per week (but with the potential to increase if needed!)  Rock Solid also has its own support system for their VA's, and they have been so diligent about checking in, making sure everything is working well, and giving us tips and strategies to maximize our relationship with our VA. We loved that the process at Rock Solid wasn't about matching us with any VA – it was about matching us with the right VA.  And they certainly nailed it with us!
Who is our VA?
Meet Alysa!  It's so funny to be introducing her to you, since we've still never even met her *in real life*, but it feels like we've known her forever!!  Alysa's based in Wisconsin, and also is the owner of Alysa Rene Photography! (Check out her photography on Instagram!)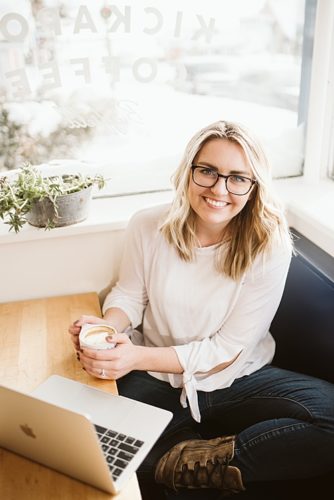 Photo by Chelsea Rae Dobs.
Alysa has been the perfect fit for us – as a creative entrepreneur herself, she just *gets* certain things that can be hard to teach.  She also is so skilled in many of the technology platforms we are using here at P&J, like
Planoly
, WordPress, social media outlets, and more!  We also loved that she has experience in events –  we don't need to explain that if a photo has a cake in it, that we need to tag the baker!  She's 100% the perfect fit for us, and we have Rock Solid to thank for that!
What does our VA do for us?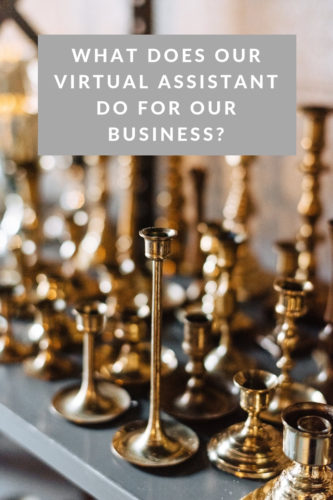 Our VA focuses her time on two areas: one-time projects & recurring tasks.
We started with some one-time projects that helped us all to get to know each other AND got a fresh set of eyes on some things we maybe hadn't looked at super closely recently 😬.  These included things like a full content review of our website (grammar, hyperlinks, etc), a full inventory review to make sure all the items listed on our website had complete information, and catching up on some administrative tasks we had let slide as we pushed through the busy spring event season.  It was such a relief to see these things that had been on our to-do list for MONTHS get crossed off the list in a matter of weeks!
For recurring tasks, our VA is responsible for things like:
Emailing clients post-event for follow-up and reviews
Handling press features and the tasks associated with them (commenting, pinning, etc)
Digitally filing receipts
Reporting monthly marketing stats (engagement, followers, etc.)
Updating a monthly networking document that lists events we might want to attend
Updating new inventory in our inventory management software, RW Elephant (adding item descriptions, tags, pinning these items to Pinterest, etc.)
Monitoring social media channels to make sure comments and messages are seen and responded to
Uploading and tagging photos in our photo database
But the two biggest things she assists with on a regular basis are blogging and social media content.  Our regular blogging schedule and engaged presence on Instagram and Facebook are integral to our marketing strategy, but these can also take a ton of time and energy.  Before we had a VA, we often found ourselves typing up blog posts in the middle of the night, panic posting on social media because we hadn't pre-planned content, and stressing over needing to upload photos and hyperlink content and the blog when we could have been focusing on clients. Now that we have a VA these tasks are now running seamlessly, and the process looks like this:
Social Media:
P&J uploads daily content to Instagram using Planoly and captions appropriately
Then, the VA magic happens:

Each caption gets reviewed for grammar, spelling, vendor credit, etc
Each post gets the photo tagged with vendors, geotagged, hashtagged, and scheduled to auto-post
Daily content is replicated to Facebook drafts, with a modified caption and scheduled to post
Blogging:
P&J sets blog content schedule
VA sets up blog posts, including title, tags, photos, and a hyperlinked vendor list (if it's a real wedding)
P&J logs in and writes the body of the blog post
VA reviews for grammar, spelling, vendor credit, additional hyperlinks and schedules it to publish
Once published, the VA pins the photos from the post to our Pinterest
Taking these items off our plates has allowed us to focus more on our clients and the "big picture" projects in our business.  But perhaps one of the best things delegating these tasks has done for us is forced us to have a plan in advance!  Our VA needs to know what our content calendar looks like and what blog posts are coming up, so this means we are planning and preparing our marketing strategy earlier since we are accountable to someone else.  We would shout it from the rooftops if we could, but hiring a VA has made us better business owners and better business strategists, since we are forced to think ahead and provide guidance and tools – rather than just doing the thing ourselves!
How do we communicate?
We keep things super simple – one 30 minute (or less!) video meeting once per week, and then emails and texts as needed. For training, we record screen videos on our computers of us explaining/doing the tasks (and supplement with written SOPs as needed).
Has it been worth the investment?
100% one hundred times over – our only regret is we didn't hire a VA earlier!!
If you're interested in hiring a VA, we definitely recommend reaching out to Rock Solid Assistants!  If you mention we sent you along, you'll receive 10% off your first invoice!!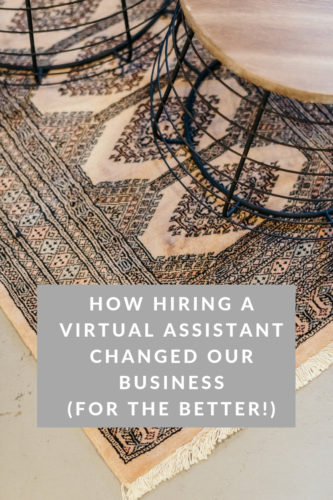 Disclaimer: Some of the 

links

 in this post are 

affiliate

-based, and we may receive a discount or small compensation for referring you!  Rest assured, we refer these products & services because we love them & use them – anything else is just a bonus!!
Paisley & Jade is a vintage & specialty rental company based in Richmond, VA and serving Virginia, North Carolina and Washington, DC.  We maintain an inventory of gorgeous & unique furniture and decor pieces that you can use to create one-of-a-kind event spaces, weddings, photo shoots, and trade show displays.  To learn how Paisley & Jade can help enhance your next  visual display or special event, please contact us today!
SaveSave
SaveSave