Categories: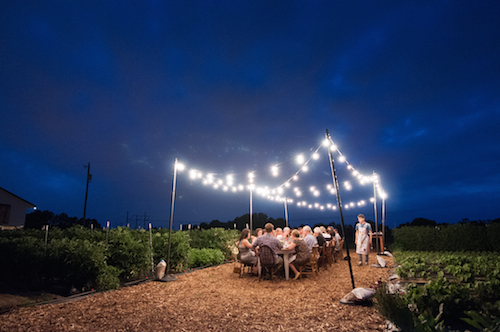 We were delighted to be apart of the Farm to Table Dinner's that The Boathouse is putting on this summer! The dinners take place outdoors at Victory Farms here in Richmond and Chef Paige Healy offers a unique cuisine experience of fresh, local and organic produce literally straight from the vine to the table. Speaking of tables, guests dined at our heritage farm tables accompanied by our mismatched wooden chairs. During the cocktail hour when guests arrive they can relax and take in the view with a lounge area and lighting by Mosaic Events.
The Boathouse is offering Farm to Table Dinners at Victory Farms here in Richmond Friday and Saturday evenings during the summer. Get in touch to see available dates!
Paisley & Jade specializes in vintage and eclectic rentals and custom fabrications for events, weddings, photo shoots, photo booths and other visual displays.  We maintain an inventory of gorgeous, unique furniture and decor pieces that you can use to create one-of-a-kind event spaces.  To learn how Paisley & Jade can help enhance your next  special event, please contact us today!