Categories: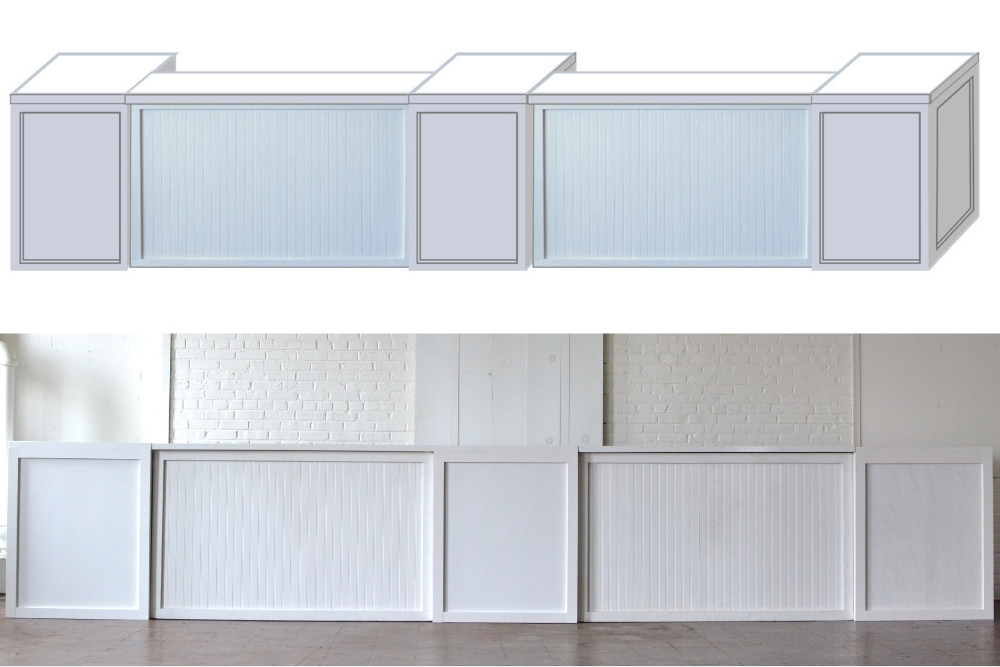 When P&J started in 2012, our collection was 100% vintage.  As our company grew, we got requests from clients for different items, such as bars, backdrops, and arbors, that weren't exactly something we could find at an estate sale.  We slowly dipped our toes into the waters of designing and building our own rentals, and over the years, these items have become some of our most popular pieces!  We wanted to take some time on the blog today and explain how that process works for us AND give you a sneak peek at some new pieces coming out of the P&J shop this spring!! (Want to see a bunch of things we've built over the years?  Check out this section of our inventory gallery on our website!)
We're often asked how we go about deciding what we are going to build, and honestly, the final decision has a lot of factors influencing it.  Some of the questions we ask ourselves include:
"Is it being requested by a client that is ready to book it if we build it?"
"Does it fill a need in our market?"
"Is this something that complements or 'goes with' other items in our collection?"
"How difficult/costly will it be to build and maintain?"
Once we've evaluated the answers to these questions, we often will start with a mock-up – a digital or hand-drawn version of the piece.  At this point, our entire team (sales, operations, production, and delivery crew) have the opportunity to weigh in on it, since each of these departments has different priorities (How will we store it? How heavy will it be? How much will it cost? How easy will it be to sell in conjunction with other pieces?, etc).  Once we've evaluated the piece from all angles, our AMAZING shop lead, Bobby, builds a prototype so we can see it in person, photograph it for the website, and make any tweaks that make it a better piece of inventory.  From there, we schedule the piece into full production and start pre-renting it to clients that are interested.  Once the final pieces are built, they become a part of the P&J family, & the rest is history!
Now that you know a little more about the process, we wanted to give you a sneak peek at some of the newest pieces that we are producing RIGHT. NOW. ☺️
Homestead Bar Column
When we debuted our Round Estate Bar last year, the response was overwhelming.  There was clearly a need for large-scale bars in our markets, and we knew we needed to provide additional options for our clients.  Rather than build ANOTHER large piece, co-owner Perkins suggested we look at creating connectors for our current Homestead Bars that would allow us to make them into a larger shape.  After going through the process above, we came up with our Homestead Bar Column!
Here's the piece as it was conceptualized: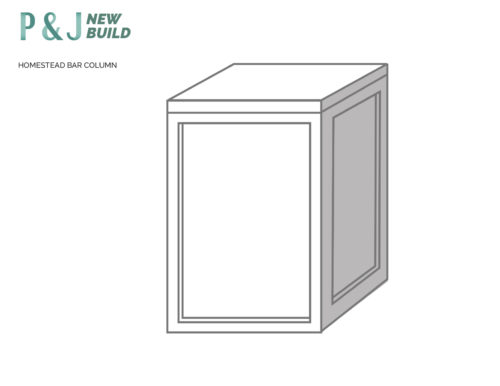 And here it is in real life: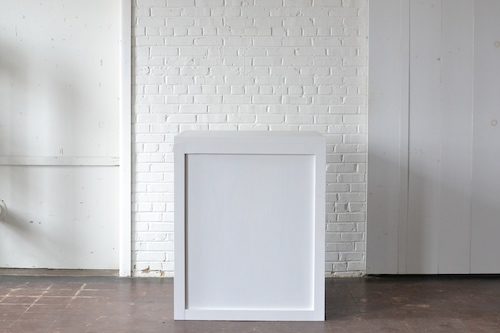 What we love about these columns is they match ALL of our Homestead Bars with White Tops – pair them with Shadowbox Bars, White Beadboard Bars, or Chalkboard Bars!
As mentioned above, the goal of producing these columns was make something that could help us create larger bars with our current pieces.  So, once we had a mock up of the Homestead Bar Column, we put together a mock up of what our White Beadboard Statement Bar would look like – using three columns and two of the White Beadboard Homestead Bars: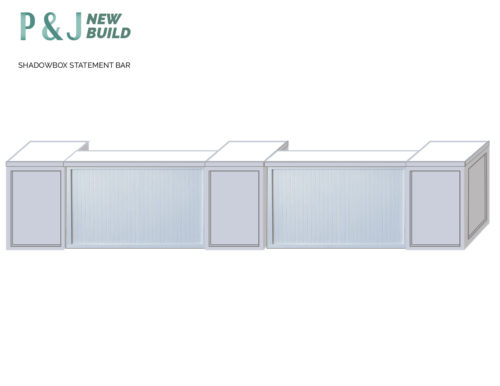 As you can see, it doesn't disappoint in real life, either!!!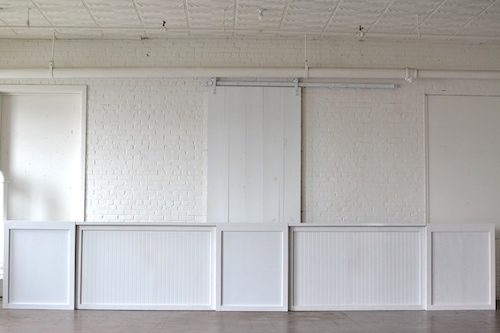 Taking this one step further, we went ahead and created a mock up showing what these columns would look like when used to create one large square bar: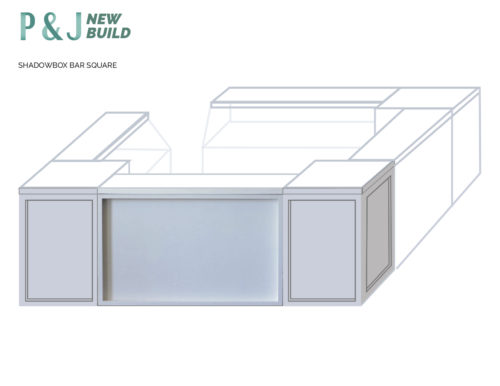 We are SO EXCITED about having this larger bar option available for our clients!  Doing this mock up first allowed us to think through sizing, staff entry/exit points, and how it would look all together.  We are so pleased with how it came out!!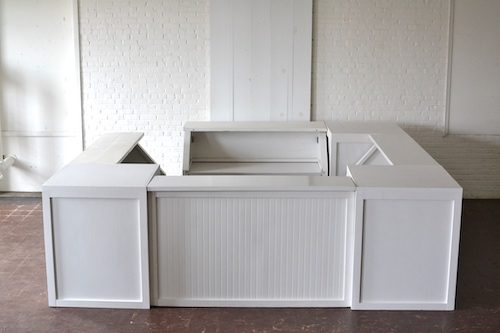 (As an added bonus, you could easily make it even bigger by doing multiple Homestead Bars on each side!)
We'd be totally remiss if we didn't take the opportunity here to shout out our AMAZING team of #pandjpeeps that make these #pandjpretties come to life.  Perkins & Erin work diligently with our clients to understand what they need and how we can provide rentals that MAKE their event.  Jamie, Josh, Dwyath and our delivery crew have a ton of great insight into what makes something easy to store, move, and maintain.  And of course – BOBBY!  He is the genius behind bringing these amazing pieces from concept to reality.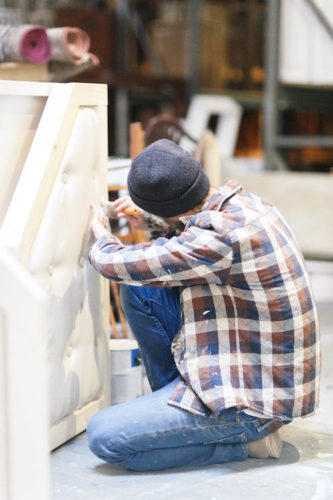 So, the question is – what else can we build?  We want to hear from you!
Paisley & Jade is a vintage & specialty rental company based in Richmond, VA and serving Virginia, North Carolina and Washington, DC.  We maintain an inventory of gorgeous & unique furniture and decor pieces that you can use to create one-of-a-kind event spaces, weddings, photo shoots, and trade show displays.  To learn how Paisley & Jade can help enhance your next  visual display or special event, please contact us today!
SaveSave
SaveSave