Categories: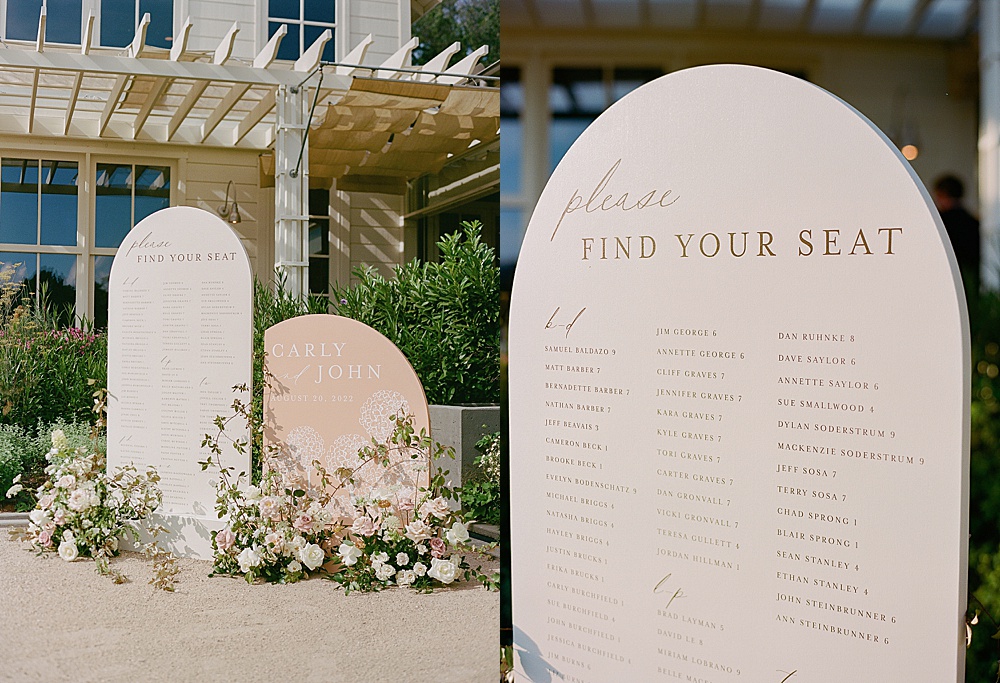 What is one thing you almost always see when attending a wedding… guest seating charts! Seating charts are great for wedding days for a variety of reasons. For starters, you can get creative with your signage! Seating charts really allow you to think outside the box. They can also act as crowd control. Things just feel so much more in order when your guests know exactly where to go. Check out some of our favorite seating charts we've helped clients create, using our backdrops and vinyl/handlettering customization!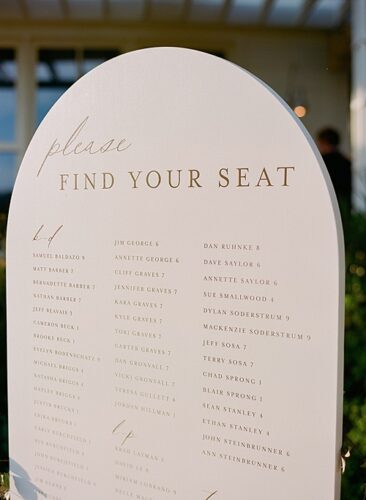 Everything about this seating chart display on our Tall Round Peach Panel
& Base is so lovely! It's simple, yet elegant and pleasing to the eye.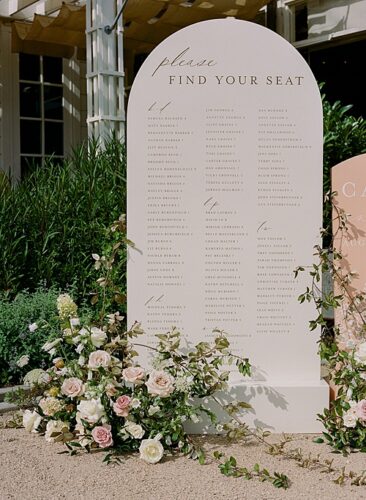 Sticking with a simple design for this seating chart allowed the florist to go crazy with the florals! So, so beautiful.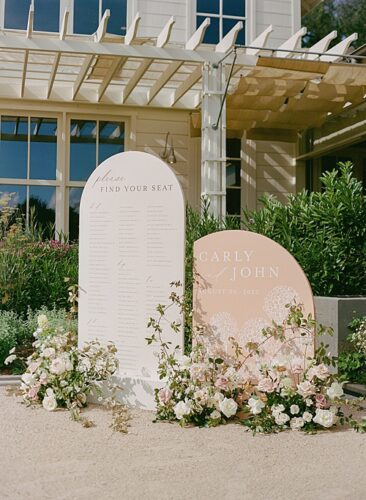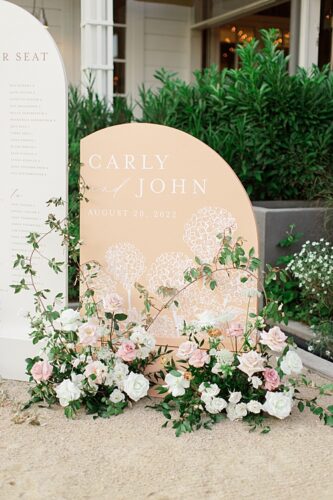 These clients chose to pair this beautiful welcome signage with the guest seating chart. They stuck with the same font and added a really beautiful vinyl floral detail!
(Simply Chic Wed / Clay Austin Photography / Pippin Hill Farm / Sweet Root Village)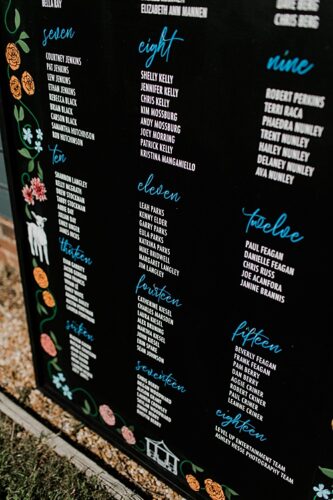 Bet you haven't seen this done before! Our client wanted to add some really special personalized touches throughout their seating display, including all of their favorite things.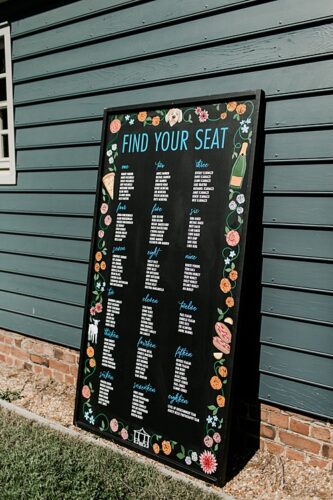 The border on our Freestanding Chalkboard Panel is completely handprinted and the table numbers and names were done in a really pretty blue, along with white. We absolutely love and appreciate how unique this display was and always encourage clients to get creative!
(Ashley Hesse Photos / Seven Springs VA)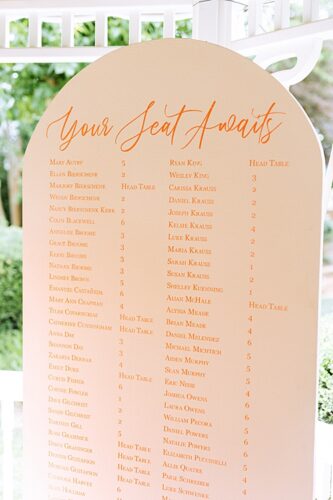 This client opted for a beautiful peach/orange font on our Tall Round Peach Panel
& Base.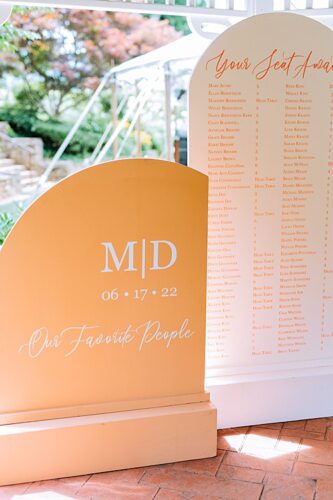 The font color complimented our Short Rounded Terracotta Panel & Base so beautifully!
(Heather Dodge Photography / The Joys of June for The One Moment Events / Keswick Vineyards)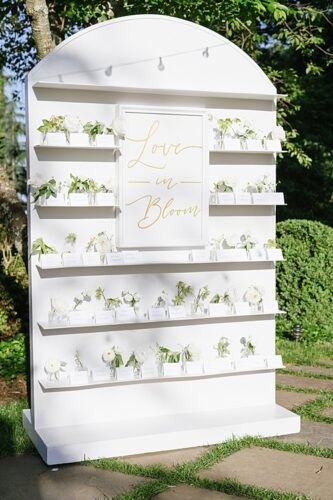 We love how creative this seating display was on our White Arched Display Wall! This client opted for fun vinyl signage to go along with their escort cards and florals!
(Jen Fariello / Exchange Events / Steelcut VA / Keswick Vineyards)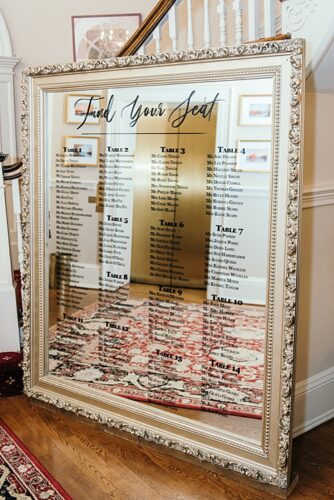 Our Oversized Gilded Mirror is a favorite for large guest seating charts. This piece is sure to stop guests in their tracks!
(Alex Tenser Photography / Roberts & Co. Events / The Commonwealth Club)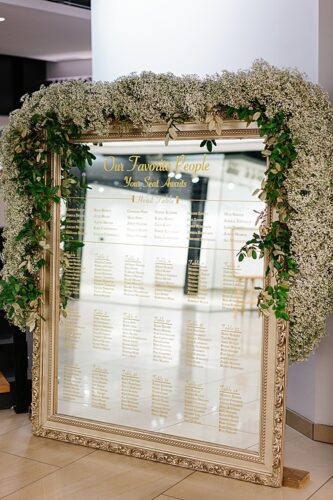 Another beautiful example of how to utilize our Oversize Gilded Mirror for a beautiful guest seating display.
(David Abel Photography / Grace and Lace RVA Events / Main Street Station)
See anything you loved? We have so so so many backdrop/signage options and are happy to customize pieces specifically for you! 
Paisley & Jade is a vintage & specialty rental company based in Richmond, VA and serving Virginia, North Carolina and Washington, DC.  We maintain an inventory of gorgeous & unique furniture and decor pieces that you can use to create one-of-a-kind event spaces, weddings, photo shoots, and trade show displays.  To learn how Paisley & Jade can help enhance your next visual display or special event, please contact us today!