Categories: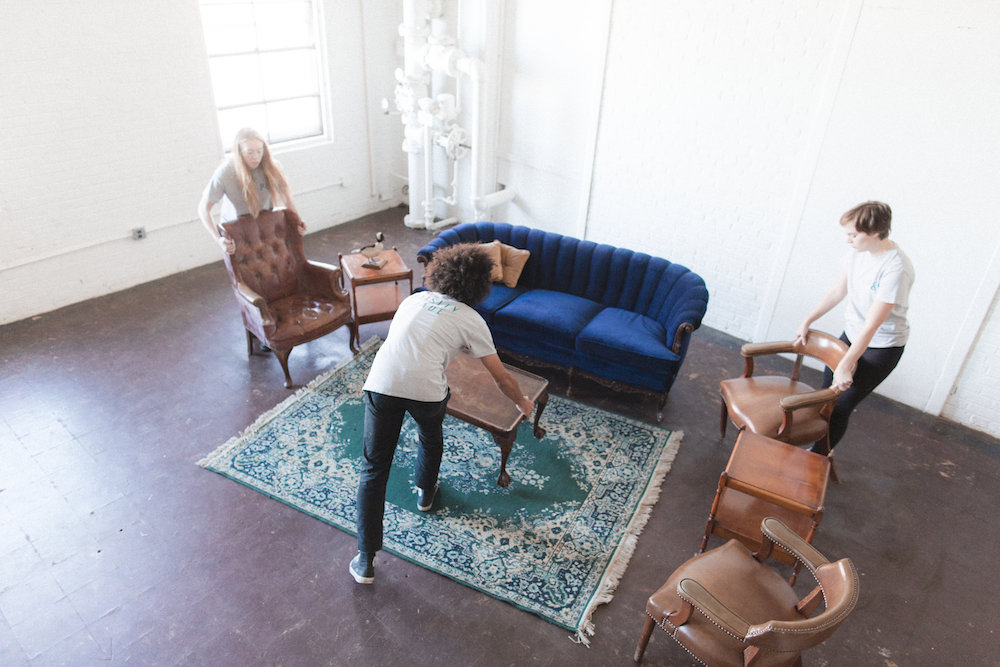 One of the things we love about the vintage & eclectic rental business is that we get to be surrounded by pretty things all day long!!  BUT – that's only one side of it.  When people ask us about our business, we always like to say that we are a glorified moving & storage company – that's how big a role delivery plays in our business.
When we started three years ago, Perkins and I (Morgan) delivered everything ourselves, bringing on extra hands only when we needed them.  We used a combination of our personal vehicles, a 6'x12′ covered trailer and short term rental trucks for bigger orders.  Looking back, it's crazy to see how much has changed!  Today, we own an 18′ box truck, lease additional vehicles when we need to, and have a full-time warehouse manager who oversees a part-time crew of  12 (!!!) awesome people… oh, and we still have that trusty 6'x12′ trailer!
One of the reasons we were always insistent that we deliver the items themselves is that we wanted to ensure our clients got the best quality product!  We struggled for a long time with the idea that anyone else could do deliveries as well as we could.  Would someone else know that the back castor on the Appomattox couch comes loose and needs to be retightened on every delivery?  Could we trust that someone else would hit every Heritage Farm Table with furniture polish before leaving the site?
At the end of they day, though, we realized that in order for our clients to get the best possible product and service, we needed to bring on more people!  We are a pair of strong ladies, but we do get tired!  And on busy weekends, we would be wiped out – and we knew our clients deserved a delivery crew that was as peppy on the first delivery day as they were on the fifth – which meant we needed to expand.  Also, if we are out doing deliveries all the time, how would we be able to give our best selves to our clients that we were meeting with about their events or waiting to hear back from us via email?  So, you see – we actually were treating our clients BETTER by bringing on a delivery staff!
This doesn't mean letting any old person drive off with a couch to meet a client, though!  We developed a training worksheet for our delivery crew, and work with them individually to make sure they know exactly what is expected.  Stephen, our AMAZING warehouse manager, quickly became an expert at the "P&J Way" – & now handles all that training on our behalf.
Having more staff available for delivery also means that we have more eyes on the collection and more skills to pull from!  It's SO easy to fall into the trap that something is done a certain way because that's how it has always been done!  Sometimes all it takes is a fresh pair of eyes to see it differently, and we always encourage our crew to share their ideas and thoughts with us!  Also, everyone has different strengths, and we know have a crew that is talented in so many areas that may come in useful on deliveries – from excellent navigators to emergency repair masters to great brand ambassadors.
Growth can be absolutely be a little scary, but sometimes it's the fear that pushes us forward.  We're so grateful for such an amazing crew here at #teampandj!!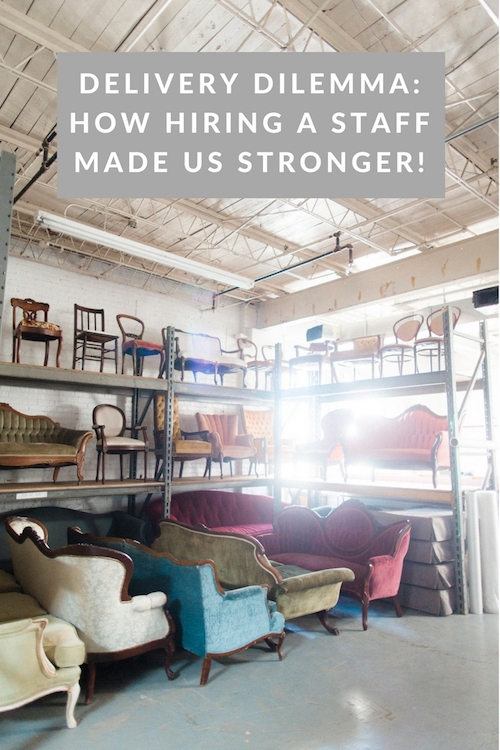 Interested in more behind the scenes business content from P&J?  Check out our online shop, where we have a FREE resource, Hashtags for Event Professionals, available for download.
Paisley & Jade specializes in vintage and eclectic rentals and custom fabrications for events, weddings, photo shoots, photo booths and other visual displays.  We maintain an inventory of gorgeous, unique furniture and decor pieces that you can use to create one-of-a-kind event spaces.  To learn how Paisley & Jade can help enhance your next  special event, please contact us today!