Categories: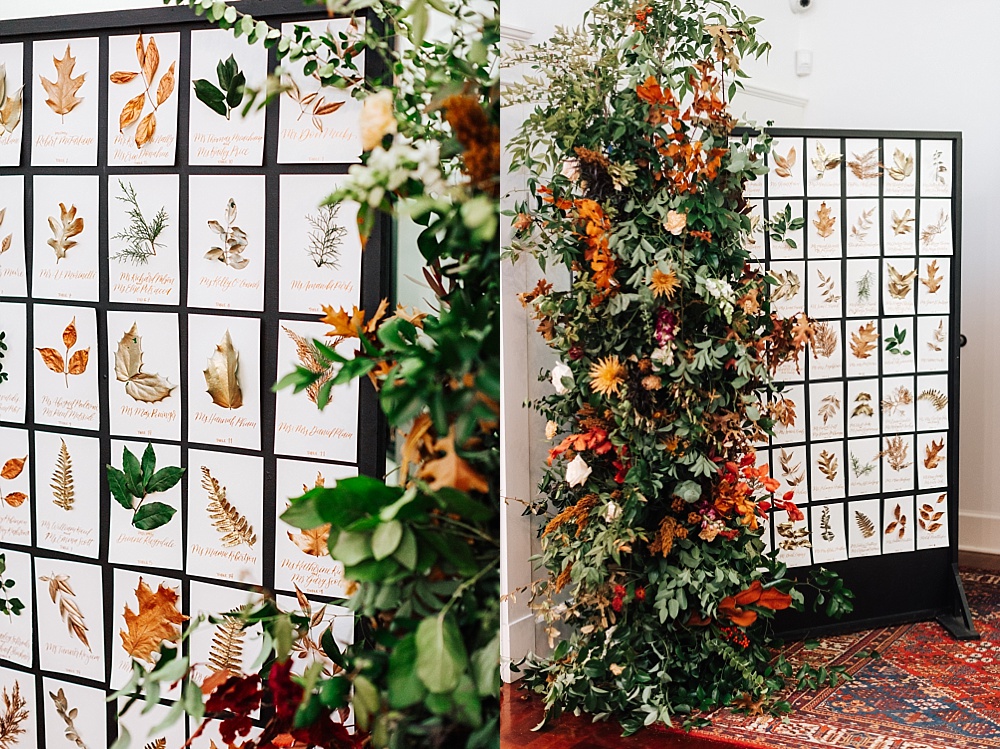 We love the endless possibilities that our Freestanding Panels offer for events. Let's take a look at some of our favorite ways these #pandjpretties have been used.
We are starting off with this classic piece, our 6′ Freestanding Acrylic with Wood Trim. Create a statement moment with this vinyl seating chart!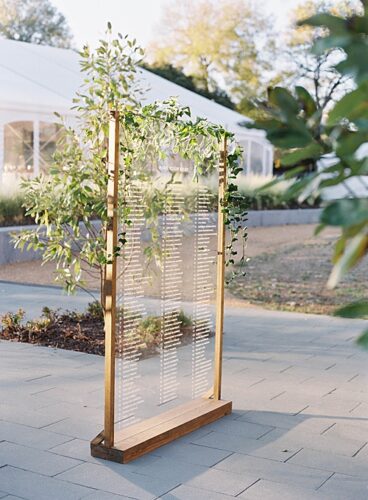 You can even dress up the freestanding panel with some greenery and florals!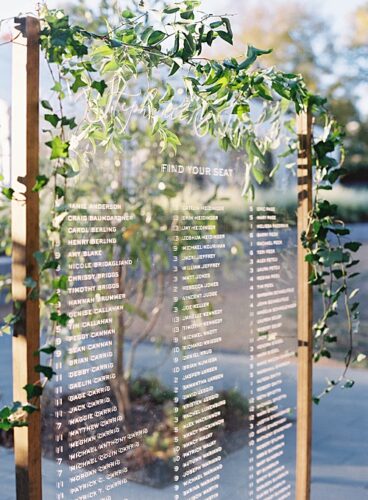 (Kim Stockwell Photography / For Love of Love / Petals and Twigs)
Acrylic is such a hot item, that we made options! (And a lot of them!) We took the wood trim acrylic and created a gold option! Take a look at our 6′ Freestanding Acrylic with Gold Trim and how it was transformed into this moody seating chart for a winter wedding!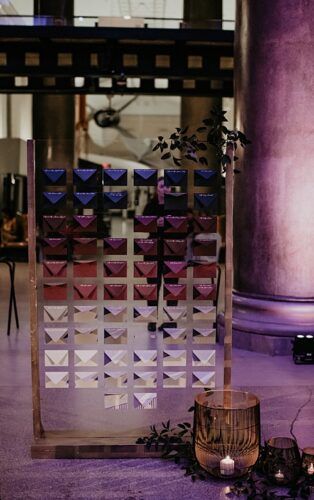 Guests found their name on an envelope, opened it, and saw their seating assignments!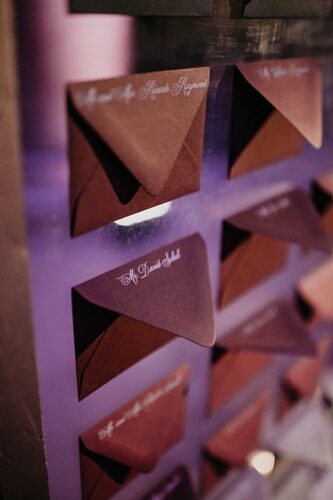 (J P Lord Photography / Glint Events)
You know the saying, good things come in threes? That is how we feel about these Freestanding Acrylics with Gold Trim. One wasn't enough! So we made a 6 foot, 5 foot and 4 foot option! The perfect trio for your event signage!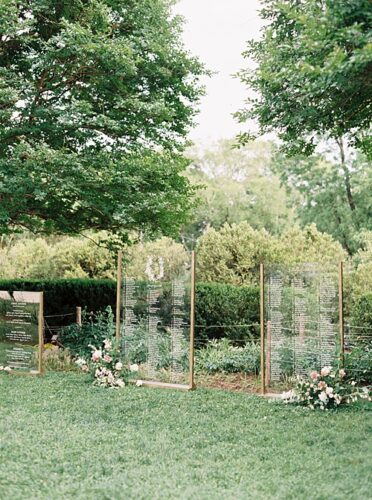 The 4′ Freestanding Acrylic with Gold Trim is a great size for a smaller signage option like dinner menu or event timeline!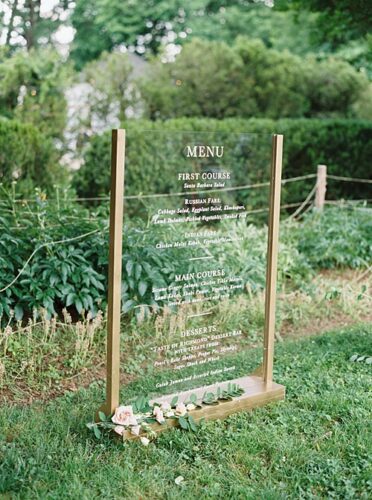 (Nicole Colwell Photography / Blush Events)
Next up, our Freestanding Chalkboard Panel! The panel is over 6′ tall and 3′ wide, the perfect blank canvas! We love how Kate Phillips Events transformed this piece for a fall wedding. So many autumn colors incorporated in this escort card display!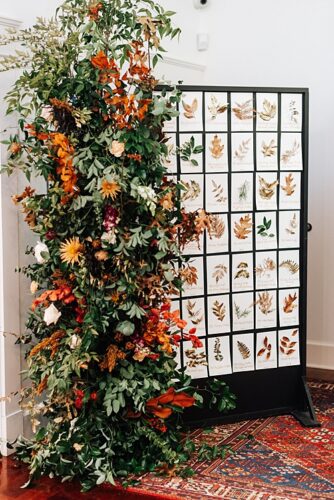 We always love the look of some #pandjlettering on our Freestanding Chalkboard Panel. You can never go wrong this chic and classic option!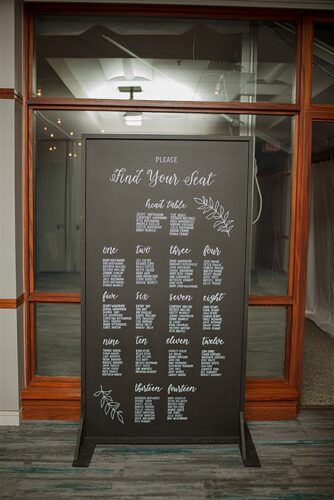 (Carly Romeo & Co. / The Hive Wedding Collective)
And when a seating chart isn't needed, there is always the option for a dinner menu! (and dessert!) The possibilities with #pandjlettering are endless! Have you seen our new 6′ Wide Freestanding Chalkboard Panel? A bigger option for more lettering and design for your event!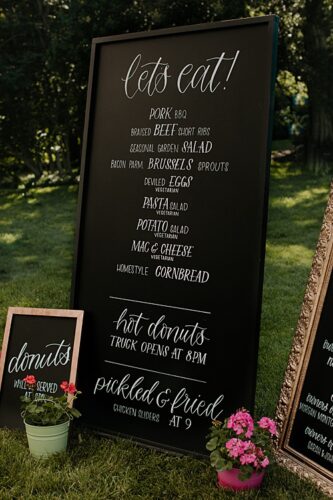 (The Commoneer / For Love of Love)
Speaking of #pandjlettering options, check out this custom design for The Boathouse! A custom map on our Navy Freestanding Panel. Did you know we also have a Pink Freestanding Panel? So many color options to find the best fit for your event!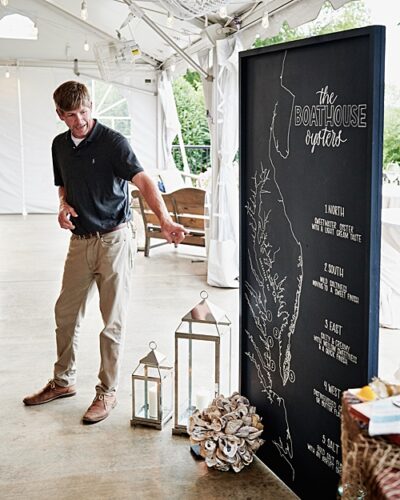 The colored illustration added to this lettered seating chart makes this Navy Freestanding Panel a showstopper!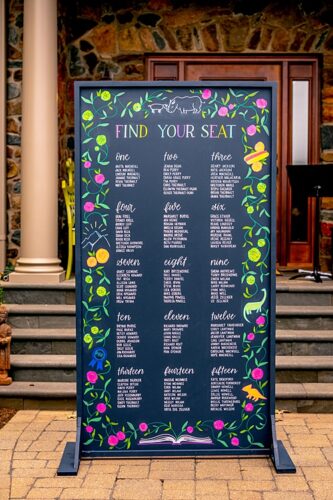 'Paisley & Jade is a vintage & specialty rental company based in Richmond, VA and serving Virginia, North Carolina and Washington, DC.  We maintain an inventory of gorgeous & unique furniture and decor pieces that you can use to create one-of-a-kind event spaces, weddings, photo shoots, and trade show displays.  To learn how Paisley & Jade can help enhance your next visual display or special event, please contact us today!