Categories: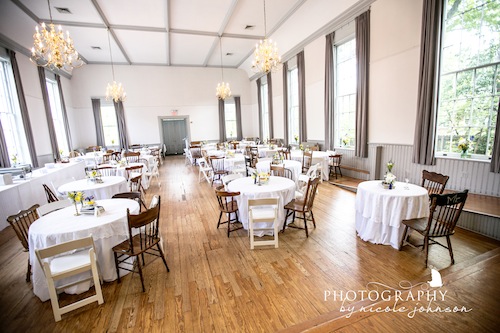 As many of you know, we have quite the love affair with vintage mismatched wooden chairs.  Needless to say, we were thrilled when we met Melissa and she loved our chairs just as much as we did!!  She had a beautiful wedding at the Hanover Arts & Activities Center and we were so excited to take part in her & Tripp's big day!
We provided our chairs for her reception seating, and she and her family and friends put together the adorable centerpieces on each table.
When Nicole at Photography by Nicole Johnson passed us along the images from the day, we were immediately drawn to this image – isn't it just gorgeous?
When working with Melissa, we came up with a great budget friendly idea – mixing our chairs with traditional padded folding chairs (these guys were from our friends at Classic Party Rentals of Virginia!).  This way you still get the look, but without the extra strain on the wedding funds!
We just adore the Hanover Arts & Activities Center – aren't the high ceilings and tall windows to die for??
Congrats to Melissa & Tripp – it was so wonderful working with you, and we hope you loved every second of your day!
Venue: Hanover Arts & Activities Center
Photos by: Photography by Nicole Johnson (Find her on Facebook here!)
Paisley & Jade specializes in vintage and eclectic rentals and custom fabrications for events, weddings, photo shoots, photo booths and other visual displays.  We maintain an inventory of gorgeous, unique furniture and decor pieces that you can use to create one-of-a-kind event spaces.  To learn how Paisley & Jade can help enhance your next  special event, please contact us today!