Categories: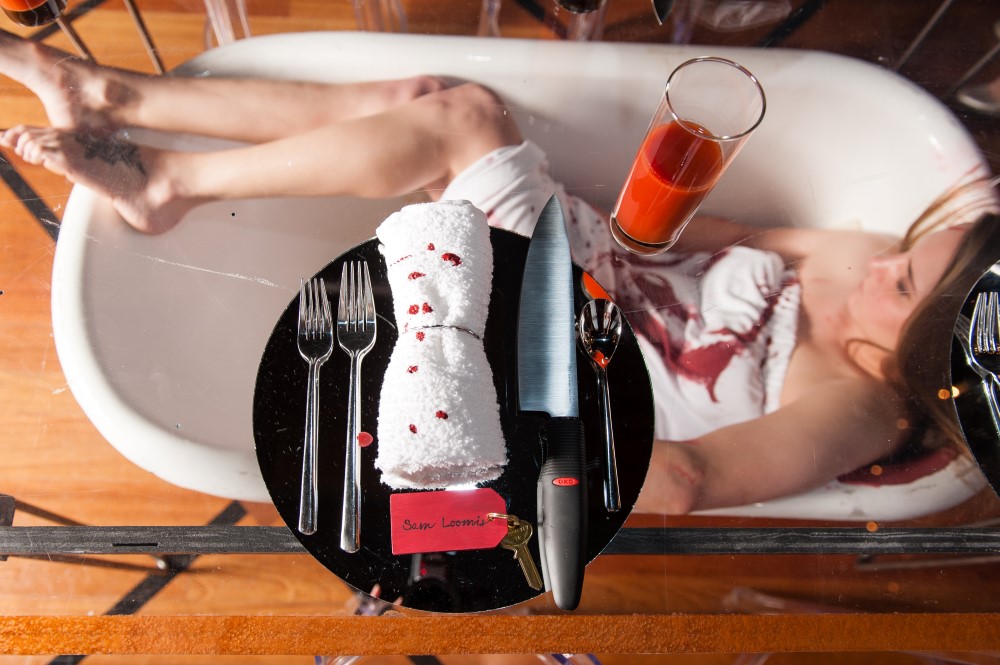 We look forward to participating in the NACEYS tabletop competition each year! If you aren't familiar with NACE check it out here! It's a great opportunity for local event vendors to get together and celebrate a year of great events and flex their creativity bone.
This year the theme for the event was Murder Mystery and we paired up with the amazing vendors Palett & Pen along with AFR Rentals for the unique challenge.
The industry event was hosted at Dover Hall Estate. See the list of amazing vendors who sponsored their time and services here! 
The team decided on The Alfred Hitchcock thriller, Psycho, with a focus on the famous Bates Motel shower scene!
Once we had out theme we put our heads together and the ideas became deadly! The center of the design was the copper clawfoot tub which we then built a clear plexiglass hairpin table for & asked our good friend, Kelly Harrison with The Wedding Rabbit to be our (deceased) model.
The look was complete with Pallet & Pen's design and AFR's ghost bar stools and Classic Party Rentals of VA zombie glasses filled with blood…(Just kidding! It was V8 Juice)!
Enjoy these spooky images from Shalese Danielle Photography & Melissa Desjardins Photography!
Paisley & Jade specializes in vintage and eclectic rentals and custom fabrications for events, weddings, photo shoots, photo booths and other visual displays. We maintain an inventory of gorgeous, unique furniture and decor pieces that you can use to create one-of-a-kind event spaces. To learn how Paisley & Jade can help enhance your next special event, please contact us today!