Categories: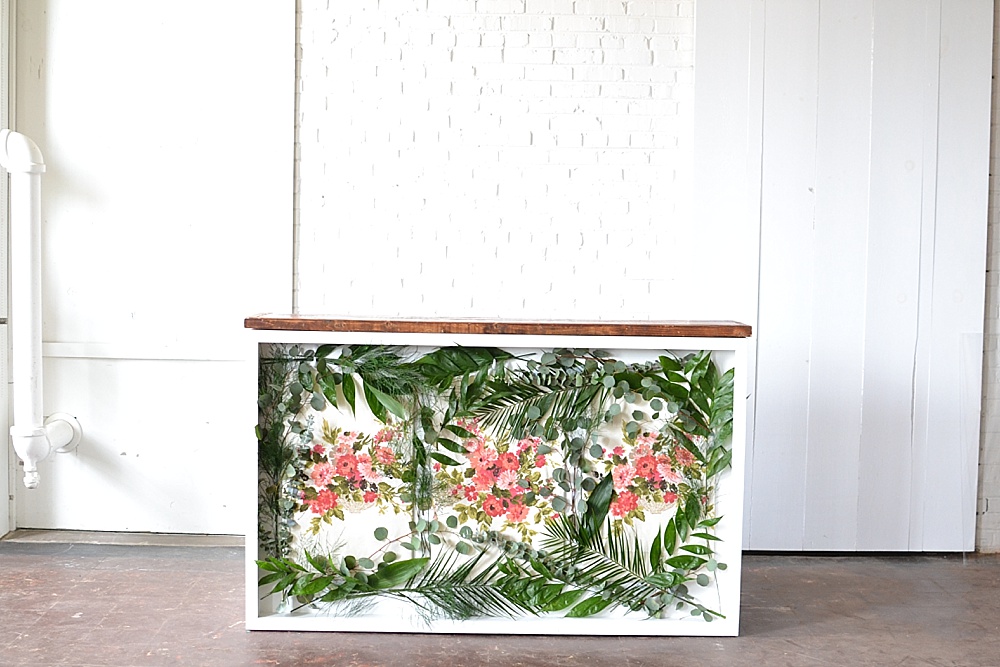 If you're hoping to incorporate signature style and personality into your wedding or event design, this new P&J pretty is for you!  We are super stoked to introduce our Shadow Box Bar!  These custom built  wooden bars are now available to rent and we are beyond excited by the endless design possibilities it will offer our clients! Scroll down to see, step-by-step, how this signature piece works.
STEP ONE – THE BASE!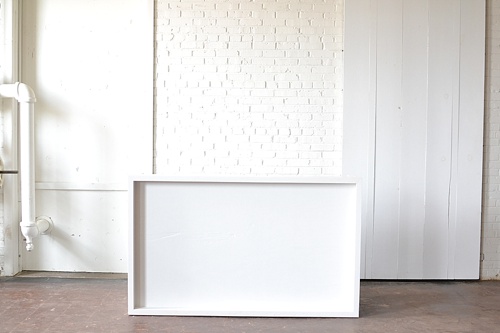 The 6 ft. wooden sections have a bright white base.
STEP TWO – PICK YOUR TOP!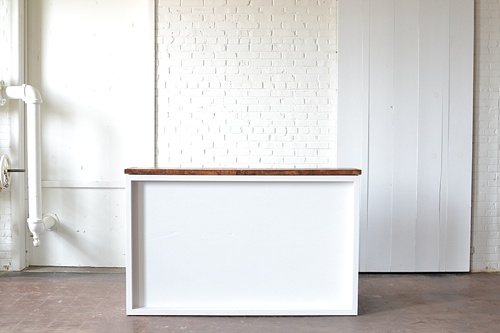 Choose a natural wood top to create more of a farmhouse feel or opt for a white bar top to create a cohesive and chic canvas.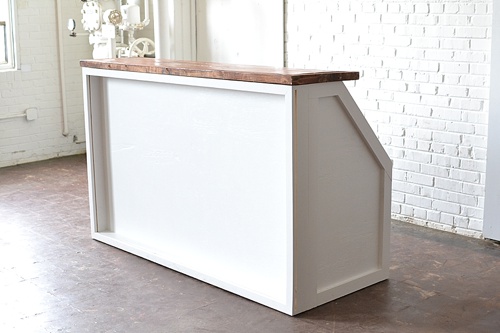 From the side you're able to see the depth and solid structure of this bar.  Love those simple and clean lines!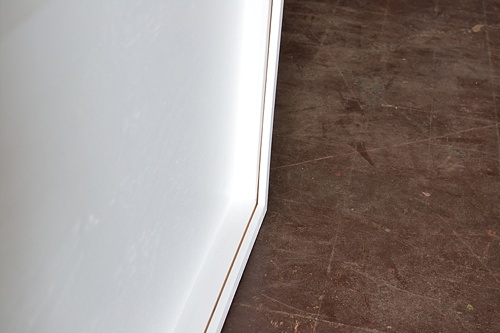 Those clean lines aren't just for looks!  This is also an architectural element that allows you to slide a plexi-glass panel onto the front of the bar to protect your design inside.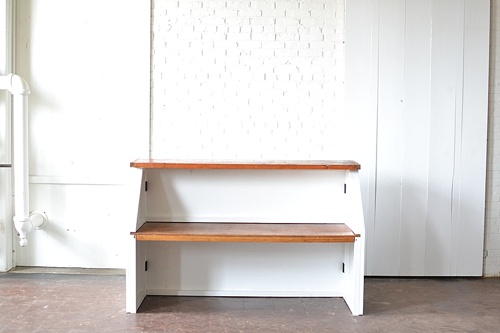 And of course we've included a strong and spacious shelf inside the back bar so your bartender has plenty of room to mix and pour with no problem!
STEP THREE – ADD CUSTOMIZED ART INSTALLATION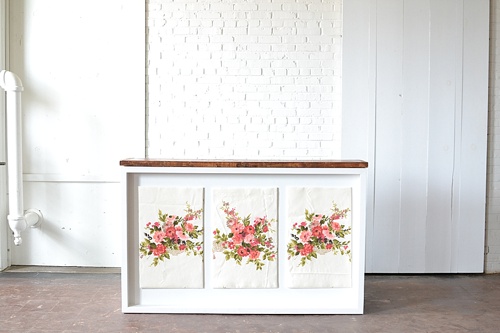 For this look we added three fabric wraps adhered to the front of the bar to add color and center our design.  You can also add a single insert that includes your artistic design element.  This piece can be made of so many materials including wood, particle board, masonite, foam board, etc.
The interior of the shadow box measures 37 13/16" Tall  X 2 1/2 " Deep  X 65 7/16" Wide
STEP FOUR – ADD GREENERY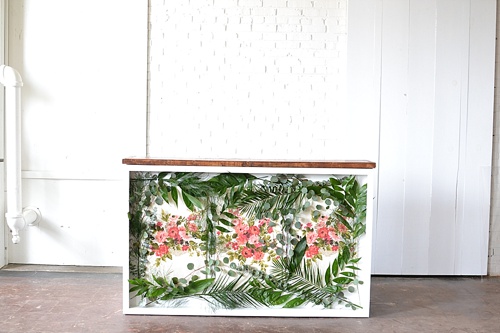 We chose to add various types of greenery to add color, natural elements, texture and dimension to this floral inspired design!   This bar option is that it lets you customize the look you want with all kinds of different materials!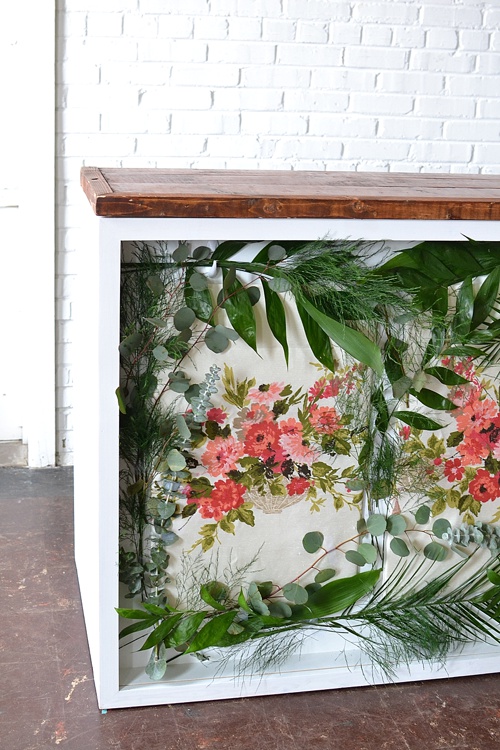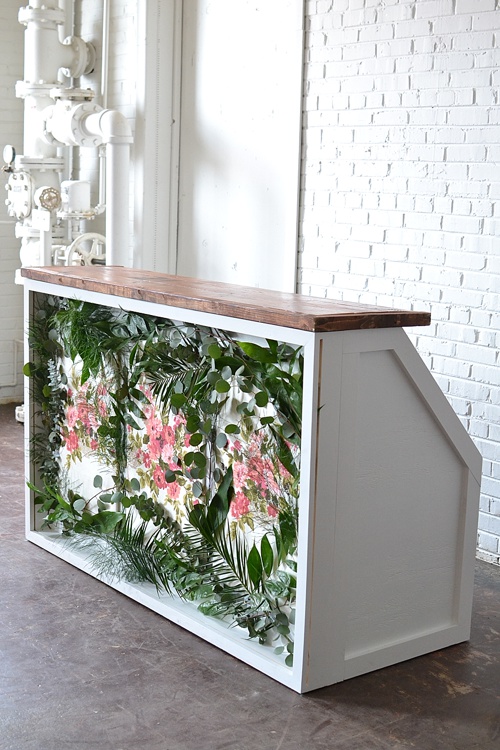 STEP 5 – INSERT PLEXIGLASS TO PROTECT YOUR DESIGN!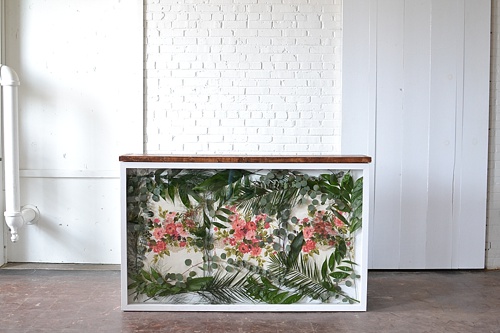 No need to worry about shoe scuffs or knobby knees deconstructing your design!  The Plexiglass insert will protect your art and ensure it stays safe and pretty throughout the duration of your event. The plexiglass piece that slides onto the front of this shadow box measures 39 3/8" Tall  X 66 1/2″  Wide and can be no larger than 1/4″ inch thick.
You also have the option of creating a board that slides in the front of the bar rather than being inside the shadow box.   So many ways to personalize this piece!
STEP SIX – ADD LIGHTING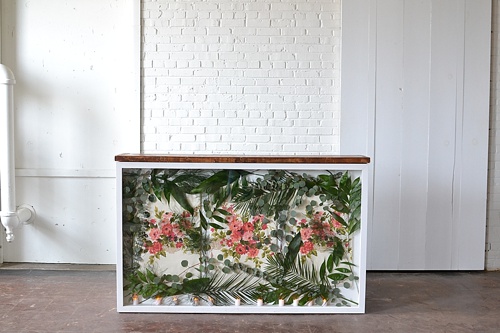 We are so excited to see how you let your creativity run wild with this piece!  The options are endless!  When your design is complete make sure to snap a photo and tag us on Instagram and Facebook! 
Paisley & Jade is a vintage & specialty rental company based in Richmond, VA and serving Virginia, North Carolina and Washington, DC.  We maintain an inventory of gorgeous & unique furniture and decor pieces that you can use to create one-of-a-kind event spaces, weddings, photo shoots, and trade show displays.  To learn how Paisley & Jade can help enhance your next  visual display or special event, please contact us today!
SaveSave
SaveSave
SaveSave
SaveSave
SaveSave
SaveSave