Categories: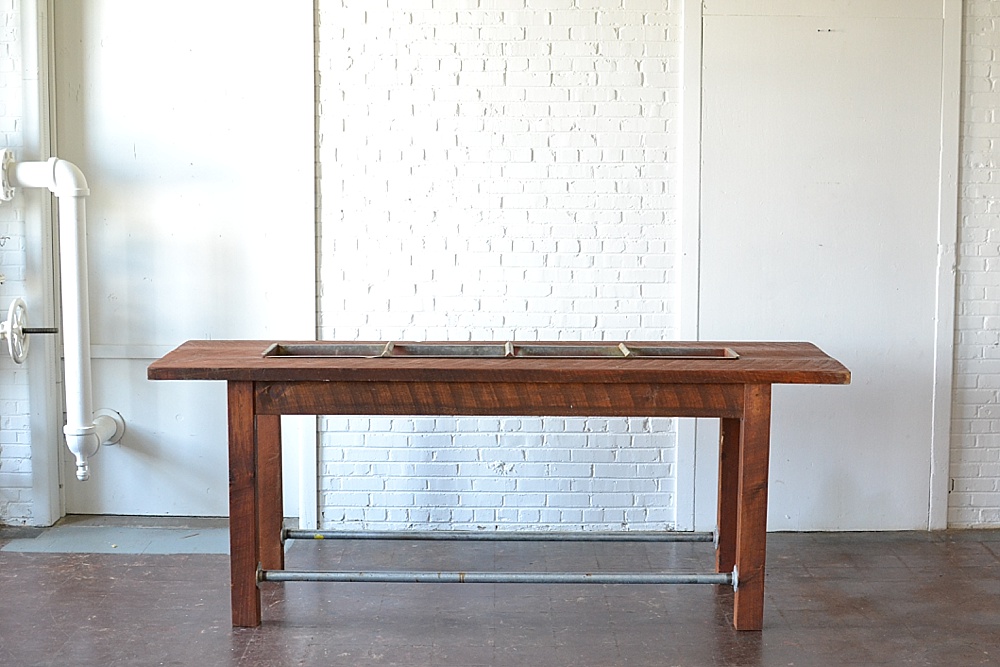 Each of our pieces has a unique personality and so does each one of our awesome clients!  That's why we LOVE when we see our furniture being used in new and fun ways that we would've never thought up ourselves!  Our rustic and super cool trough table is one of our favorite pieces. It has been utilized  in so many different ways we can't even begin to fit them all in this blog.  But today we picked a few of our favorite images that showcase this one piece being used in five different event designs!
This fun and festive design from Classic Party Rentals of Virginia uses our trough table as a champagne bar! An adorable streamer garland and some bubbly on ice create a perfect place to toast to the good things in life! Image by Jessica Maida Photography.
Kelsey and Eli wanted their wedding reception to be a whimsical and colorful affair. With some help from the lovely ladies at  Glint they sure succeeded in this design!  Their brightly painted wooden stools pair wonderfully with our trough table and we just love that they filled the center with colorful cabbage and fruit for a beautiful built-in centerpiece! Image by Rachel May Photography
Jenny and Alex's oyster bar is so casual and welcoming it makes you want to belly right up to it and shuck away!  We love how our trough table was totally transformed into this oyster station with all the fixings! Images by Pressed & Brewed Photography
Adrienne and Scott kept it simple and classic at their wedding using the table as a beer cooler!   Stocked with ice and their favorite brews this self service bar allowed guest to step on up and pop a top at their leisure.  Image by Stephanie Yonce Photography
Who doesn't love a good snack bar?  We were so excited to team up with the folks at Mosaic  to style the VIP tent at the UCI Road World Championships in Richmond earlier this year!  Our trough table made a perfect spot for athletes and onlookers to grab a quick and healthy snack during the competition! Image by Jessica Maida Photography
Paisley & Jade specializes in vintage and eclectic rentals and custom fabrications for events, weddings, photo shoots, photo booths and other visual displays.  We maintain an inventory of gorgeous, unique furniture and decor pieces that you can use to create one-of-a-kind event spaces.  To learn how Paisley & Jade can help enhance your next  special event, please contact us today!