Categories: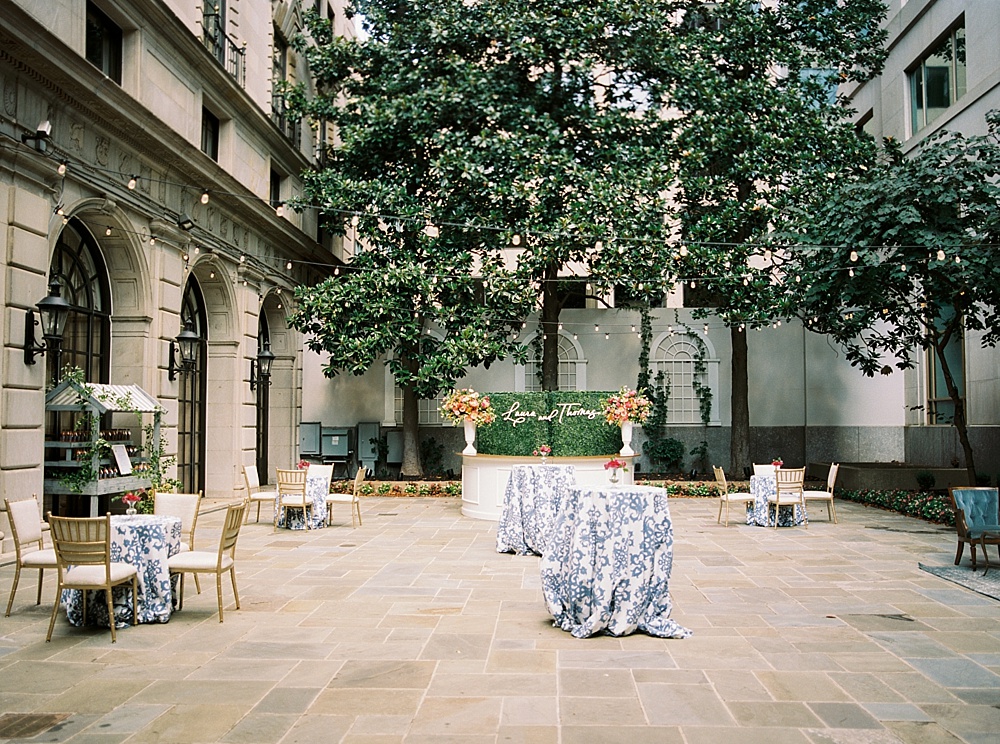 We love getting to travel outside of Richmond, especially when it is up to Washington, DC! Take a look at some of our favorite DC Events!
To kick things off, we are looking back on this elegant wedding at The St. Regis Washington DC. Their courtyard served as the picture perfect spot for cocktail hour. Thankfully Emily Blumberg Photography was there to capture the day beautiful day!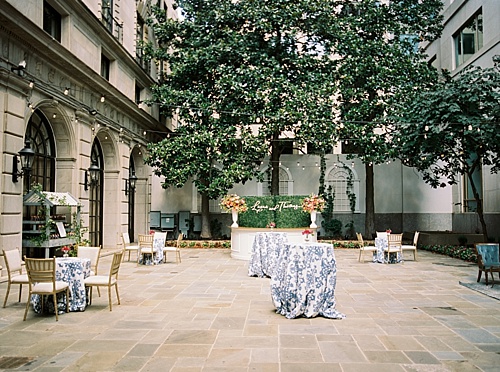 The Half Round Estate Bar is sure to make a statement, especially when our Hedge Walls are used as the bar backdrop!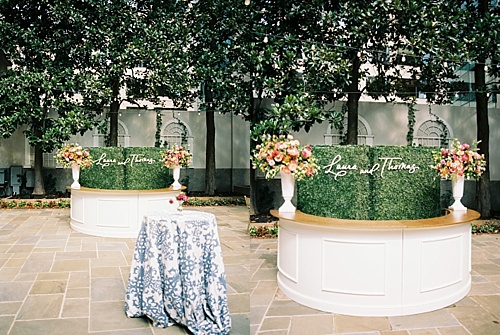 The Market Cart was the perfect option for these wedding favors that also doubled as escort cards!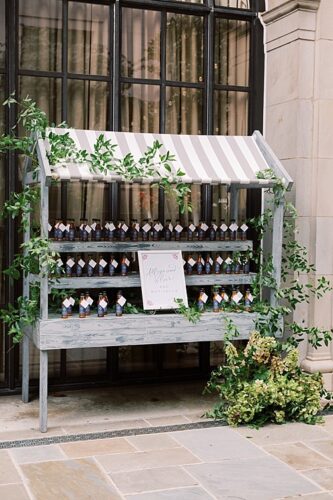 This cool lounge was the finishing touch to the outdoor patio with blue hues in the Hayward Chairs and pop of yellow in the Rupert. The Shelley Rug and Brass Coffee Table completed the look!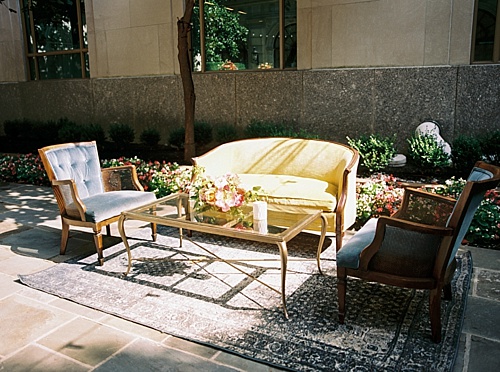 (Emily Blumberg Photography / Sarah Kazemburg Events & Styling / The St. Regis Washington DC)
Next up is this fun Trunk Show event for Doli Boutique. Nothing stands out quite like some #pandjlettering! This Small Copper Truss with Chalkboard welcomed costumers.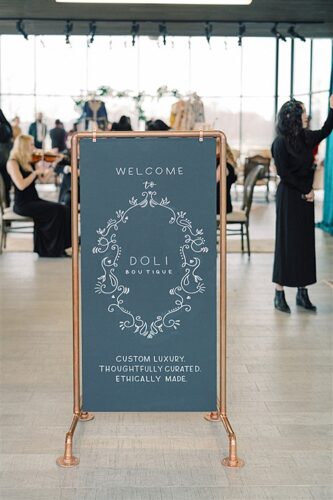 A lounge area was set up for costumers to sit and relax as others tried on the designs. The Patterson Sofa, Arm Chair and Chair make it easy to relax when they are so comfortable!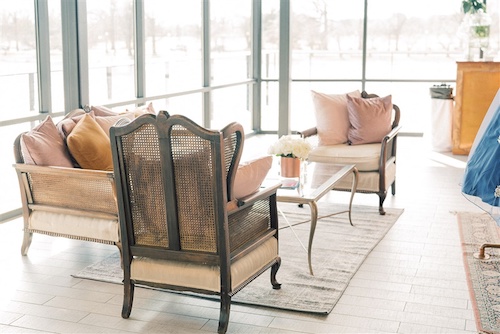 A Hairpin Bar Height Table was used to hold consultations with costumers and show fabric swatches!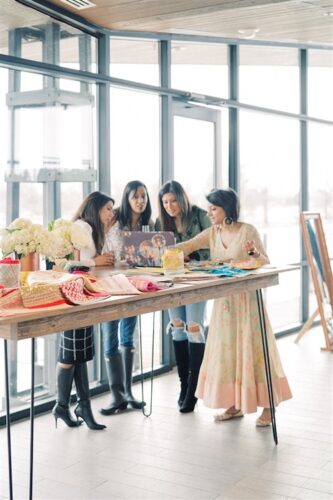 The Austen Rug and Gold Framed Mirror were used to make mini dressing rooms more intimate for clients to try on the sample designs.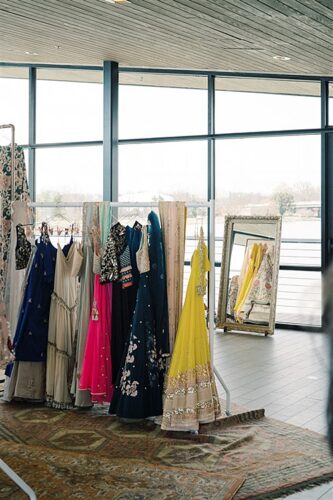 And of course, Bonnie Sen Photography got to show off the beautiful designs styled with our Wicker Peacock Chair.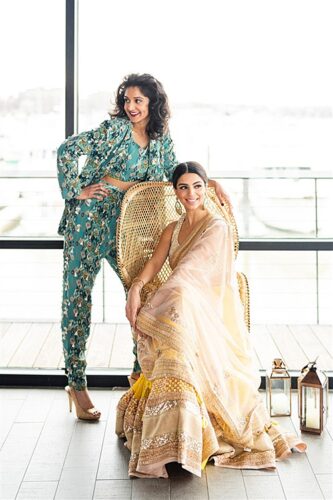 (Doli Boutique / Bonnie Sen Photography / CG & Co Events / Dockmaster Building at the Wharf)
Next is this stunning rooftop event at Capitol View. We love creating intimate lounge areas on the open rooftop! This modern lounge gave off cool vibes with the Everett Sofa, Fernley, Arnold and Wicklow Chairs. The Round Industrial Coffee Table completed the mid-century look.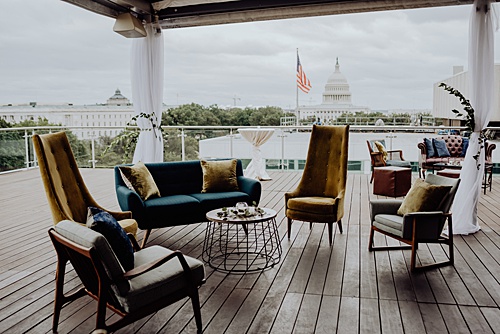 You can never have too many lounges! A second modern lounge was also set up on the rooftop. The Leather Sofa and Square Leather Poufs added a handsome touch. Hues of blues were also added in from the Barstow and Hayward Chairs.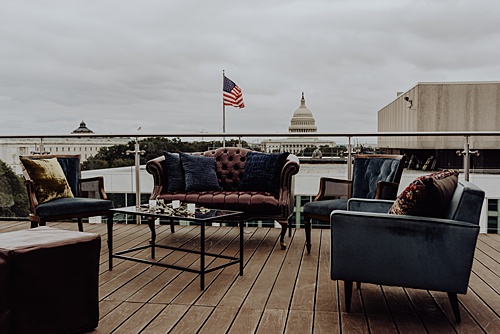 We love the complete rooftop set up, especially when there is a covered and open air open for guests! Perfect for events, rain or shine!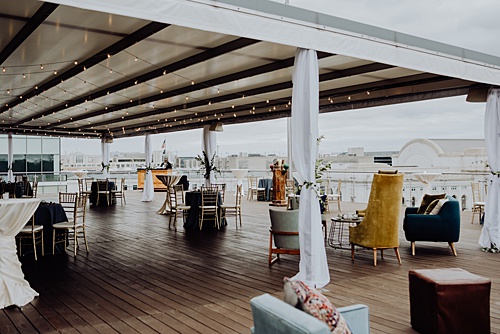 (Wilde Company / Spencer McCormack (Main Event Caterers) / Capitol View)
Last but not least, we are ending with this romantic wedding at the National Museum of Women in the Arts. The Serra, Notting and Norwich created an elegant lounge area.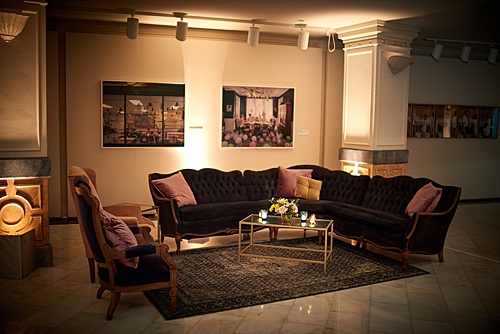 Jewel tones were used to create this lounge with rich colors from the Billings Sofa, Rupert and Madison Chairs.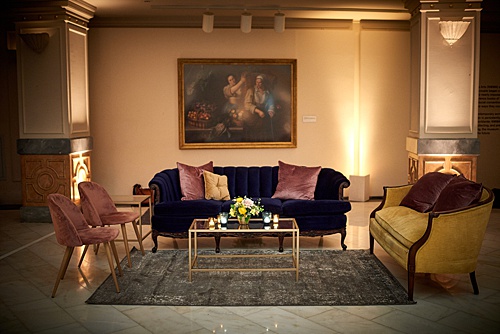 The White Beadboard Square Bar was the perfect statement piece for the reception space.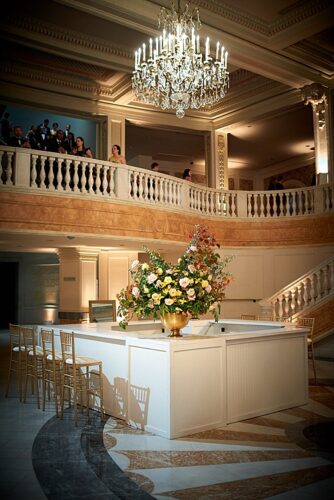 Now this looks like a good party! Drinks flowing from the White Beadboard Square Bar and guests dancing on the dance floor!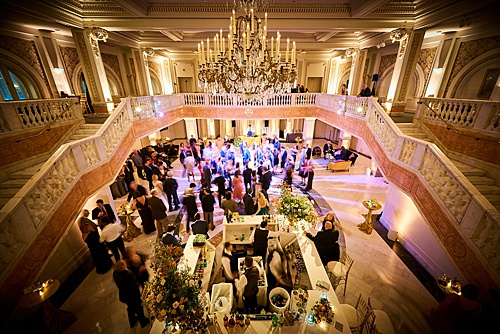 ( Eli Turner / Anne Kelley Events & Design / Sweet Root Village / National Museum of Women in the Arts)
Paisley & Jade is a vintage & specialty rental company based in Richmond, VA and serving Virginia, North Carolina and Washington, DC.  We maintain an inventory of gorgeous & unique furniture and decor pieces that you can use to create one-of-a-kind event spaces, weddings, photo shoots, and trade show displays.  To learn how Paisley & Jade can help enhance your next visual display or special event, please contact us today!