Categories: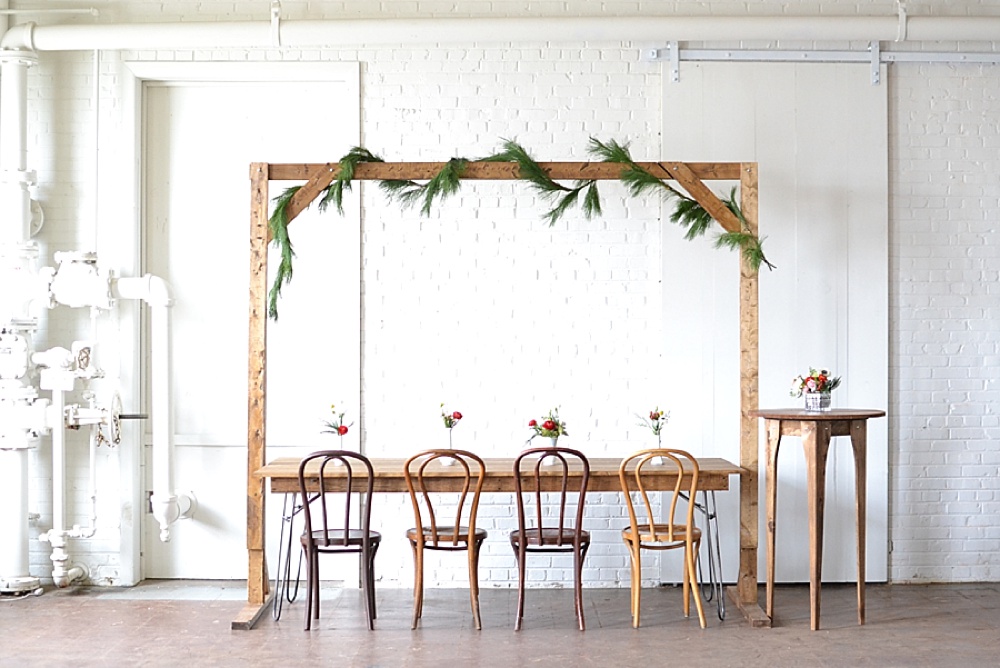 Our secret is out.  We have a resident wizard on staff at Highpoint & Moore!  He's been whipping up some magic with new inventory pieces the past few weeks and we're so excited to share them with you! Ok, so maybe Tyler doesn't officially hold a degree from Hogwarts School of Witchcraft & Wizardry, but his creative and engineering talents are so out of this world we have to assume he has some sort of Wizard-like DNA. As our Shop Lead, Tyler does everything from welding and carpentry to creating and building ALL of our custom pieces. We're so lucky to have him as one of our P&J Peeps!  Below are some custom builds that are now officially in our inventory and ready to rent!  What better time to introduce new pieces than with a new year right around the corner! We have them dressed up for the holidays in these showroom photos but they can be used and styled in endless ways.  We can't wait to see how you design around them in 2016!
A lovely little dining set up with our new inventory including the Hairpin Farm Table, Wooden Truss, Wooden Cocktail Table and our classic Bentwood Chairs.  Simple and stunning!
Tyler, our Shop Wizard at work!
The Wooden Truss is sure to be one of our most popular architectural pieces! It can be used for anything from a ceremony arch or entrance to framing for a dining or lounge area.  Imagine how stunning this will be with florals! It stands at almost eight feet tall and is eight feet wide.  All of our large farm tables fit perfectly underneath!  The wooden truss also serves as a perfect frame for our wooden hanging farm table!
Quite possibly one of our favorite Tyler creations yet! The Hairpin Farm Table combines the perfect blend of rustic and industrial!  It's so versatile you can use it in almost any design.  The gorgeous rounded and metal legs are also made to collapse under the table to help with easy transport, set-up and breakdown. What's not to love?
I mean, it doesn't get more fun than a giant wooden reindeer!  We custom built two of these dudes for a corporate holiday party and can't wait to see how you guys use them in the new year!
This gorgeous gal is gonna wow your guests at cocktail hour!  A true Tyler original,  this beauty is such a modern and sleek addition to any event.  It also boasts an absolutely beautiful circular design on the table top that's modeled after a camera aperture.  So much pretty!
The man, the myth, the wizard.  Tyler we can't wait to see what you create next!
Images of Tyler courtesy of Stephanie Yonce Photography 
Paisley & Jade specializes in vintage and eclectic rentals and custom fabrications for events, weddings, photo shoots, photo booths and other visual displays.  We maintain an inventory of gorgeous, unique furniture and decor pieces that you can use to create one-of-a-kind event spaces.  To learn how Paisley & Jade can help enhance your next  special event, please contact us today!