Categories: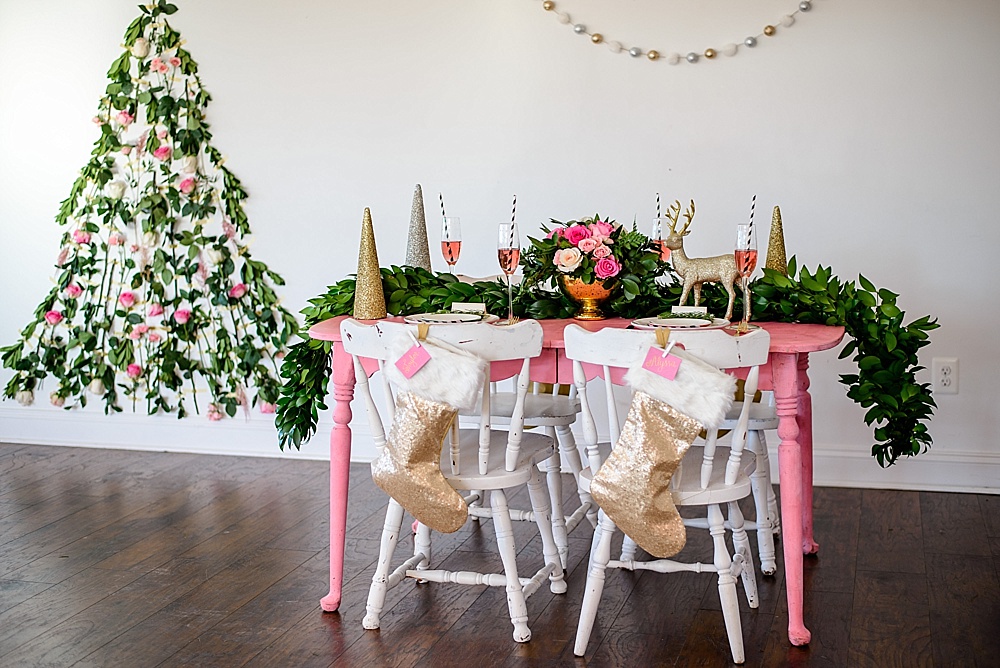 Pink is the new red when it comes to this fun and fresh holiday party photoshoot!  We're so excited our friends at Inspired By This are featuring this fun design! We love the bright new take on a festive holiday party the awesome gals at Lovely & Bubbly Events created! Our pretty little pink dining table and white wooden chairs are styled to perfection for this girly soirée!  And can we talk about the gorgeous floral Christmas tree creation on the wall?  The folks from One Sweet Day In May outdid themselves with that creative and artistic addition!  It's so unique and pretty, we just love it!  We also love the idea behind this bash for soon-to-be bridesmaids!  What better way to ask those special gals in your life to be part of your big day than with a pretty pink party during the most wonderful time of the year?  This surprise party package came with personalized ornaments for each lovely lady, glittered stockings, glasses of rosé, blue stilettos and tulle skirts.  It's the kind of photoshoot where you can imagine the Cindi Lauper song "Girls Just Wanna Have Fun" being played in the backgournd amidst giggles and glasses clinking.  Our white tiered tables look so sweet serving as a hot chocolate bar and dessert station!  We love seeing them all dressed up with yummy stuff!  Emilie Marie Photography was able to capture all the whimsy and girly glamour of this design! We hope you get a little giddy as check out the details of this beautiful bridesmaid holiday bash!  Cheers!
Participating Vendors
Photography – Emily Maire Photography
Design – Lovely & Bubbly Events  
Florals – One Sweet Day In May 
Venue – Rixey Manor
Paisley & Jade specializes in vintage and eclectic rentals and custom fabrications for events, weddings, photo shoots, photo booths and other visual displays.  We maintain an inventory of gorgeous, unique furniture and decor pieces that you can use to create one-of-a-kind event spaces.  To learn how Paisley & Jade can help enhance your next  special event, please contact us today!