Categories: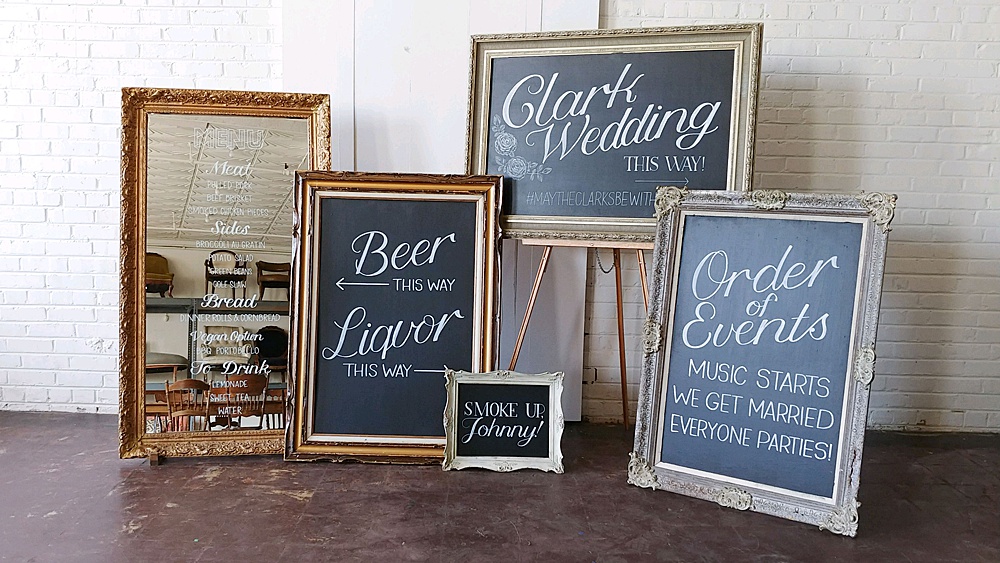 No matter what type of event you are hosting, chances are you will need to incorporate signage of some sort!  For social or corporate events, you may need a welcome display, directional signage ("which way to the restrooms?"), or maybe just something cheeky that reflects the personality of the event!  It's easy to let event signage be an afterthought, but when you incorporate it into the personality and theme of the event, it can truly become a standout part of the decor!  We love working with our clients to select the perfect frames, mirrors, and chalkboards for their event, and get even more excited about seeing the details of their signage come to life at the hand of our in-house lettering artist.
Today we're sharing some of our favorite signage collections that we've completed for our clients.  From upscale and elegant, to cheeky and fun, our team worked with these clients to create suites of signage that elevated their event design across the board!  We hope you enjoy them as much as we enjoyed creating them!
(And if you're looking for signage for your event, you can check out our collection of frames, review our bar options, or contact us to get a proposal!)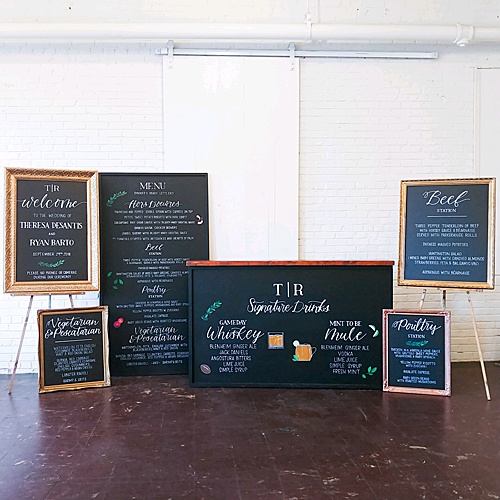 For this fall wedding, bars, menus, and welcome signage were unified by matching fonts, design motifs (????), and complementary layouts!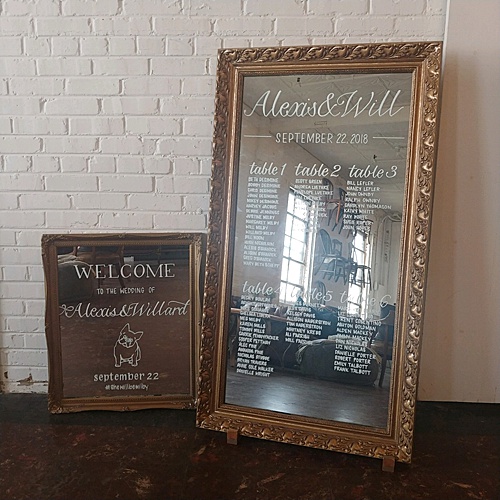 Signage isn't limited to chalkboards!  Alexis & Willard had their four legged-friend prominently featured on their mirror welcome signage that perfectly complemented their guest seating chart.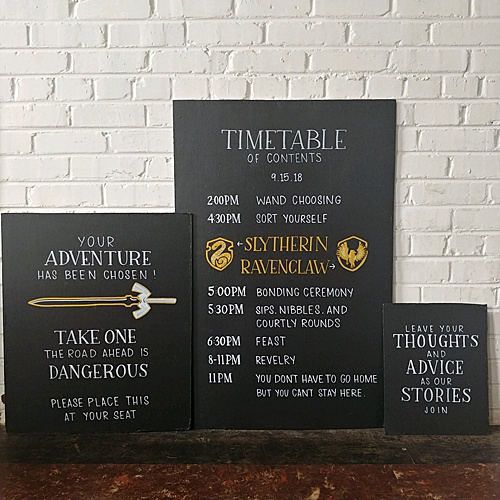 Who doesn't love a good theme, right? ⚡️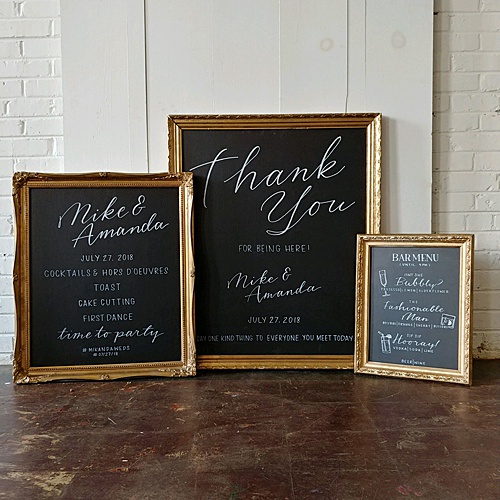 For Mike & Amanda's wedding understated elegance was key, and we loved incorporating a few illustrated details on the bar menu!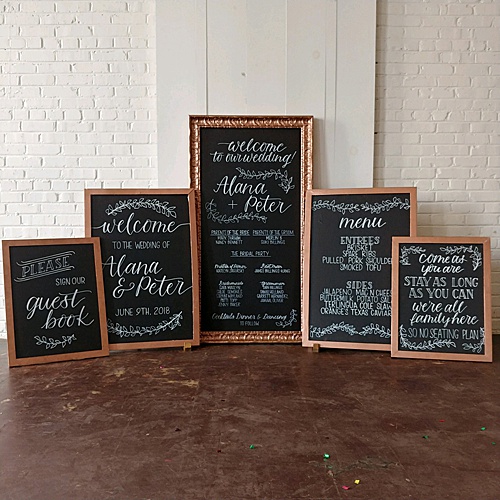 For Alana & Peter's wedding, we used the chalkboard outline of greenery to tie the signage together across all parts of their day, including ceremony signage, dinner menus, and instructional signage, like the guest book!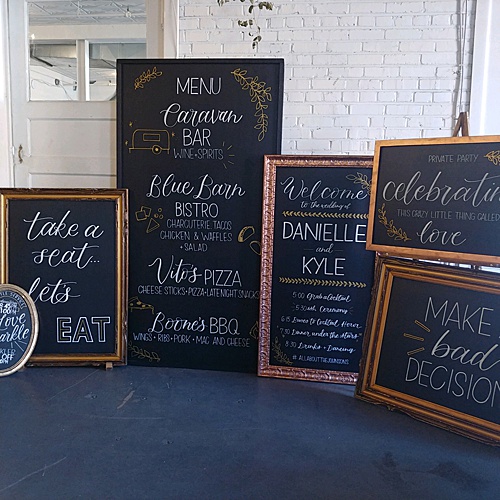 Just because it's a wedding, doesn't mean it can't be funny!  We loved Danielle & Kyle's cheeky approach to their day, and that was reflected throughout their signage decor. ("Make bad decisions", anyone??)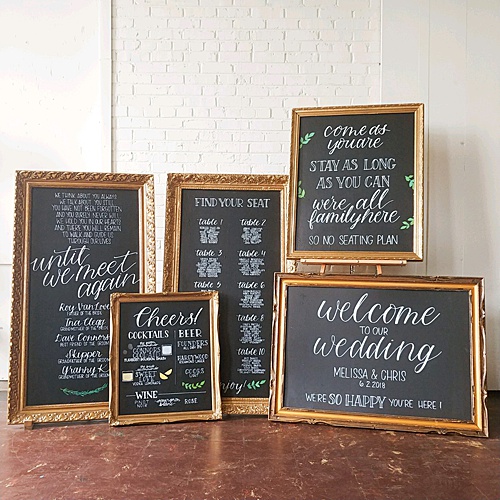 Each of our menu, guest seating, bar, and welcome signs is custom designed for each event, so while the idea might be similar, the execution is 100% reflective of our clients' vision!  One of our favorite things to add to bar signs are illustrations of mini cocktails, and Melissa & Chris were happy to indulge us here!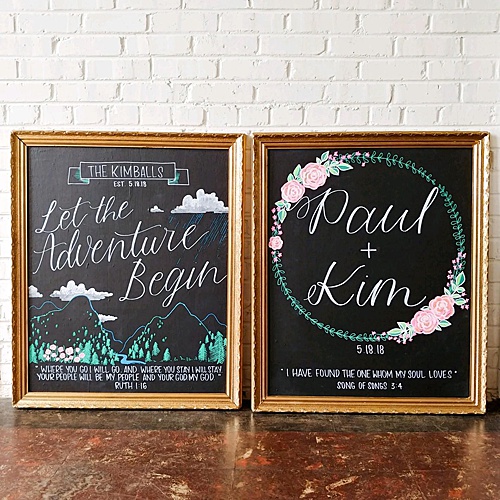 We love when our clients really let us dig in and create something beautiful, like Paul & Kim's signage from this spring.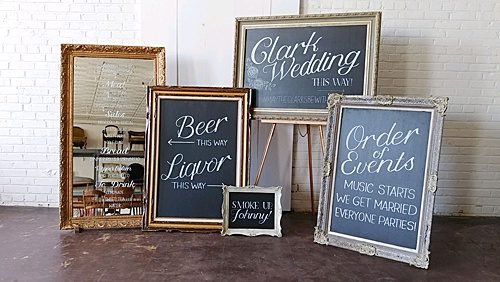 The Clark wedding incorporated several different types and styles of signage, including chalkboards and mirrors.  They wanted to make sure their guests new for sure what was happening: the music would start, they'd get married, and then everyone would party – sounds like our kind of wedding!
 Paisley & Jade is a vintage & specialty rental company based in Richmond, VA and serving Virginia, North Carolina and Washington, DC.  We maintain an inventory of gorgeous & unique furniture and decor pieces that you can use to create one-of-a-kind event spaces, weddings, photo shoots, and trade show displays.  To learn how Paisley & Jade can help enhance your next visual display or special event, please contact us today!