Categories: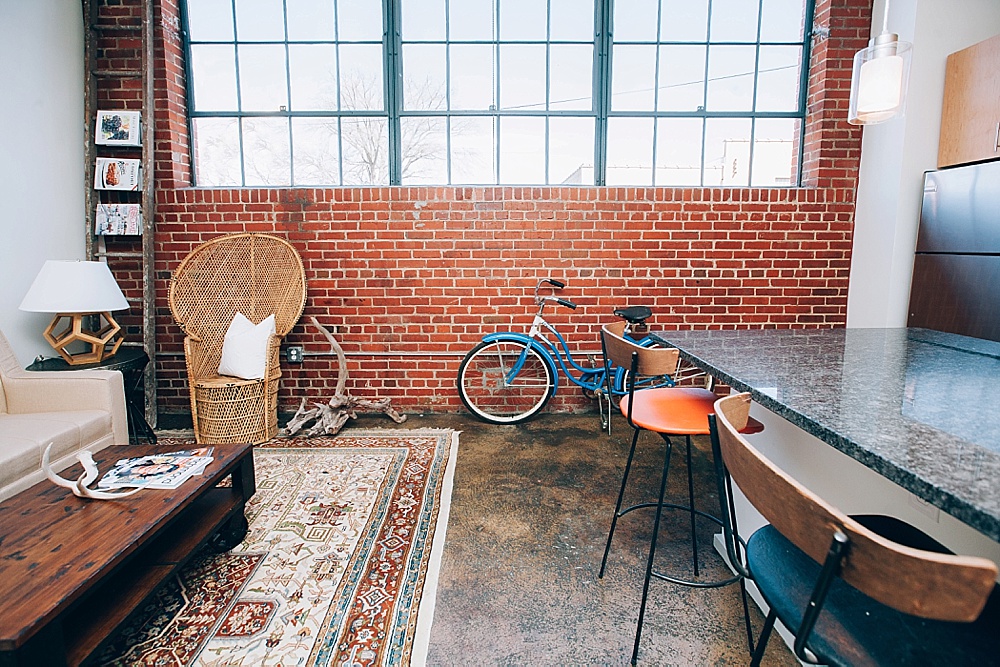 We love being part of the RVA community!  One thing that's been awesome to see in our stylish Southern city,  is how much our neighborhood of Scott's Addition has grown and changed since we set up shop here a few years ago at Highpoint and Moore.  In many cases, what was once abandoned or industrial space now houses everything from breweries and barber shops to restaurants and fitness studios, not to mention some of the best loft living this side of the Mason Dixon!  So needless to say when the folks at Osprey Lofts asked us to be involved in helping showcase and stage their new digs, we were thrilled to pitch in!  Using some of our backdrops, smallwares and largewares we helped style this chic industrial space to make it photoshoot ready!  We hope you get inspired to incorporate some of these looks in your next design and enjoy browsing the images below by the super talented Jeffrey Ocampo!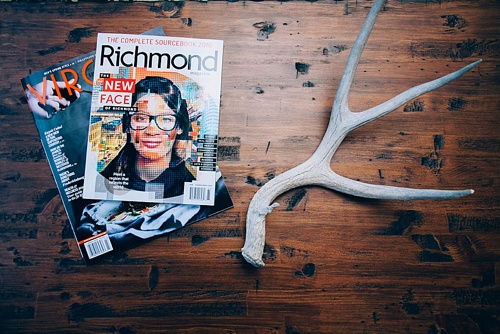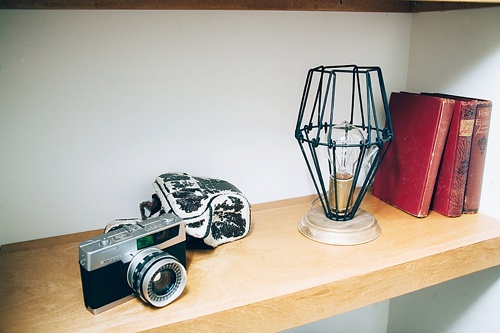 We loved the little pop of personality that some of our small wares helped bring out in this space!  From our Natural Antlers and Vintage Books to Cigar Boxes and Vintage Cameras, sometimes the simple and small touches can make the biggest impact!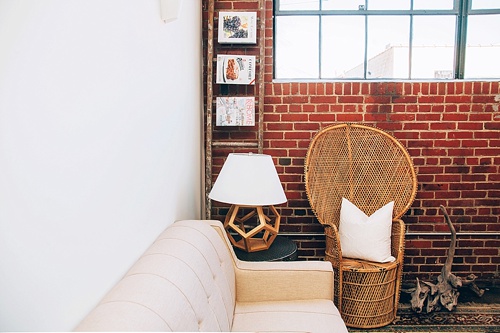 We always enjoy working alongside our friends at AFR on projects like this!  Our eclectic pieces like the Wicker Peacock Chair and Large Driftwood pair perfectly with their stylish sofa, end table and lamp!  Oh, and how cool does our Long Wooden Ladder look as a living room magazine rack?  We might have to use that little trick in our showroom soon!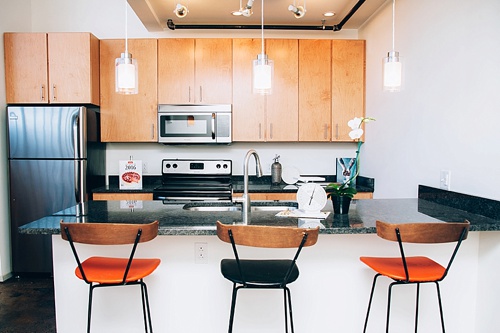 Our Mid-Century Bar Stools are a simple and chic addition to this modern and industrial kitchen.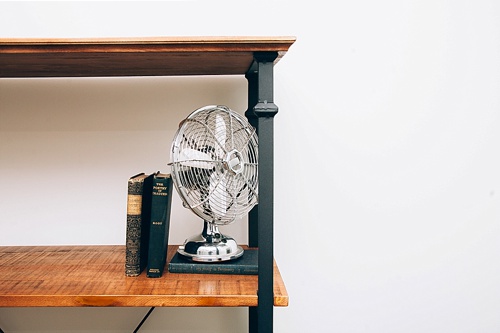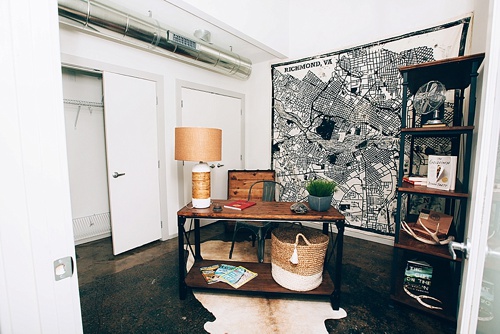 Our Tan Cowhide Rug and Industrial Shelving help tie together this sleek office look alongside other great furniture pieces from AFR.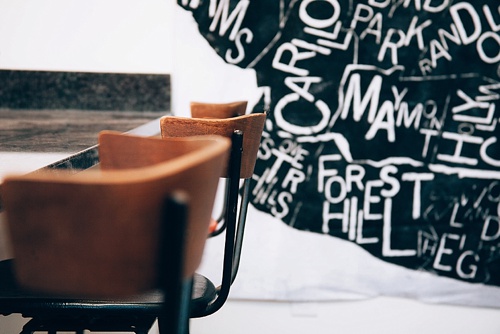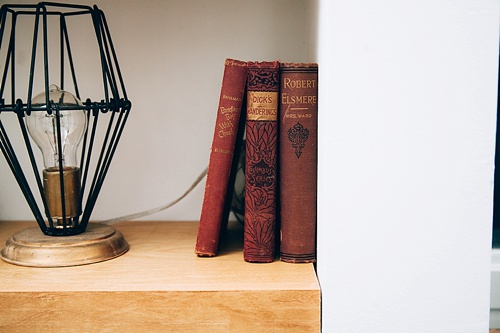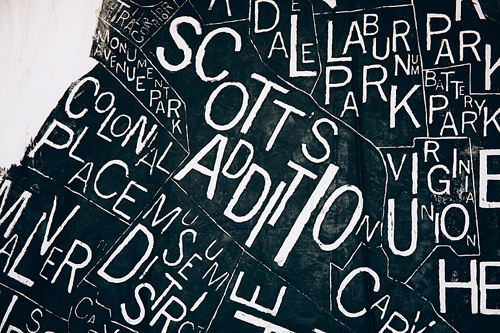 We love the creativity and detail on our Richmond Backdrops by yet another Scott's Addition neighbor,  Studio Two Three!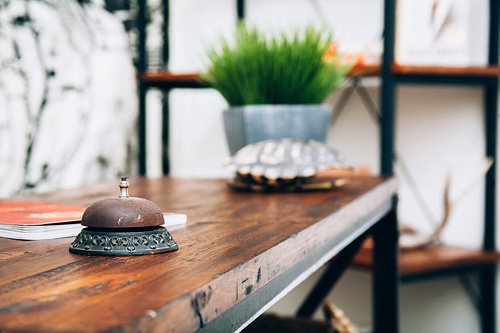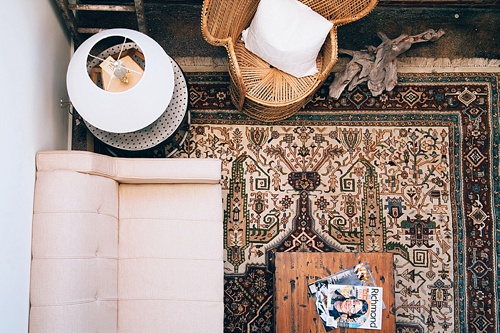 Our large Rowling Rug has gorgeous intricate patterns and brings in some soft textures to help make this living room design both chic and cozy.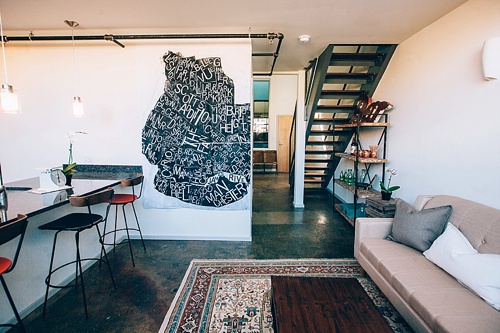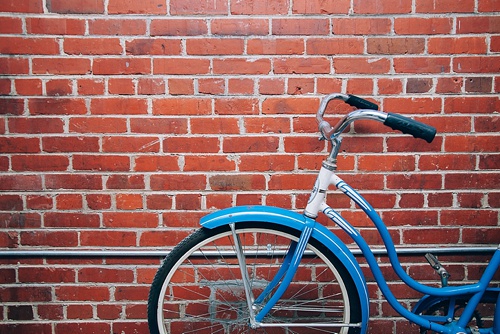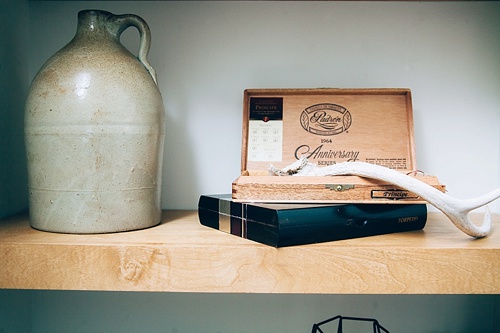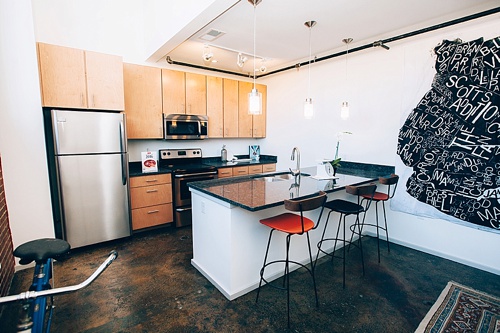 IMAGES – Jeffery Ocampo
LOCATION – Osprey Lofts 
Paisley & Jade specializes in vintage and eclectic rentals and custom fabrications for events, weddings, photo shoots, photo booths and other visual displays.  We maintain an inventory of gorgeous, unique furniture and decor pieces that you can use to create one-of-a-kind event spaces.  To learn how Paisley & Jade can help enhance your next  special event, please contact us today!