Categories: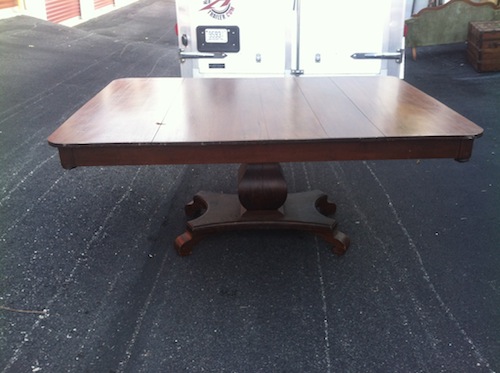 We love the stories that come along with some of our pieces. Whether they were donated or found through digging, each piece has a past that comes with them. This particular table we picked up recently and it's unique quality is the bullet hole. This of course makes me want to believe it was part of western shoot out! Wishful thinking:) The 5 ft. table gives an element of eclectic glamour and the bullet hole gives character, enjoy!
Paisley & Jade specializes in 
vintage and eclectic rentals 
and 
custom fabrications
 for events, weddings, photo shoots, photo booths and other visual displays.  We maintain an inventory of gorgeous, unique furniture and decor pieces that you can use to create one-of-a-kind event spaces.  To learn how Paisley & Jade can help enhance your next  special event, please 
contact us
 today!