Categories: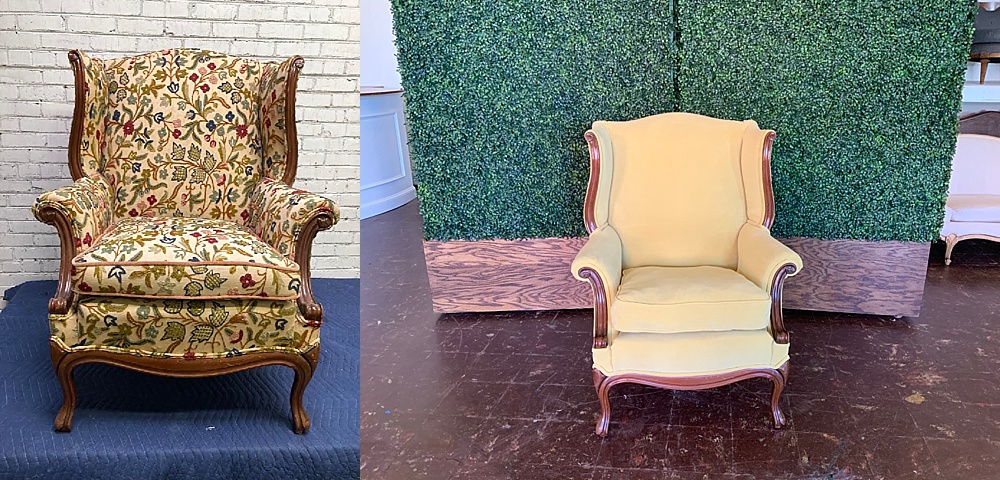 Have you ever wondered what it takes to reupholster one of our #pandjpretties? You won't have to wonder much longer! Join us as we take a look back os the Ocala, our newest golden beauty, is reupholstered from start to finish!
Here is what the Ocala looked like when it arrived to our shop. Anyone else getting some serious Anthropologie vibes from this floral upholstery?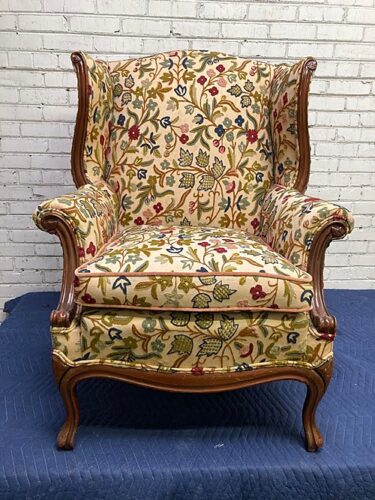 Next came the fun part, ripping the old upholstery off! Fun fact: Casey had to remove each panel of the old upholstery one piece at a time! There were eleven different panels!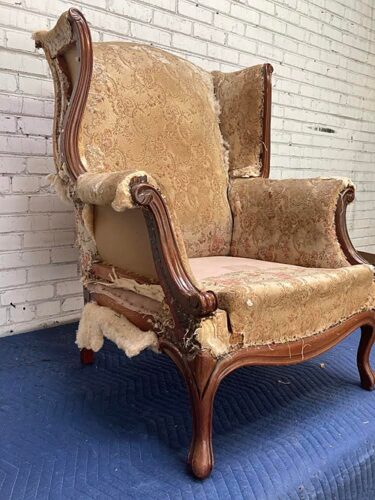 The first piece removed was the back, then she worked her way to the sides, and the front sections were the last to be removed!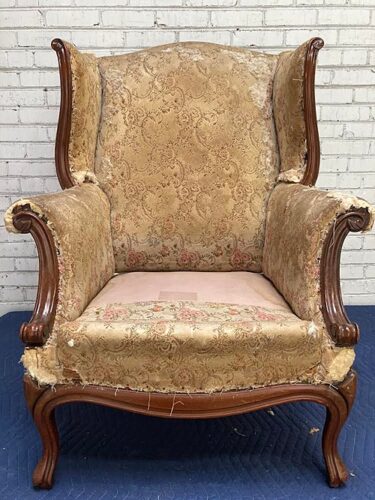 Once all the old upholstery was removed, Casey started to add in the new upholstery! She added all 11 different panels back to this chair! The first section added was the front then the two sides at the top.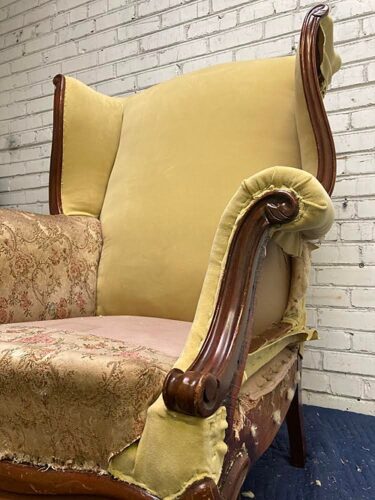 The two arms were the fourth and fifth step of the reupholstery process. How much do you love this margarita yellow hue?!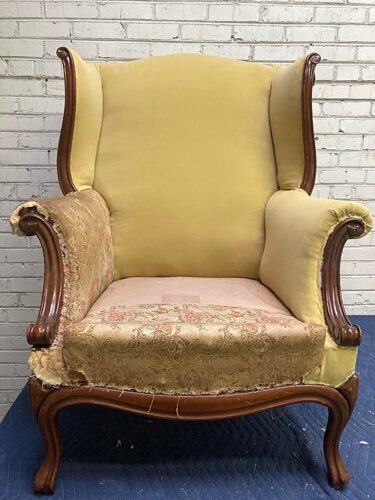 This piece has single AND double cording. The pictures do not do justice for the amount of time and detail that went into this piece! It truly is a labor of love!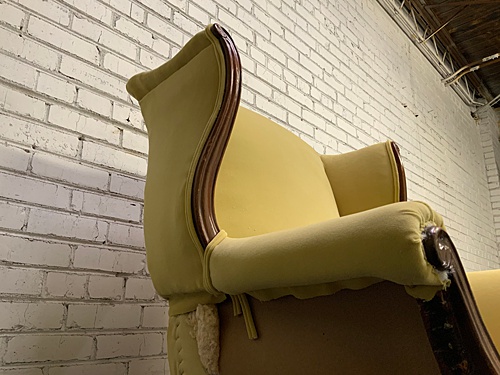 Casey sewed the double cording for this piece. The cording was added after each section was reupholstered. Look at that detail!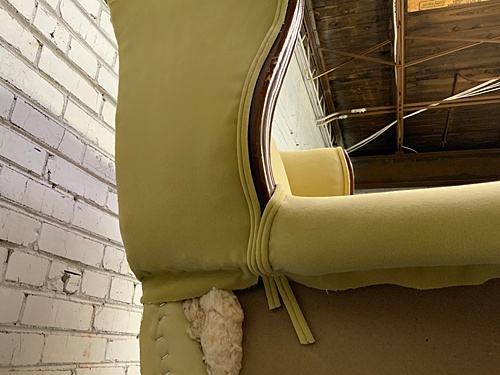 We love this detail shot of the front upholstery work!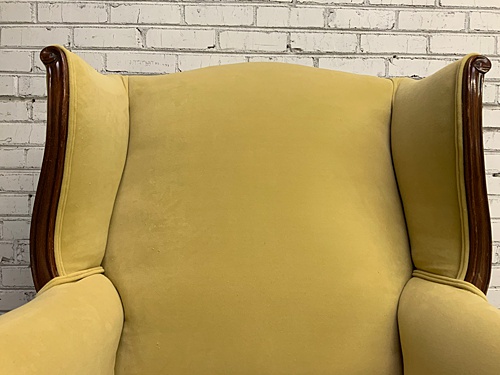 After the final 11th panel was added on the back, the Ocala was done!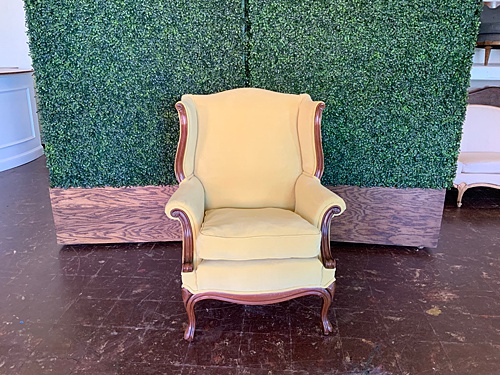 It is safe to say that the Ocala does not have a bad side! This beauty looks good at every angle!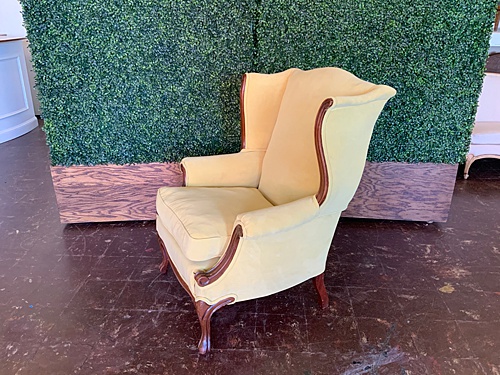 The back panel is stunning! It was definitely the icing on the cake for this project!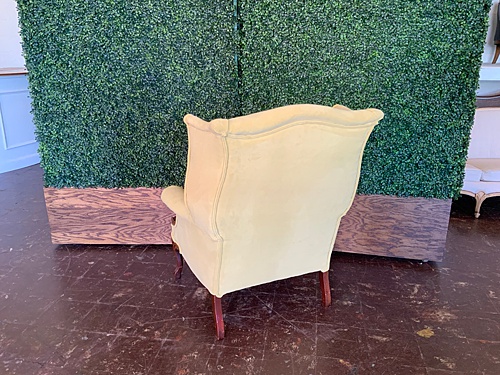 If love this yellow piece as much as we do, we suggest you check out some other golden hue pieces like the Rupert, Tallahassee, and Rigby! The perfect pop of color to add to your next event!
Paisley & Jade is a vintage & specialty rental company based in Richmond, VA and serving Virginia, North Carolina and Washington, DC.  We maintain an inventory of gorgeous & unique furniture and decor pieces that you can use to create one-of-a-kind event spaces, weddings, photo shoots, and trade show displays.  To learn how Paisley & Jade can help enhance your next visual display or special event, please contact us today!