Categories: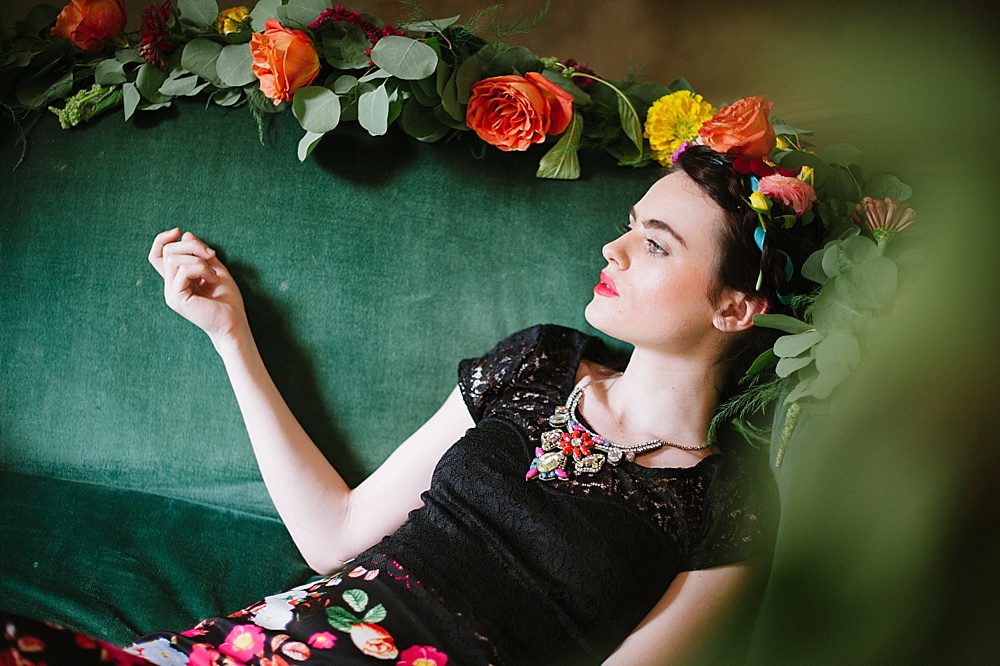 When our friend and rockstar photographer Jessica Maida first told us about her idea for a styled shoot inspired by Frida Kahlo we knew we wanted to be part of it!  Jessica lived in Mexico after college and says while there  not only was she inspired by Kahlo but she "fell in love with her story and everything that she represents."  That love and artistic admiration is definitely evident in these images!  We are thrilled the folks at Trendy Bride Magazine decided to recently feature this styled shoot and we know it will bring some unique and artful inspiration to so many of you!
The setting under this gorgeous staircase at the historic Monumental Church in Richmond was simply stunning and could not have been more perfect for this shoot.
One of the "Turners" makes for a rich and bold seating option for this shoot!  We also love it alongside our vintage Artist Stand.  Talk about a perfect pairing!
"I paint self-portraits because I am so often alone, because I am the person I know best."   ~ Frida Kahlo 
Bright and beautiful florals by The Proper Petal are the perfect accent to help bring this shoot to life!
"Feet, what do I need you for when I have wings to fly?" ~ Frida Kahlo 
Featured Vendors
Images – Jessica Maida Photography
Styling & Design- Mod Mau 
Florals – The Proper Petal 
Venue – Monumental Church
Hair & Makeup – Elle Style Studio
Paisley & Jade specializes in vintage and eclectic rentals and custom fabrications for events, weddings, photo shoots, photo booths and other visual displays.  We maintain an inventory of gorgeous, unique furniture and decor pieces that you can use to create one-of-a-kind event spaces.  To learn how Paisley & Jade can help enhance your next  special event, please contact us today!