Categories: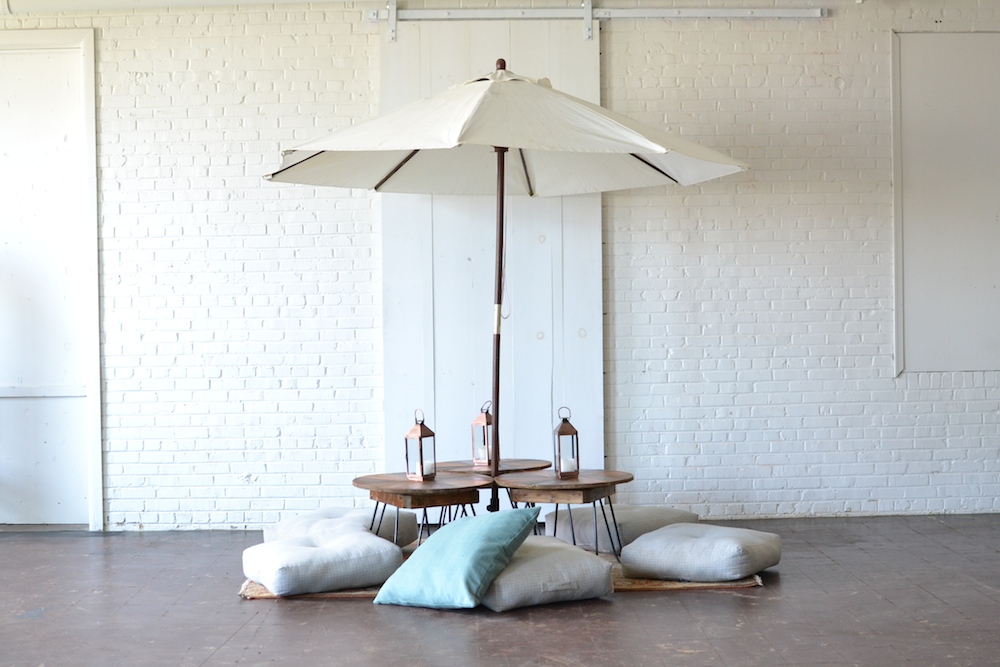 One thing we love about being involved in so many events is that we get to see the new and exciting ways clients use our #pandjpretties! All of the unique possibilities of each piece allows clients to use their imagination to help bring their vision to life. We've seen London Doors used as food displays, the Edisto Boat Bar used as a ceremony centerpiece, and our Teal Desk used as a favor display! All of these very unique designs also have something important in common: functionality.
For this week's Inspiration Station, we're showing you how you can gather our Aperture Tables together to create a unique look but end up with the overall result of functionality and more surface space!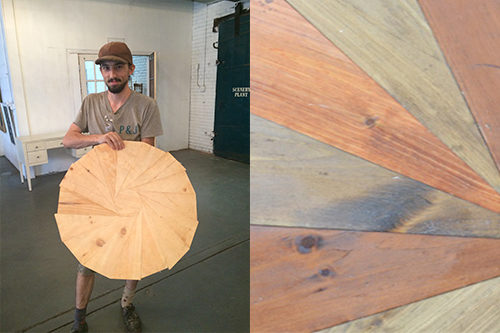 The Aperture table top features a circular pattern inspired by a camera aperture and was #madebypandj in Year 4. Our beloved Shop Wizard, Tyler, designed this and many other #pandjpretties! You can see just how much talent and skill he brought to P&J here!
Aperture Hairpin Coffee Table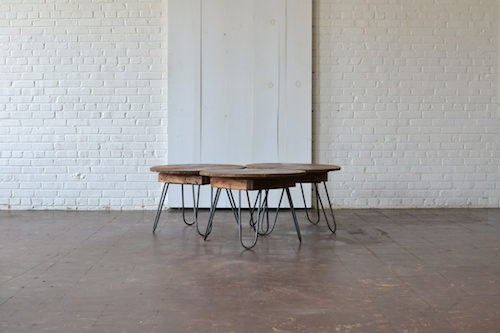 The base of the first set-up was created by clustering three Aperture Hairpin Coffee Tables together. We wanted to design a space that would allow more than just two or three people to gather around comfortably and causally.  We love a good layout that incorporates floor seating and these beauties work perfectly for that purpose!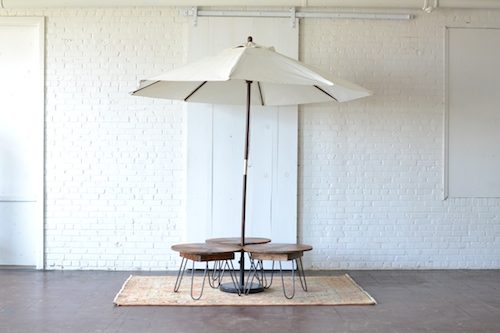 We brought in a rug and our Patio Umbrella, which made this set-up perfect for a casual outdoor event!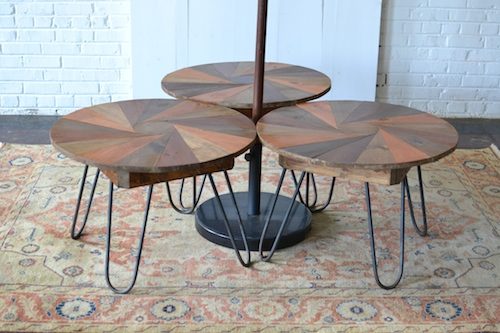 The Aperture Hairpin Coffee Table is a fantastic combination of our Hairpin Farm Tables and Wooden Cocktail Table! It gives a diverse and modern take on a standard coffee table and offers a touch of artistic flair!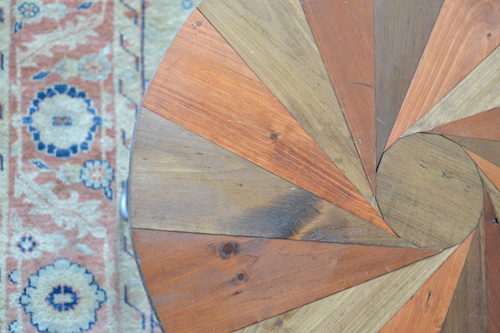 We're still just as in love with the gorgeous dark-stained wood on the Aperture Tables as we were the day that it was built!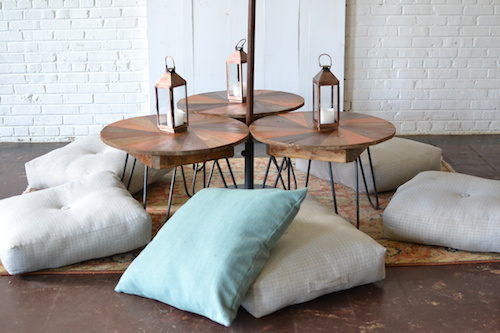 To bring a bit of comfort to this set-up, we threw a few light gray floor cushions and oversized pillows down and styled the tables with our Classic Copper Lanterns!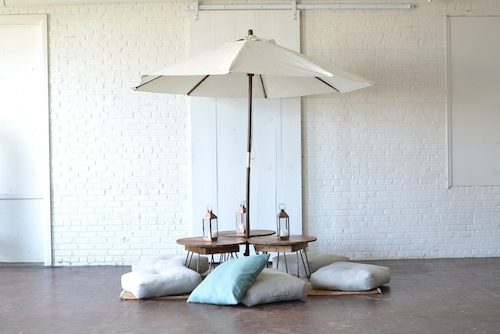 At this point, it was hard to resist just sitting down on those cozy cushions and hanging out with some #pandjpeeps!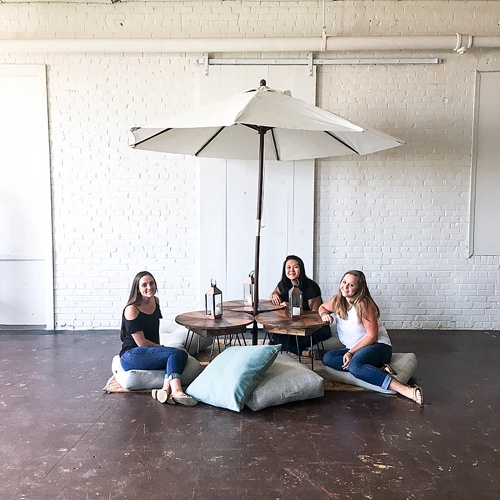 Aperture Wooden Cocktail Table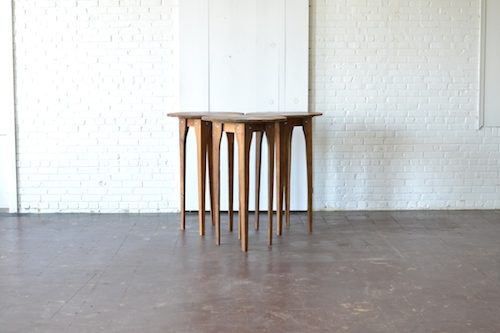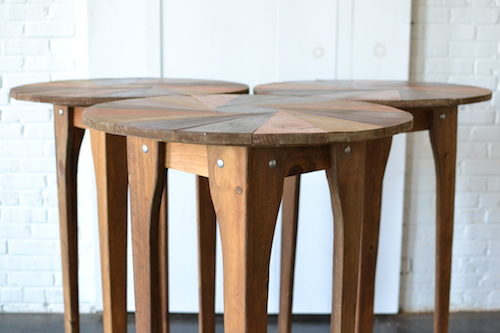 For the next design, we traded out the hairpin legs for these wooden legs and with that, we made it into a cocktail table cluster!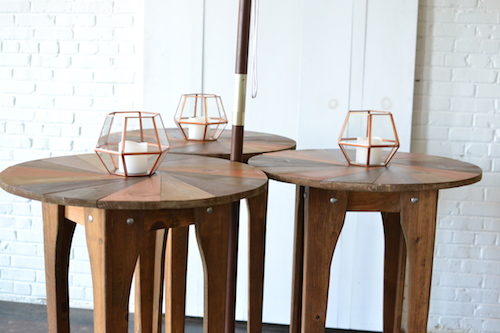 We topped the tables with Geometric Copper Lanterns and the copper and dark-stained wood paired together perfectly!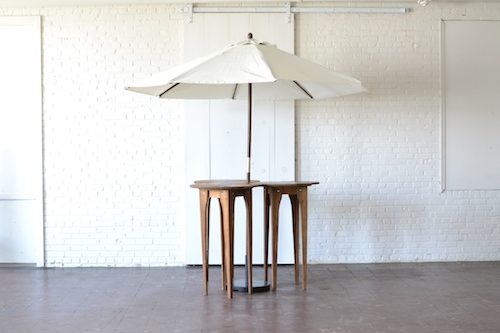 Despite a bit of superstition, we once again opened up the Patio Umbrella to complete this casual, chic and functional look!
We had such a fun time putting this Inspiration Station together and we hope that it inspires you to change up the table set-up at for your next event! Be sure to snap a picture and tag us on Facebook and Instagram when you do!
Paisley & Jade is a vintage & specialty rental company based in Richmond, VA and serving Virginia, North Carolina and Washington, DC.  We maintain an inventory of gorgeous & unique furniture and decor pieces that you can use to create one-of-a-kind event spaces, weddings, photo shoots, and trade show displays.  To learn how Paisley & Jade can help enhance your next  visual display or special event, please contact us today!