Categories: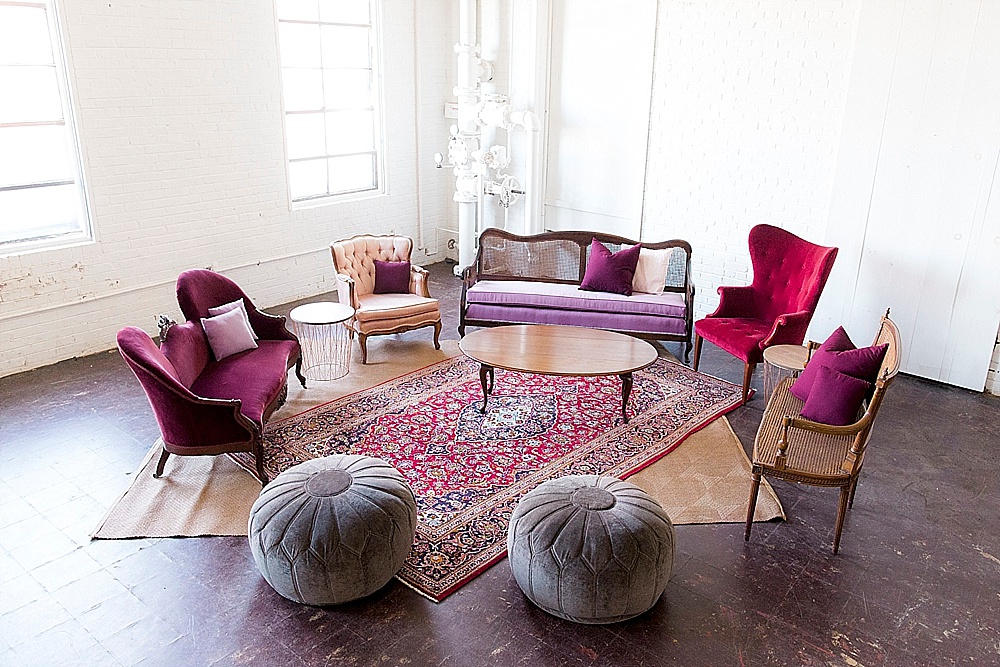 We are steadily swooning over this rich, jewel toned lounge package!  "The Bordeaux" brings together some of our most unique pieces to create a colorful and luxurious lounge.  From "Poofs" to Settees, this grouping offers a variety of different and comfortable seating options for your wedding or event guests.  We also love how the shapes and textures of each of our #pandjpretties play off one another beautifully in this look.  It's a perfect lounge area for weddings, corporate events or parties!  Below we're sharing details of all the pieces we used to create this lovely lounge package!
This sweet settee boasts a super unique shape! It's a vintage beauty that is upholstered in soft velvet fabric colored in a deep wine hue.  This piece is perfect for lounge areas, bridal and boudoiur portraits!
.
This vintage caned beauty is crafted of dark wood and is upholstered in gorgeous lilac ombre fabric.  Yes, we said ombre! This sofa is a stunner and is perfect for photo shoots or lounge areas. It offers a casual vibe with a pop of color and tons of character!
.
This classic wooden settee with caned seating and back is such a wonderfully simple yet stunning vintage piece!  Perfect for sweetheart seating or as a portrait prop.
This large vintage rug boasts a gorgeous design with deep red, navy and green accents. It's a simply beautiful and classic piece which works perfectly  in any lounge or ceremony setting!
  An artistic beauty! This tall wingback chair is upholstered in a bold red fabric with lovely wooden detail on the arms. Perfect for portraits and works well in any style lounge area!
This dainty button tufted beauty is upholstered in beautiful blush colored silk. She's the perfect vintage piece for showers, lounge areas or photo shoots.
We love these comfy and large "poofs" in lounge areas! They are a great addition to any styled shoot or cocktail lounge. Such fun a unique seating option!
Big and beautiful! This large rattan rug is such a versatile piece for photo shoots, ceremony set-ups or lounge areas. It's size and neutral color and unique texture make it a great choice for this richly colored lounge package!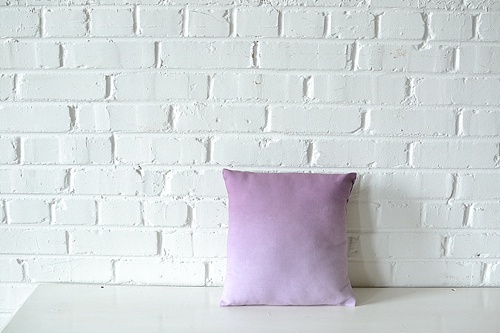 SQUARE LAVENDER OMBRE PILLOW
This little beauty is an exact match to the gorgeous upholstery fabric of the Mariposa sofa!  A perfect little accent piece that helps tie together this entire lounge look.
A sweet little square pillow covered in a deep wine-colored fabric.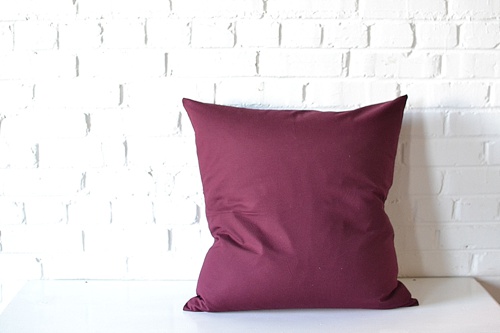 One of a set of five soft and comfy pillows covered in a rich burgundy fabric.
A classic and traditional solid wood coffee table with options to use as rectangular or round piece.
A unique end table option with gorgeous copper detailing on the bottom and wood on top. Simple and versatile enough to work in any style lounge area!  We love how it adds a modern and metallic touch to this package.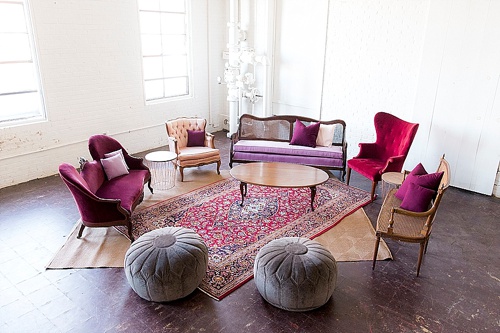 And now you now all about the beautiful Bordeaux Lounge Package.  We can't wait to see how you use this design at your next event!  Make sure to snap and photo and tag us on Instagram and Facebook! 
Paisley & Jade is a vintage & specialty rental company based in Richmond, VA and serving Virginia, North Carolina and Washington, DC.  We maintain an inventory of gorgeous & unique furniture and decor pieces that you can use to create one-of-a-kind event spaces, weddings, photo shoots, and trade show displays.  To learn how Paisley & Jade can help enhance your next  visual display or special event, please contact us today!