Categories: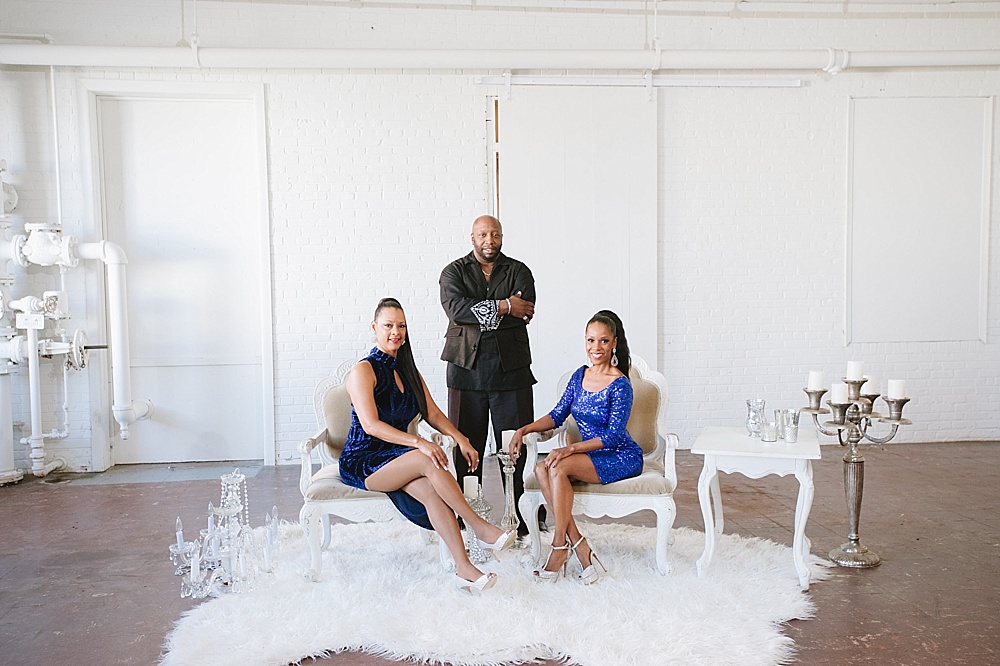 Smooth, soulful and captivating…and we're just talking about the harmonies!  Having "The Wallers" at Highpoint and Moore for a photo shoot was truly a treat!  We could've listened to this glamorous group's voices bounce off the showroom walls for days.  So beautiful!  "The Wallers" were one of four bands from East Coast Entertainment who spent the day at our space to shoot new promotional photos with our friend (and rockstar within her own right) Jessica Maida.  We hope you enjoy these images as much as we enjoyed meeting and listening to the sounds of  this insanely talented trio!
We wanted to create a lavish looking and clean space for "The Wallers" photos that would help accent their naturally glamorous and classic vibes.  We love the combination of our Faux Sheepskin Rug, large silver Gothic Candelabra and Hubbard chairs.  And it's always fun to find new ways to use accessories like our glass cut chandeliers!  We love how they don't have to be hung or even lit to add sparkle and shine to any setting.  So chic!
What a great day and a gorgeous group!
To learn more about renting our space at Highpoint and Moore for your photo-shoot, workshop or event email us at info@paisleyandjade.com!
Images – Jessica Maida Photography 
Paisley & Jade specializes in vintage and eclectic rentals and custom fabrications for events, weddings, photo shoots, photo booths and other visual displays.  We maintain an inventory of gorgeous, unique furniture and decor pieces that you can use to create one-of-a-kind event spaces.  To learn how Paisley & Jade can help enhance your next  special event, please contact us today!