Categories: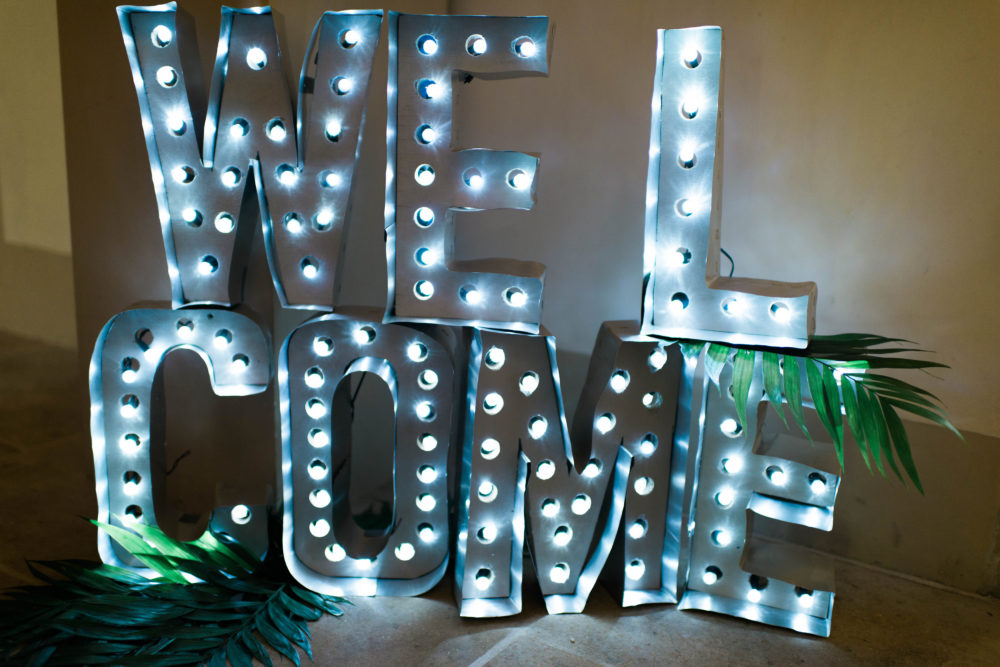 We are thrilled that we had the opportunity to attend, and help sponsor, the NACE Richmond May Meeting at the gorgeous Virginia Center for Architecture. We were delighted to hear Katelyn James speak on the informative topic of Blogging: The Secret Weapon of a Small Business. Katelyn truly did a superb job explaining the tips and tricks for using blogging to transform your business. I know we walked away with more than a few helpful notes!
We can't mention this event without gushing over the absolutely stunning design, and planning done by Tart Event Co. Walking into the building you couldn't miss the vibrant colors and fun Palm Springs vibe that radiated throughout the space! Our friends at Tart Event Co. did an amazing job incorporating Paisley & Jade pieces into their expertly curated design.
When entering the event we were warmly welcomed by the glow of marquee letters. Next we strolled over to the homestead white beadboard bar where we enjoyed the night's refreshing signature cocktail, the Malibu Sunset, which was sponsored by the fabulous I.K. Catering. Then we couldn't resist going over to the heritage farm tables that were topped with adorable gold pineapples and tasty Palm Springs inspired food sponsored by Groovin' Gourmets.
The main event of the evening then began and we moved into the Great Hall.  The focal point of the room where Katelyn presented was flanked by the side steps from the P&J London Doors. Atop the steps the team from Tart Event Co. placed playful smallware items like lanterns, brass swans and vases full of lush greenery. What a creative way to focus all of the guest's attention and bring in splashes of color. We finished up the evening with delicious desserts sponsored by Sweet Fix. The delicately crafted sweets looked beautiful laid out on white two-tiered tables.
We want to send a special thank you to Kim Stockwell Photography for capturing all of these wonderful pictures of the night! The evening was certainly one to remember and we cannot wait to see what's ahead for the next NACE event.
Paisley & Jade specializes in vintage and eclectic rentals and custom fabrications for events, weddings, photo shoots, photo booths and other visual displays.  We maintain an inventory of gorgeous, unique furniture and decor pieces that you can use to create one-of-a-kind event spaces.  To learn how Paisley & Jade can help enhance your next  special event, please contact us today!