Categories:
If we had to describe Monday in a phrase, we'd snag a quote from rapper/actor Ice Cube, "today was a good day."  It was the day we got to share the new and improved Paisley & Jade website with all of YOU!  It's a day we've been excitedly anticipating and a day we've been working towards for months!  Our new little corner of the world wide web offers some unique and customer friendly features we think you and your clients will love!  We've worked closely with our awesome web designer and developer Tori Bogardus Tansill and our friends at RW Elephant to create this interactive and informative hub and we can't thank them enough for their tireless work!   We are just tickled pink (like full on Serra upholstered sofa pink) that our new site is up and running and ready for all of you to enjoy!  We hope you browse some of the features we've highlighted below and tell us what you think ! Please share your thoughts on social media using #pandjgetsgussiedup!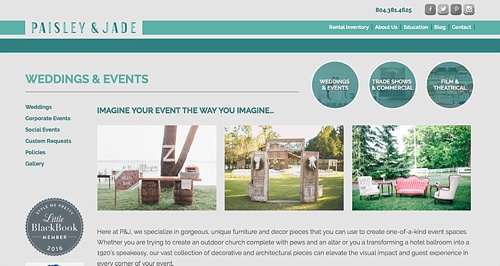 New Portals! Our website portals are now more client specific! When browsing P&J you can click on one of the handy dandy teal circles and be directed to a section of our site that is designed to help you with rental items for a particular type of event.  Right now our portals include Weddings & Events, Trade Shows & Commercial and Film & Theatrical.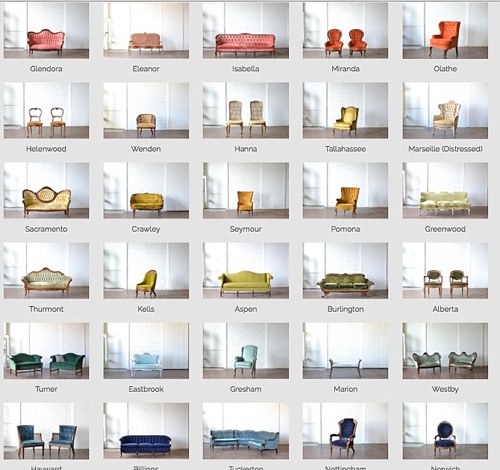 Expanded Inventory Information! Guys, this is huge!  From our taxidermy ducks to our three piece sectional sofas, each item in our inventory is now described in detail on our new site!  This includes helpful information like dimensions, seating capacity, materials, style and more!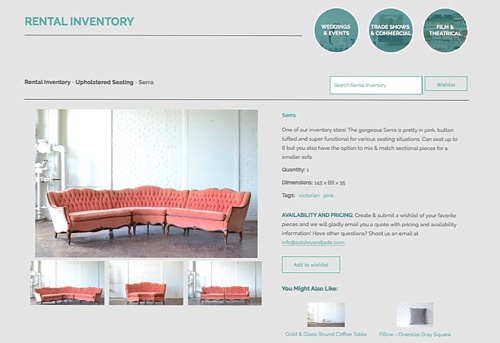 Wishlist Feature!  We are SO excited about this!  Our new Wishlist feature allows you to peruse our awesome inventory and add all of your dream rental items to a list any Fairy God Mother would love!  This is a great little feature for helping you style your dream lounge area, table scape, trade show booth or wedding ceremony!  It also helps us serve you better by laying the groundwork for turning your creative vision into a rental reality!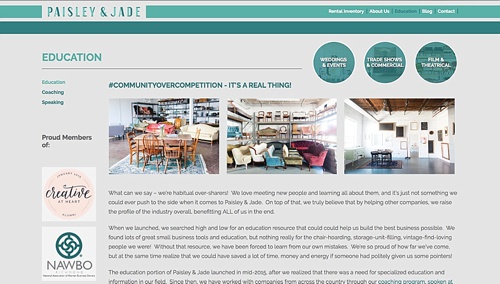 Homebase for Education! Community over competition now has a permanent home at P&J!  Our new site includes a specific section on Education!  We love sharing our story and knowledge with other small business owners and we think this will be a one stop shop for business coaching, educational materials and more!  This section is still a work in progress, but keep your eyes peeled for some fun new additions in the coming weeks!
Happy browsing ya'll!
Paisley & Jade specializes in vintage and eclectic rentals and custom fabrications for events, weddings, photo shoots, photo booths and other visual displays.  We maintain an inventory of gorgeous, unique furniture and decor pieces that you can use to create one-of-a-kind event spaces.  To learn how Paisley & Jade can help enhance your next  special event, please contact us today!