Categories: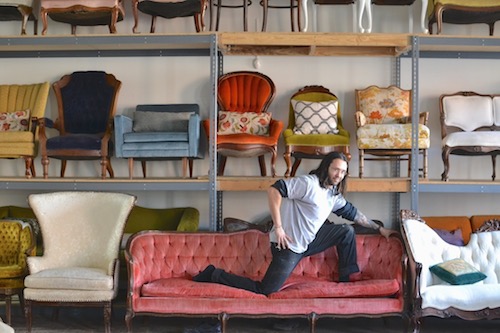 We want to welcome Stephen to the Paisley & Jade team! Stephen is our full time warehouse manager which basically means he is the man behind all your beautiful events! You may have seen him on site by now and we apologize for the delay in formally introducing him but someone was not super pumped about getting their picture taken…at first.  As you can see he is actually a social butterfly!
When he's not throwing couches over his shoulder, he enjoys cross fit, tattoos, and Seinfeld (if you didn't pick up on the couch lounging "form"). When asked what his favorite piece of P&J furniture, his response may be the Burlington Couch due to its "masculine earth tones and feminine curves" and his least favorite item would be the Heritage Farm Tables because, well frankly, they are "jerks to move and set up".
We almost cannot remember work life before Stephen joined us this past August. He has made such a positive addition to the team and we are excited for you all to meet him!
Paisley & Jade specializes in vintage and eclectic rentals and custom fabrications for events, weddings, photo shoots, photo booths and other visual displays.  We maintain an inventory of gorgeous, unique furniture and decor pieces that you can use to create one-of-a-kind event spaces.  To learn how Paisley & Jade can help enhance your next  special event, please contact us today!