Categories: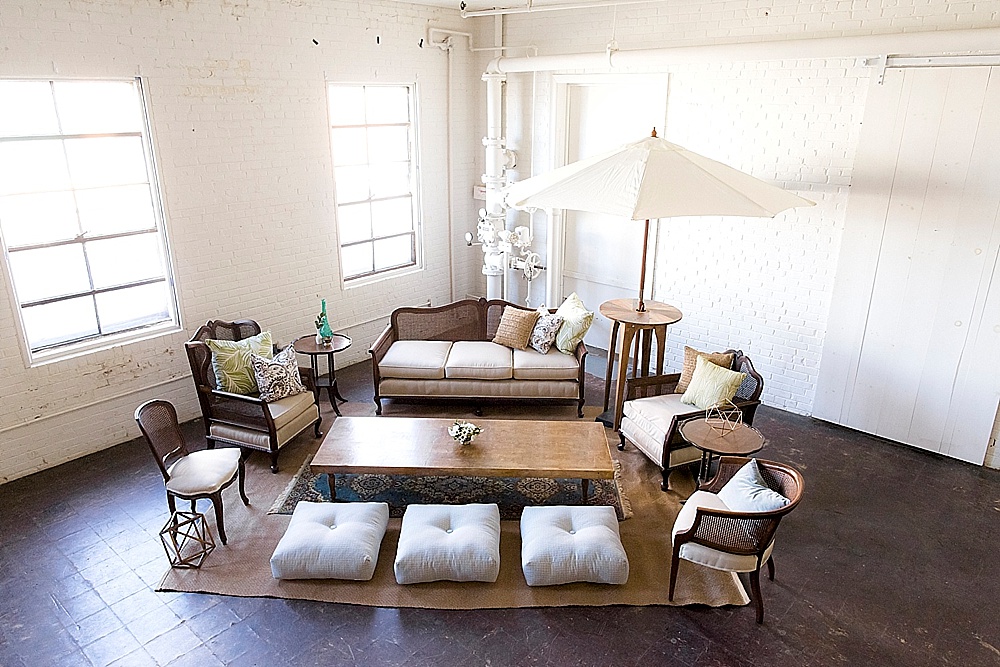 Whether you're planning an outdoor wedding for next Spring or a backyard bonfire this Fall, our Patterson Collection is sure to make guests swoon at your next event!  Below we're sharing all of the charming details that help make up this "Garden Party" design option.  Scroll down to see how all of these #pandjpretties work together to create a comfortable, casual and chic lounge option for your guests!
The heart of this lounge design is made up of our collection of pretty Patterson upholstered pieces.  All boast beautiful neutral upholstery and gorgeous dark caned details, these vintage beauties set the casual and chic tone of this look.
This pair of pretty vintage end tables is made up of gorgeous dark stained wood that plays perfectly off of the dark caned details of the Pattersons!
These fun wooden tables really play up the causal and outdoor vibe of this design.  We not only love how they look but we also love the way they encourage guests to relax and get cozy.
These plush and pretty cushions add an even more comfy and casual aspect to this lounge along with offering an extra seating option outside of the standard upholstered chair or sofa.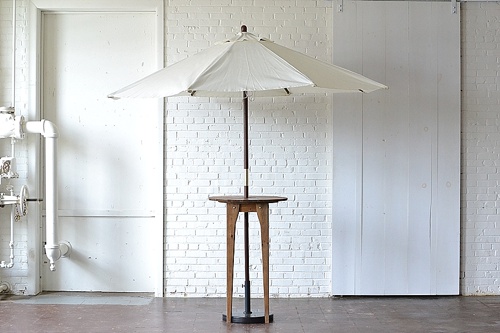 APERATURE COCKTAIL TABLE WITH UMBRELLA
Much like tropical cocktails, garden parties are not complete without an umbrella!  This combo includes two of our favorite #pandjpretties and is the ultimate accessory to this look.
Pillows and rugs are a fantastic way to add texture and pattern to any lounge!   We chose to add pieces that boasted  organic, floral and colorful details to help tie this garden party look together.
Our Copper Geometric Shapes and Wooden Prism add a touch of modern flair and artistic interest to this overall design!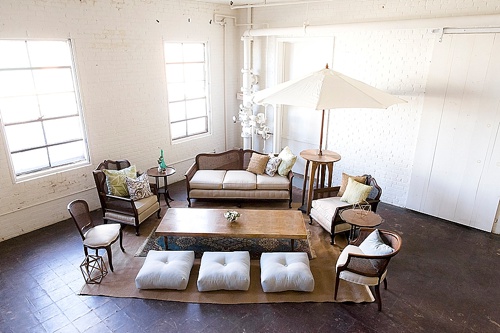 We can't wait to see how this pretty set up stuns at your next outdoor event!  Make sure to snap a pic and tag us on Instagram!
Paisley & Jade is a vintage & specialty rental company based in Richmond, VA and serving Virginia, North Carolina and Washington, DC.  We maintain an inventory of gorgeous & unique furniture and decor pieces that you can use to create one-of-a-kind event spaces, weddings, photo shoots, and trade show displays.  To learn how Paisley & Jade can help enhance your next  visual display or special event, please contact us today!