Categories: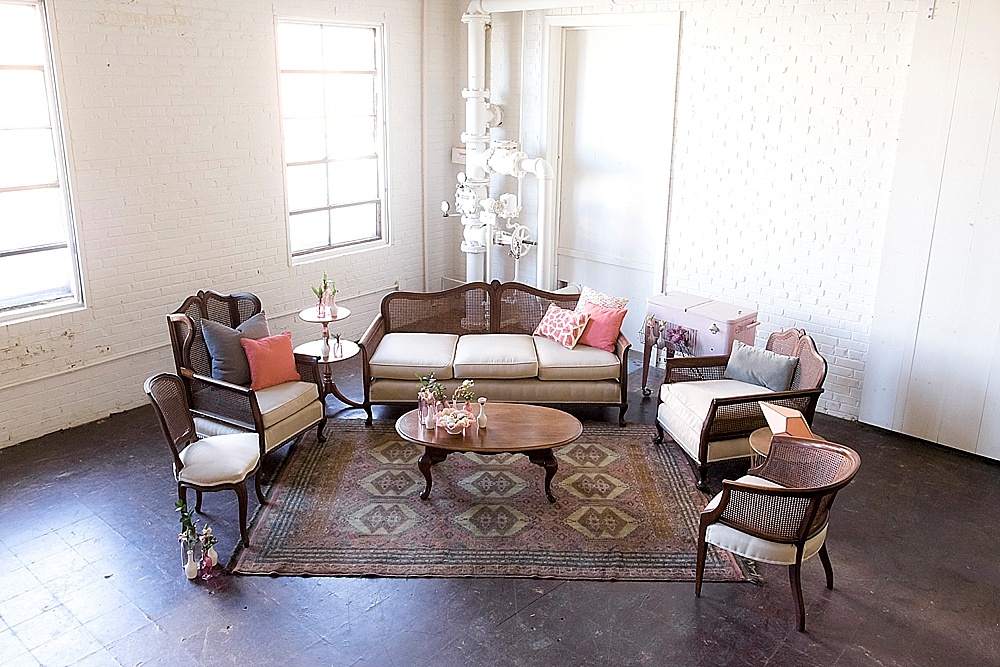 Our collection of "Patterson" furniture is made up of carefully curated pieces that feature simple neutral upholstery and gorgeous wooden and caned details!  This collection as a whole or any piece on it's own can work in any style or type of event and works perfectly at both indoor and outdoor venues.  Because these pieces are so simple and lovely they are easy to personalize and style for  your event.  Today we're showcasing a "Feminine" styling option using some of our favorite #pandjpretties! Adding pretty pinks and soft textures the Patterson Collection helps create a sweet look that's perfect for baby or bridal showers or any pastel hued wedding or party! Scroll below to check out details of each piece we used to create this look!
This gorgeous caned sofa is the anchor of the lounge.  With it's large size and comfortable cushions this piece provides a wonderful seating option at events or as a prop for bridal, boudoir or family portraits!
Gorgeous caned arm chair boasts a high back and a unique shape. It's a lovely little piece for lounge areas or photo shoots!
This high-backed chair boasts some detailed caning and it's a showstopper in lounge areas and photo shoots!
This sweet little chair boasts the classic caned details and neutral upholstery but it's barrel shape gives it a modern twist!
A simple and classic design, this side chair helps round out any lounge area and is a great choice for detail or product shoots!
This unique and soft rug features gorgeous geometric patterns with pink, cream and gray tones.  This piece really adds to the feminine look of this lounge design without being too literal or overwhelming.
One of our favorite pieces! This adorable vintage standing cooler in a beautiful soft pink is an awesome beverage display for any event and works perfectly as a pink accent piece in this lounge area!
We love this simple, solid wood coffee table with beautiful detailed legs and an oval top.
This charming two tiered wooden table boasts a beautiful rose gold finish and was the perfect touch of metallic to add to this feminine look.  This piece is also perfect for dessert displays, styled shoots or product shoots.
This modern and chic end table boasts gorgeous copper detailing on the bottom and wood on top.  A great combination of natural and metallic that works perfectly in this particular design.
This collection of pretty rose colored glass bottles is a great styling accessory!   These little ladies are perfect on their own or as floral vessels and they are available in various sizes.
We love this unique vintage hobnail milk glass bowl that boasts a beautiful soft shade of pink!
Our hand made wooden prism is painted peach with gold trim. This is such a fun and surprising little decor piece!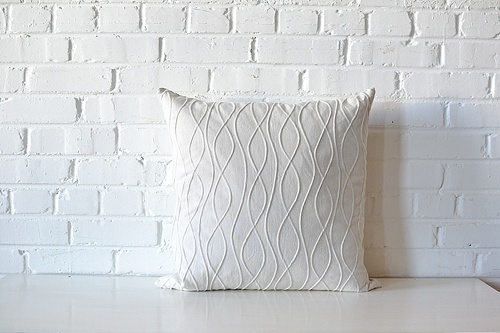 NEUTRAL TEXTURED SQUARE PILLOW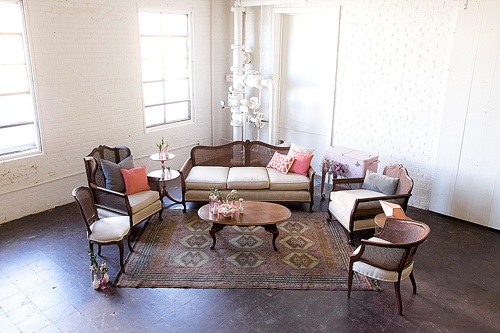 We can't wait to see how you use this lounge at your next event!
Happy styling friends!
Paisley & Jade is a vintage & specialty rental company based in Richmond, VA and serving Virginia, North Carolina and Washington, DC.  We maintain an inventory of gorgeous & unique furniture and decor pieces that you can use to create one-of-a-kind event spaces, weddings, photo shoots, and trade show displays.  To learn how Paisley & Jade can help enhance your next  visual display or special event, please contact us today!