Categories: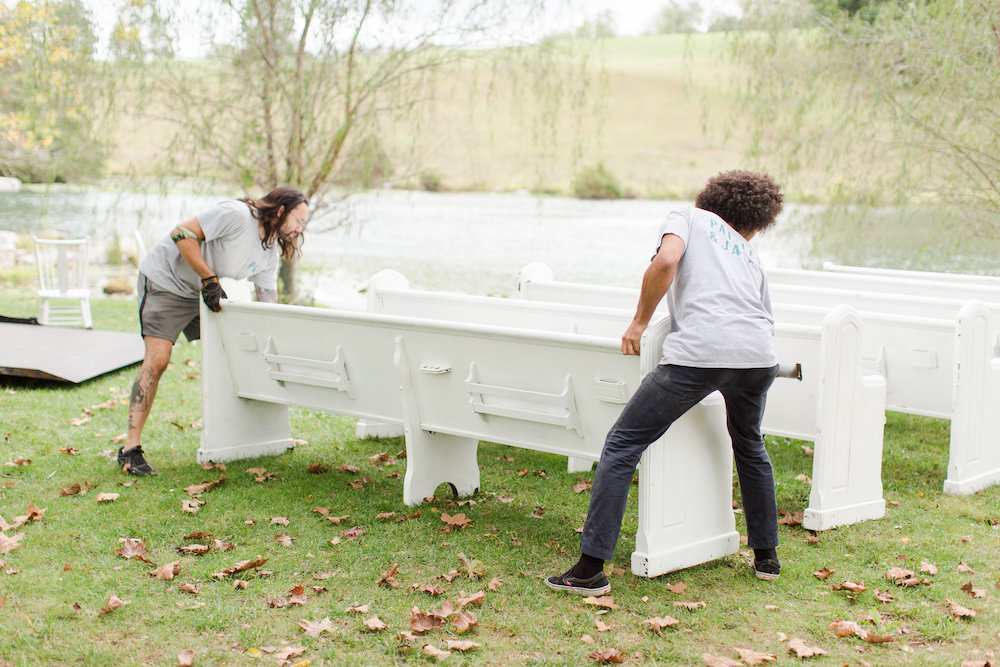 We have been really fortunate to make lots of friends in the vintage rental industry, and one of the things we find ourselves chatting about often are our "must-haves" when we're on site making deliveries!  We thought it might be fun to give you a little glimpse behind the scenes and let you know what things we never leave the warehouse without!!
1) Our Go Box –
This guy has evolved over the three years we've been in business, but it is our lifesaver when we are onsite making deliveries.  We keep a little bit of everything in here we may need to make adjustments/tweaks, including superglue, a hammer, scissors and a 10-in-1 screwdriver.  We also keep a whole cleaning and touch up kit in the Go Box as well, since sometimes our collection needs some love once we've got it all set up!   This includes pledge, rags, Old English (a lifesaver for little nicks and scratches on wood furniture!), and stain pens.  (If you don't have stain pens, do yourself a favor and grab some NOW – we collect every color like they're sharpies – super portable, easy to use and no mess!)  We also keep some crew friendly things in the go box as well: Ibuprofen, a first aid kit and an extra pair of gloves in case someone forgets theirs!  The Go Box has come in handy on SO many occasions, but not just for us!  Events are a team effort, and it's always a great feeling when you can help another vendor solve a problem with a handy tool or doodad you have with you – and makes you look great!
2)Marketing Materials
We always make sure our teams have marketing materials with them (most often handily stored in their Go Box!).  We have had numerous occasions where our crews are setting up (especially in more public venues), and random passerbys ask what we're doing or who we are, and our team had been able to give them a business card or a small 4×6 brochure.  We have actually had clients find us this way before!  We also keep marketing materials with us so that as we arrive at venues and work with vendors, we have them if requested.  Just to be clear, we don't go shoving our card into everyone's hands as we're all trying to execute an event (the client is the first priority at that point in time!), but it's always nice to have them available in case the venue wants to have a few on hand to give to their potential clients, or if a new vendor that's a part of the event team wants to connect.  It's always better to be prepared!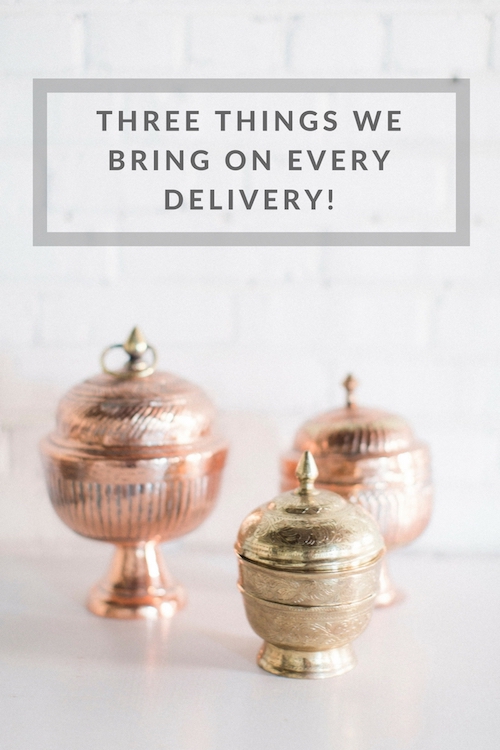 3) A Good Attitude
This sounds a little cheesy, yes, but it's SO important to have a positive demeanor when doing deliveries!  When we started P&J, we made the decision that as part of our culture, we wanted to be the company that people were excited to have on site.  (As in, other vendors pull up to the site and see our truck and go "Oh, awesome – P&J is here!!)  It's so easy to get a little glum after a long day on the road, doing multiple deliveries and on top of that, dealing with whatever crazy weather Mother Nature has whipped up, but that's not the kind of company we want to be.  We want to be the "thinking on our feet", "don't let the little things get you down", "awesome under pressure" & "thinking outside the box" company – and in order to be that, a positive attitude is a must!  Besides, having fun and being happy are definitely contagious – and don't we all want to be on a work site where everyone is being productive AND fun?
So, now that you know what three things we take with us on every delivery, we want to know – what do you bring with you to every event?  What are your must haves?? Leave a comment below!
Interested in more behind the scenes business content from P&J?  Check out our online shop, where we have a FREE resource, Hashtags for Event Professionals, available for download.
Cover image by Katelyn James Photography.
Paisley & Jade is a vintage & specialty rental company based in Richmond, VA and serving Virginia, North Carolina and Washington, DC.  We maintain an inventory of gorgeous & unique furniture and decor pieces that you can use to create one-of-a-kind event spaces, weddings, photo shoots, and trade show displays.  To learn how Paisley & Jade can help enhance your next  visual display or special event, please contact us today!