Categories: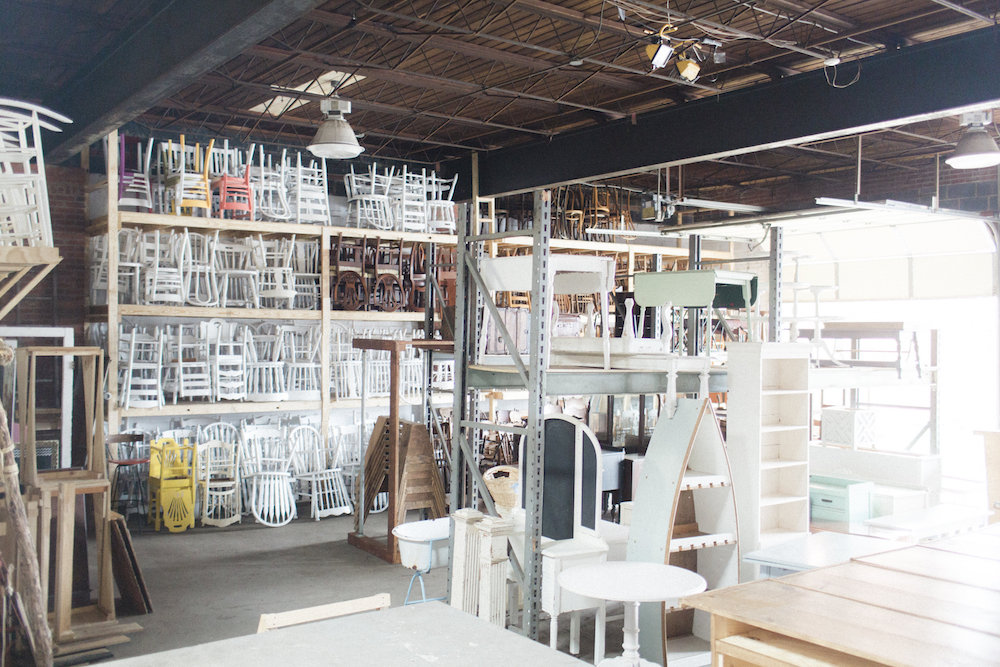 This little business of ours has been chugging right along, and we often get asked what it is we think that has helped us grow, so we thought we'd take a little time today and share with you all what we think has really pushed us forward!!  The beautiful thing about owning a business is that you CAN do it on your own and there is nothing wrong with that! But if you are looking to scale up, increase revenues and become a bigger player in your market, you have to take actionable steps to get there!  Here are three things we KNOW have helped us grow from a two-person operation working out of storage units to a company with 5 full time employees, a part-time staff, and 10,000 square feet of space!
1. Cultivating and maintaining relationships with our creative partners & "friendors"!
We can't say it enough, but we couldn't do this on our own!  We always like to tell people that if we existed in a vacuum, there would just be sofas in fields, next to rivers and in parking lots!!  The creative team it takes to put on an event (or any visual display) is integral to our success – planners, photographers, stylists, venues, art directors etc.  We are simply providing tools to help them bring their visual ideas to life, so without their creativity and drive and brilliant ideas, we would not be as successful – which is why it is SO important that we take good care of our "friendors"!!  From the very beginning, we strived to work with our vendor friends in a way that was always shaped around them – "what can we do to help THEM?" as opposed to "what are THEY doing for US?".  Framing our partnerships outside of what was only beneficial to Paisley & Jade was an adjustment from our previous ways of thinking, but has paid off tenfold.  So whether it's making a connection between two vendors that we think really ought to get to know each other, giving excellent credit every time we post a photo or finally finding a way to accommodate EVERY styled shoot request, we are always trying to build up these relationships!  Besides, it's awesome to be able to work with your friends!!!
2. Hiring capable staff and creating an amazing company culture
Hiring our first employee was one of the scariest things we ever did, but also the best decision we ever made for our business.  The basic math of hiring someone makes total sense:  by paying someone to do certain tasks, you free up your time to then take part in activities that can generate additional revenue, therefore paying for that employee and growing your business at the same time.  And as we have continued to grow and hire additional people, this holds true – with the added motivator that as a business we HAVE to continue to excel and be successful, as Paisley & Jade is now responsible for the livelihood of its people!  But there's definitely more to it that just signing someone's paycheck – we wanted to create a place that people love to come to work and truly enjoy what they do – knowing that happy employees equal happy clients which equals continued brand awareness & loyalty which …leads to growth!  So yes, we DO believe that an impromptu ice cream sundae party during a busy week can help us grow, and that treating our delivery crews to a meal on the company when they are on the road all day can bring in additional customers!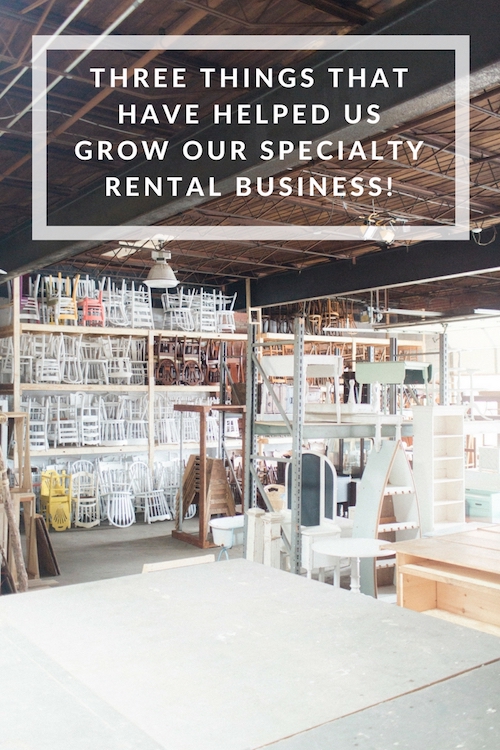 3. We're always learning!
This last point is SO important to us!  We firmly believe that no matter what point our business is at, we all still have more to learn.  Whether its from a conference, an Instagram account we follow or even a casual conversation with one of our fabulous "friendors" – we are certain there is something we can learn from every person, situation and experience out there!
There are so many small decisions we've made over the past three years that have led us to where we are today, but we definitely have continuously looked to these three ideals to guide us along the way!  If you want to share, we'd love to hear from you all about what has helped your small business grow – just leave us a comment below!!
If you're interested in learning more about out strategies for running, managing and growing a vintage & eclectic rental company, please check out our coaching page!
(Blog post cover image by Stephanie Yonce Photography)
Interested in more behind the scenes business content from P&J?  Check out our online shop, where we have a FREE resource, Hashtags for Event Professionals, available for download.
Paisley & Jade is a vintage & specialty rental company based in Richmond, VA and serving Virginia, North Carolina and Washington, DC.  We maintain an inventory of gorgeous & unique furniture and decor pieces that you can use to create one-of-a-kind event spaces, weddings, photo shoots, and trade show displays.  To learn how Paisley & Jade can help enhance your next  visual display or special event, please contact us today!