Categories: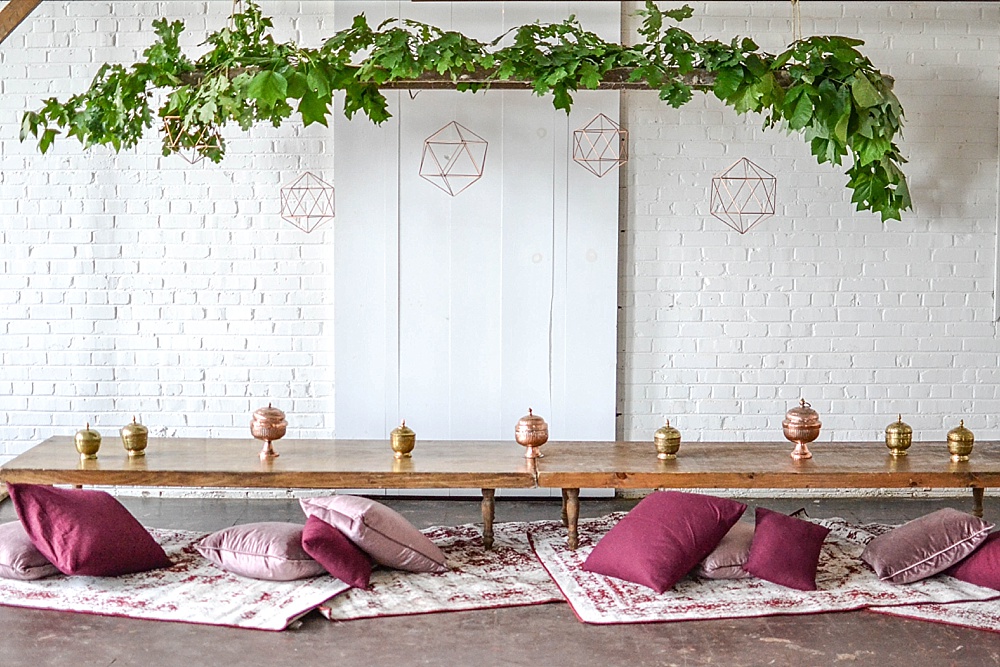 At Paisley and Jade, we like to find ways to take something simple and turn it into something amazing. For this Inspiration Station, we decided to grab our Wooden Ladder and transform it into a decorative element. What we ended up with was a beautiful boho dining design that all your guests will fall in love with, and maybe not even realize a ladder is what is hanging over their heads!
First, we started off by taking our Wooden Truss and hanging our Wooden Ladder from that with some rope.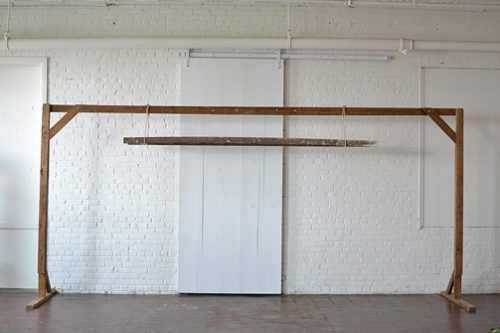 From there, we grabbed our Geometric Copper Shapes and tied them onto the ladder. Changing up the lengths each shape hangs at keeps this design dynamic and playful! Tip: We used fishing wire to hang them  up since it is as sturdy as it is invisible (and cheap).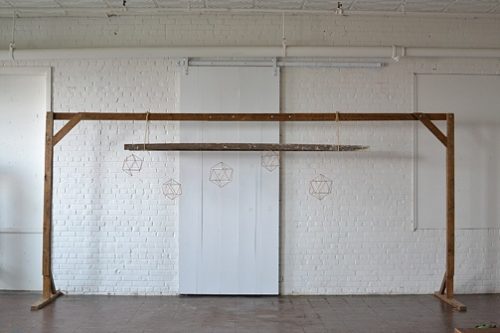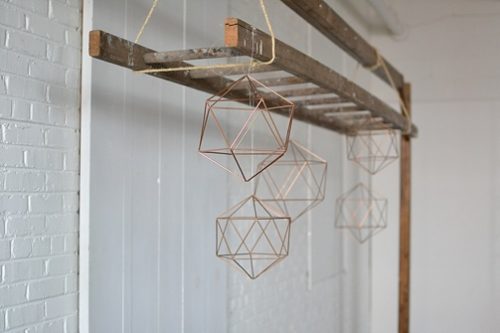 To put in some color, we decided to include greenery on the top of the ladder! Don't want to pay for faux greenery?! Grab some from your backyard! This gives the design a very natural feel and your guests will love that extra touch.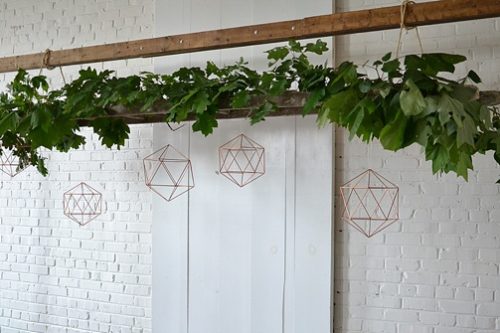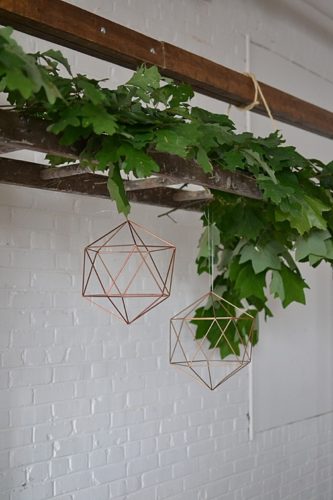 What is more fun than sitting on pillows?! We can't seem to think of anything else! Here, we paired two of our Flippin Low-Set Tables with our Grafton Rugs and set up seating with our burgundy and pink pillows. This dining area will have your guests feeling comfortable and relaxed while still keeping it classy.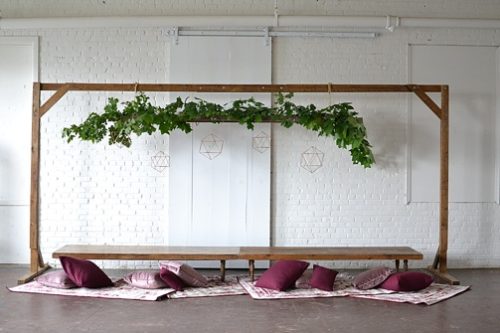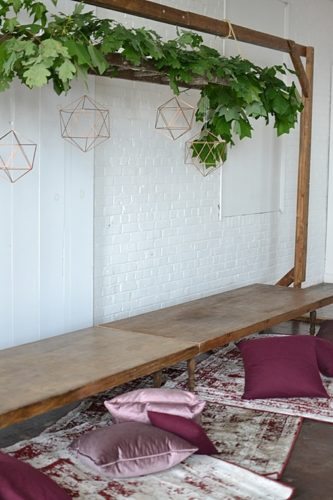 The dark stains of the tables and truss work beautifully and tie it all together!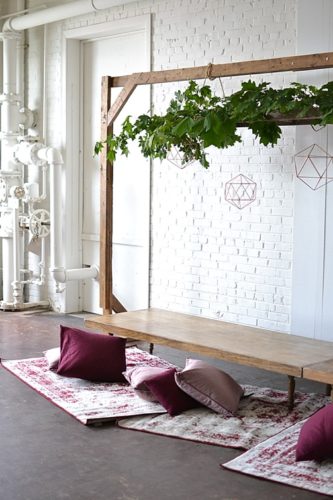 The deep reds and pinks of the rug are brought out by the burgundy pillows to make the perfect pair!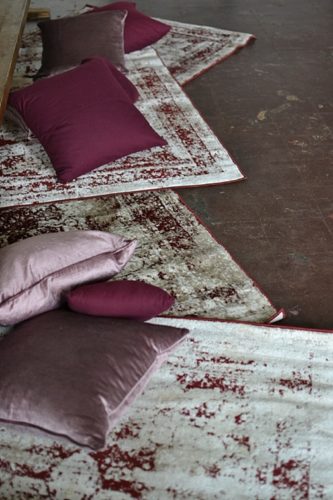 You can't have a proper P&J boho design without including our copper and brass urns! These tabletop elements will match perfectly with the geometric shapes hanging above them.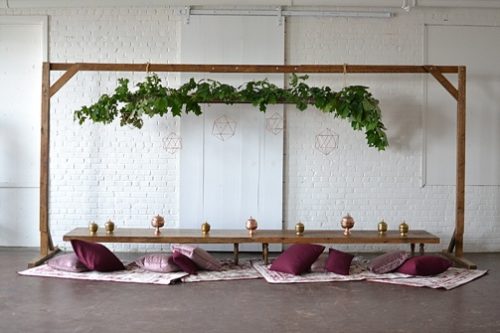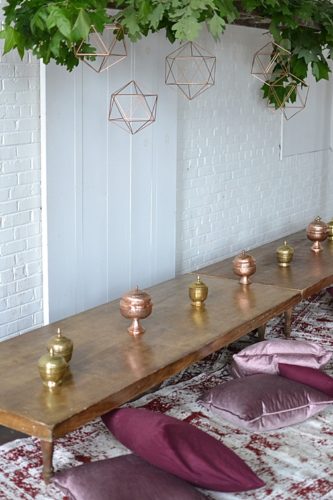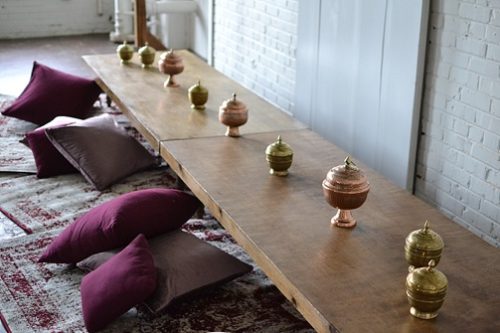 We hope you love this fun and fab dining set up, and we can't wait to see your design take on it!
Paisley & Jade is a vintage & specialty rental company based in Richmond, VA and serving Virginia, North Carolina and Washington, DC.  We maintain an inventory of gorgeous & unique furniture and decor pieces that you can use to create one-of-a-kind event spaces, weddings, photo shoots, and trade show displays.  To learn how Paisley & Jade can help enhance your next  visual display or special event, please contact us today!