Categories: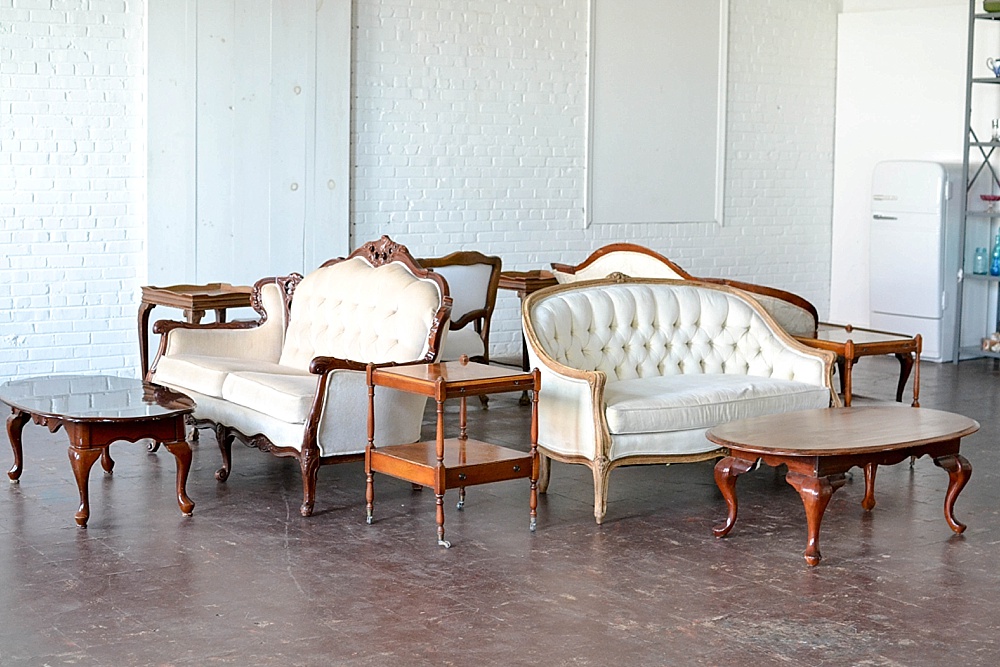 We're always looking for new ways to style lounge areas for your upcoming events and it's no secret that we love a nice neutral palette!  For this Inspiration Station,  we chose some of our favorite white and cream #pandjpretties along with a few great vintage wooden tables.  We also decided to switch up the standard layout a bit.  Instead of a common forward facing, one-dimensional lounge we wanted this design to be a little more well rounded and open.  After a few adjustments we found a wonderful way to make this baby have four fabulous sides!  Browse the images below to get the details on all of the pieces we used to create this lovely look!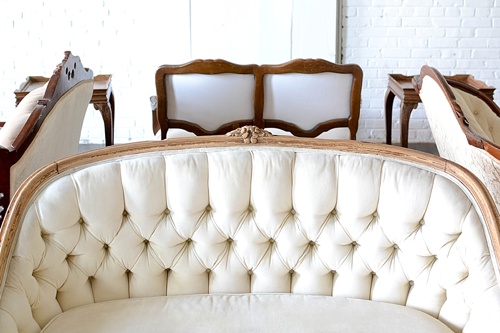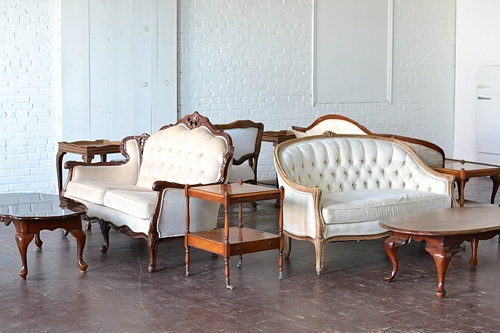 To anchor this lounge we chose four neutral pieces that would provide seating for at least eight.  These pieces include our Savannah, Sibley, Adeline and Beaufort settees.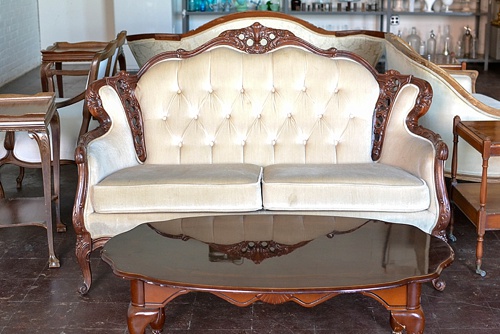 Each settee was paired with a coffee table in front and end tables in-between.  For this we chose some of our favorite vintage wooden tables including our Teak End Tables, Decorative End Tables, Ball and Claw Coffee Table, Cabriole Coffee Table, Lacquered Coffee Table and Turned Leg Coffee Table.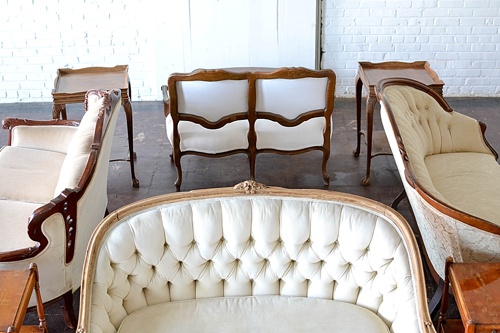 With the furniture firmly in place this four sided beauty is almost complete!  Since we have so many fun #pandjpretties to choose from we decided to use a few accent pieces to style the empty space in the middle.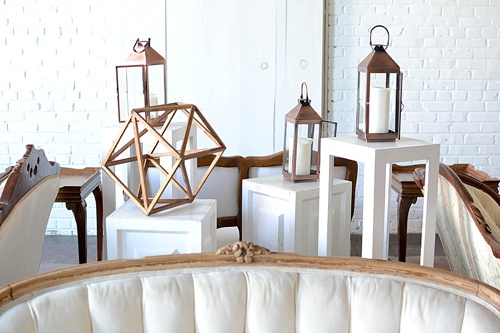 Our White Wooden Pedestals help create some dimension and height variance that bring a whimsical and fun element to inner area of the lounge.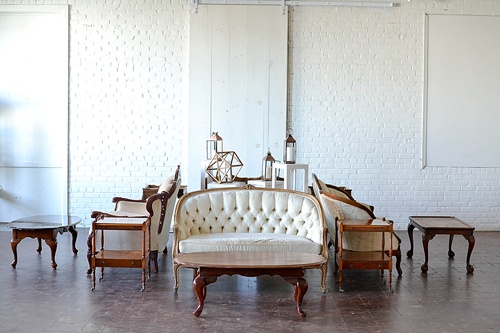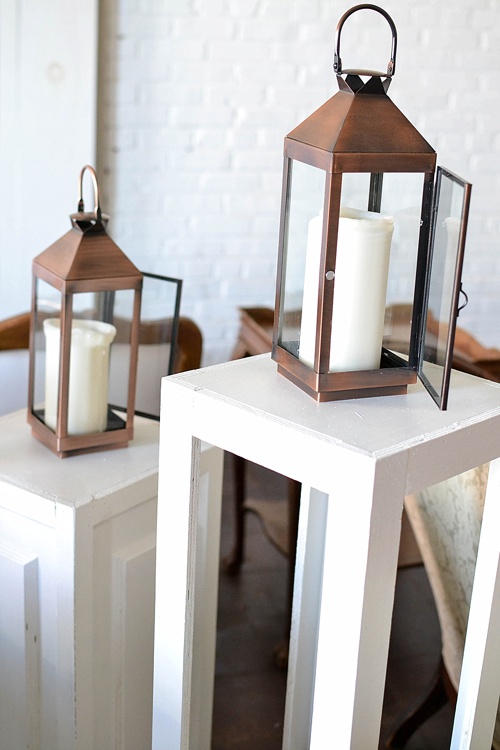 We love mixing the more traditional solid White Wooden Pedestals with the Modern White Columns both of which are custom built pieces by our awesome P&J Team!  Sticking with the neutral and wooden elements,  we chose our modern Wooden Prism to top one of the pedestals. This piece always adds fun element to any decor design!  Topping the other pedestals and columns we added a touch of metallic with our Classic Copper Lanterns.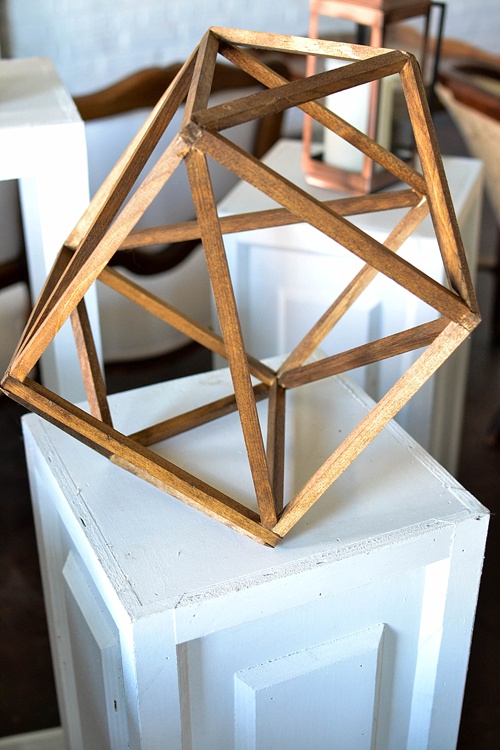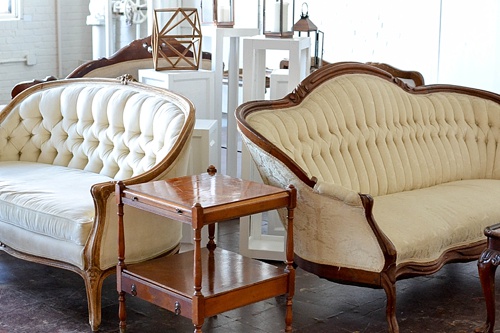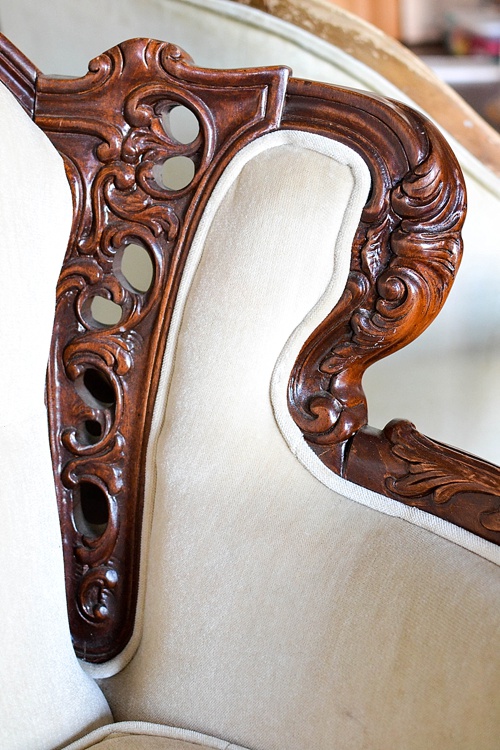 How pretty is the wood carving detail on our Adeline settee?  Swoon.
.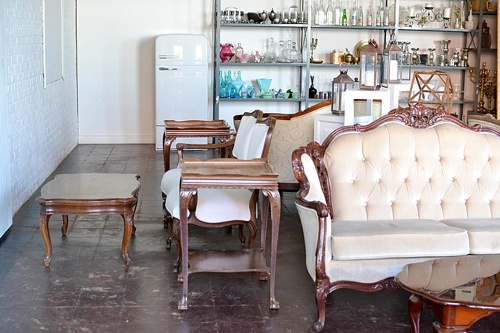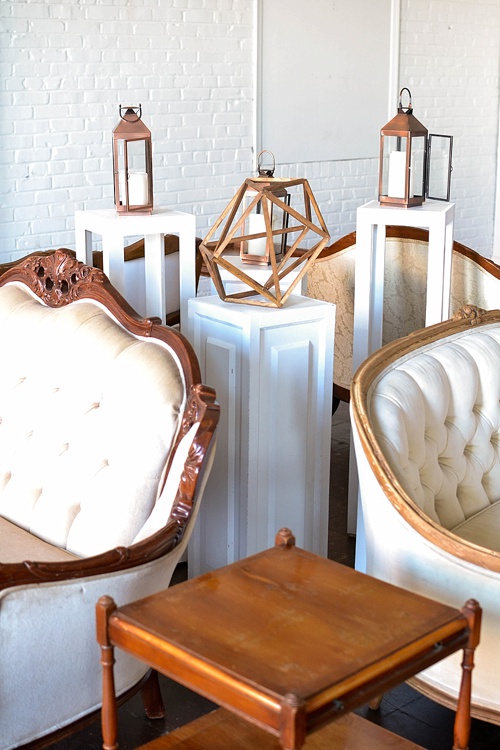 For a full 360 degree take on this design check out our Facebook page!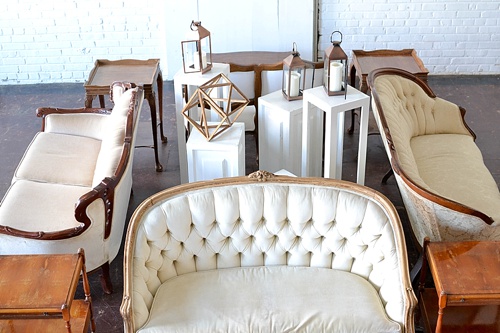 We hope this new take on a traditional lounge area inspires you to create something fun at your wedding, party or corporate event! Happy styling friends!
Paisley & Jade specializes in vintage and eclectic rentals and custom fabrications for events, weddings, photo shoots, photo booths and other visual displays.  We maintain an inventory of gorgeous, unique furniture and decor pieces that you can use to create one-of-a-kind event spaces.  To learn how Paisley & Jade can help enhance your next  special event, please contact us today!