Categories: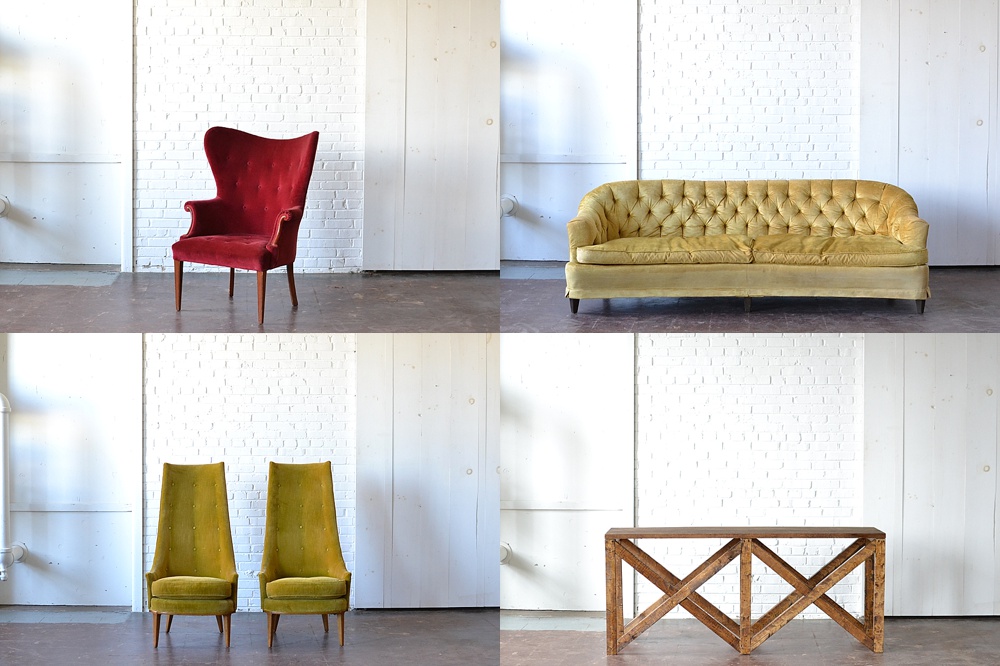 Oh boy do we have some new beauties to share with ya'll today!  We've been revamping our inventory for the last few months and we're so excited for you to meet our newest #pandjpretties!  So, let's get to it!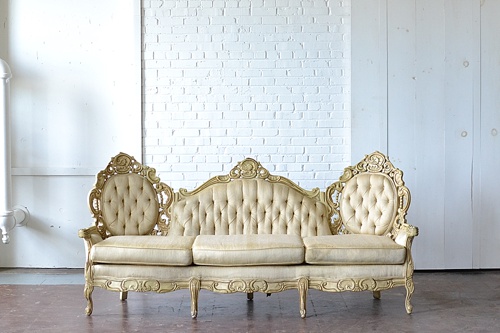 The Provence – This French beauty is getting a slight makeover but will be available to rent for your events starting this Spring!  The three-seater-sofa boasts ornate details and button tufting.  Perfect for bridal shoots, lounges or as a film prop!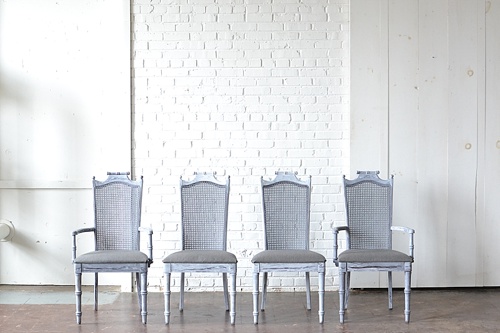 GRAHAM DINING CHAIRS – This set of gorgeous gray dining chairs is named after one of our favorite RVA friendors, Graham Haddock!  With a caned back and lovely carved details these beauties are perfect for head tables, sweetheart seating or dinner parties!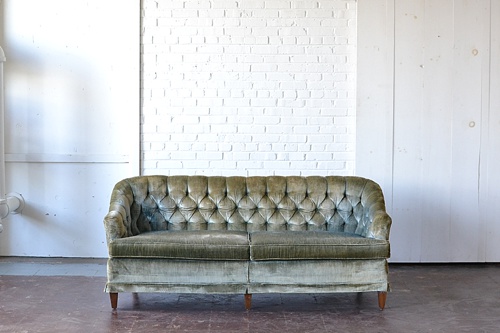 THE EDENDERRY – This button tufted beauty is upholstered in a magnificent mossy green velvet and is a stunner for any lounge area or photo shoot!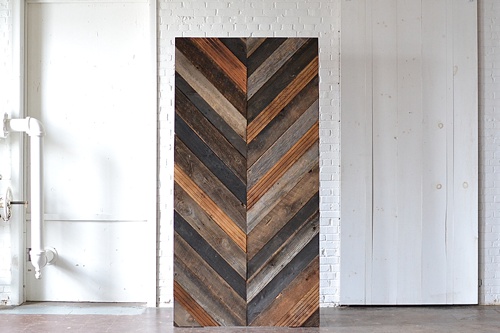 CHEVRON WODDEN BACKDROP – These custom built wooden backdrops are rustic with a modern twist! Boasting gorgeous grain and a cool chevron pattern, these freestanding pieces are perfect for ceremony backdrops, product shoots, trade shows or photo booths!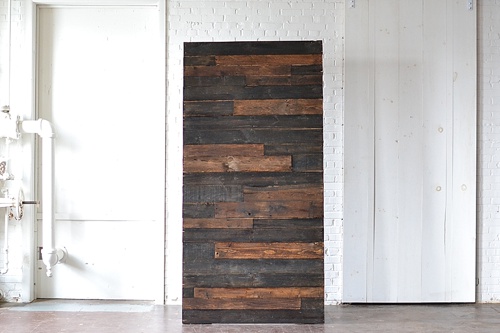 STAINED WOODEN BACKDROP – Another version of our wooden backdrops with a more traditional pattern that makes this freestanding piece even more versatile!  Scroll down below to see the unique combinations you can create using both of these wooden backdrops!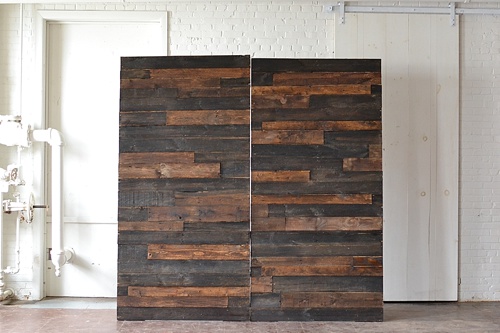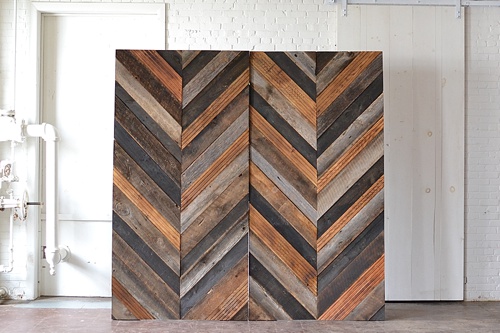 These backdrops can also come with wooden shelving!  It's a fun and functional way to create a bold dessert or favor display!  Can we say donut wall? 🙂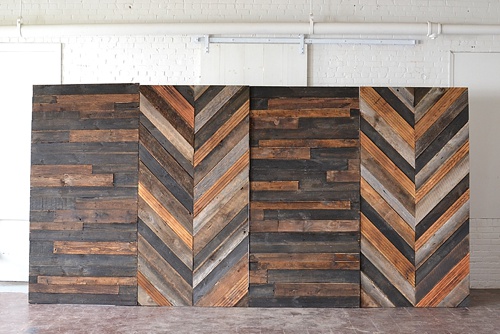 16′ WOODEN BACKDROP – Put them all together and what do ya got?  This custom built free standing wall that works wonderfully for any event!  We love how the patterns play off of one another.!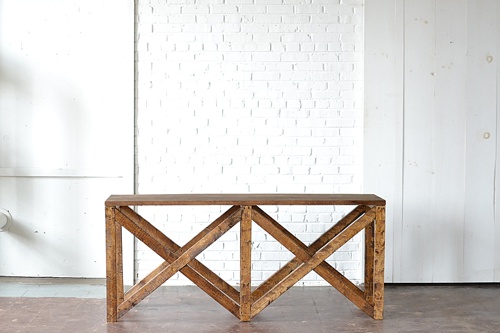 WOODEN CONSOLE TABLE- Another piece designed and built by our awesome P&J peeps! This long and narrow table with its stunning lines, works wonderfully for guest favors, catering, guest sign-in station, ceremony altar etc.  This table is so sleek and simple it can really work in any event setting for almost any purpose!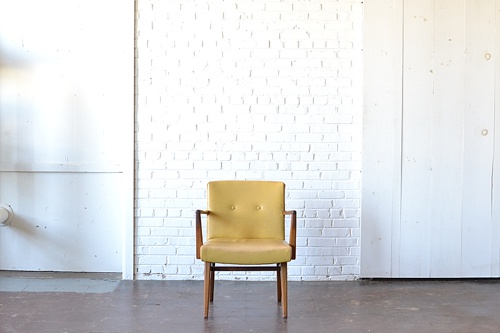 THE WARLOCK –This sleek and square mid-century modern piece is as fabulous as it is fun!  Great for photo shoots or lounge areas!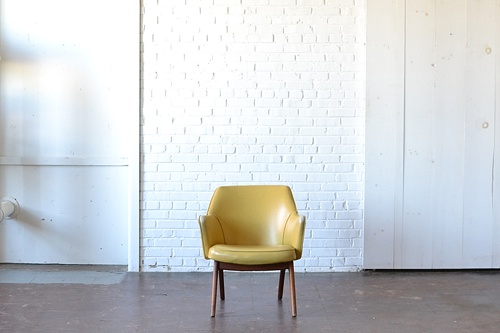 THE OXNARD – Another mid-century modern stunner upholstered in a warm yellow leather with sleek wooden legs.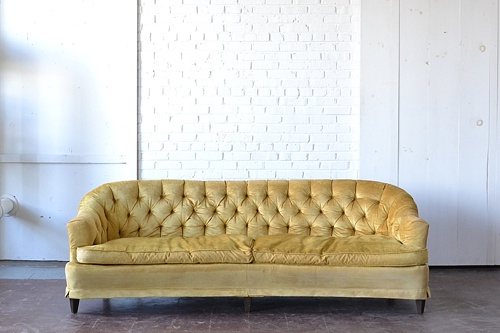 THE DELTA-   Bring on all the button-tufted beauties! This sofa, upholstered in its original yellow velvet, definitely gives off some sweet and sunny vibes! She'd be a perfect piece for a Spring, Summer or Fall wedding lounge!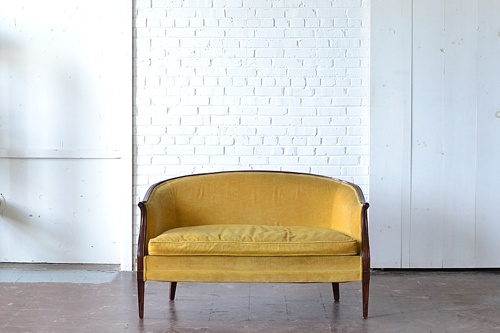 THE RUPERT – This regal settee is so classic and charming!  With a deep gold fabric and dark wood details, this piece is a beautiful addition to any lounge area.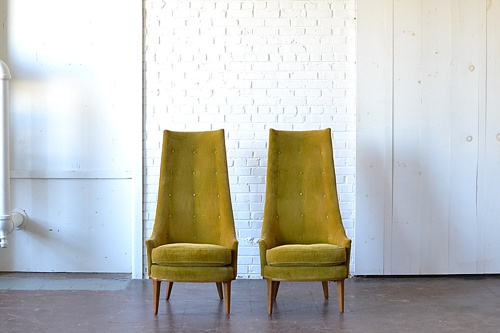 THE WICKLOWS – These fun and funky modern chairs have quickly become a favorite here at #highpointandmoore. This pair boasts a wonderful and different shape perfect for sweetheart seating or lounge areas! We also love the unique shade of green.  So fun!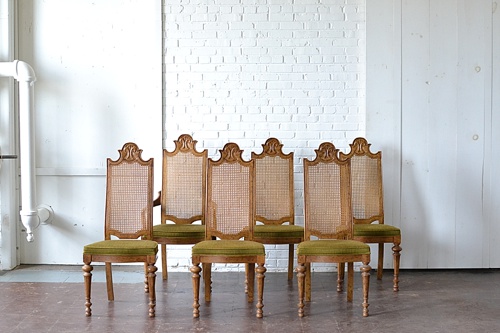 HERRINGBONE DINING CHAIRS – These six chairs will make all of your boho-ho chic dining dreams come true! We're in love with this set especially since it still features all of its original details!  From the carved legs and toppers to the caned backs and herringbone patterned upholstery, these chairs are oozing with character.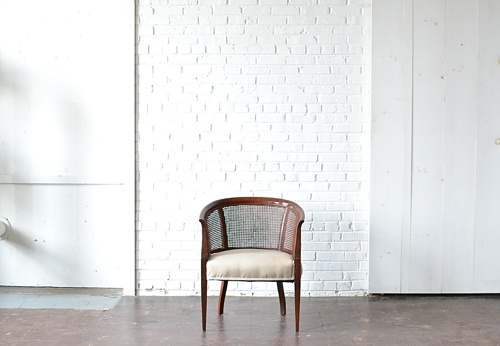 PATERSON BARREL CHAIR – This classic little number boasts a great shape, gorgeous dark stained wood and a caned barrel-shaped back.  Pairs perfectly with any of the items in our "Patterson" collection!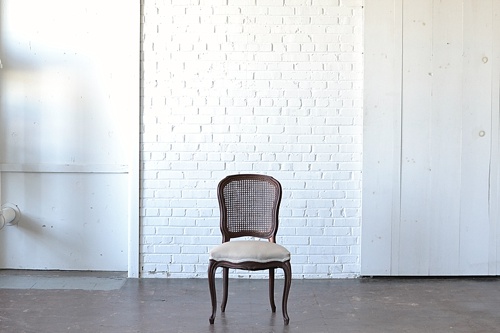 PATERSON SIDE CHAIR – Another addition to the Patterson family, this traditional and beautifully crafted chair is an easy and functional addition to any design.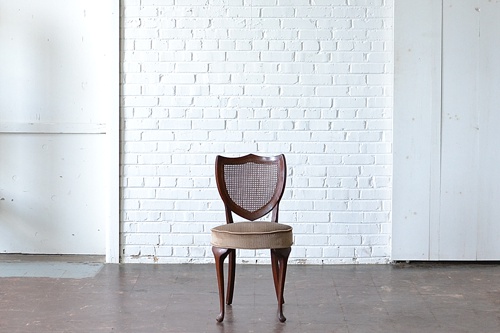 CANED SHIELD BACK CHAIR – This great little wooden and upholstered chair has such a regal and unique shape!  We adore the caning and the shield shaped back!  Perfect for lounges or photo shoots!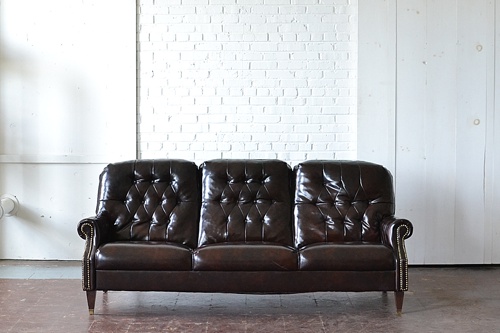 THE WILDER – This three seater sofa is upholstered in a dark synthetic leather that has a beautiful sheen to it! Adds a classic masculine touch to any lounge area, photo shoot or film prop.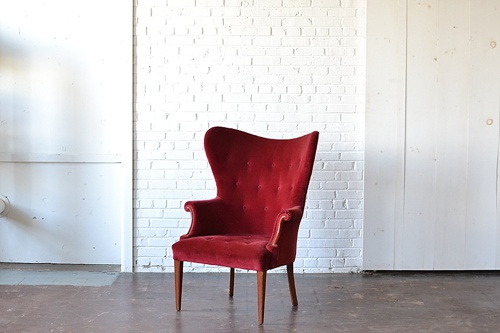 THE CONCORD – Romantic and red!  This tall wingback chair is upholstered in a wonderful and rich fabric with lovely wooden detail on the arms. Perfect for portraits and works well in any style lounge area!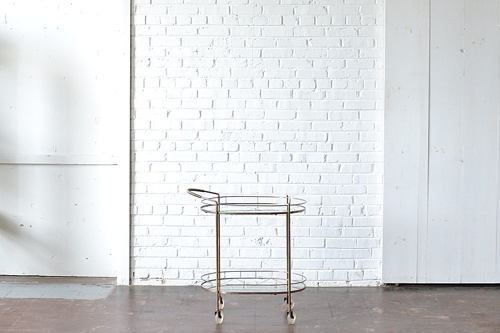 BRASS & GLASS BAR CART – One of our favorite finds! This beautiful brass and glass bar cart is such a fun piece that offers a touch of glam!  With working wheels and pretty brass detailing on the glass trays, it's perfect for any party, shower or photo shoot!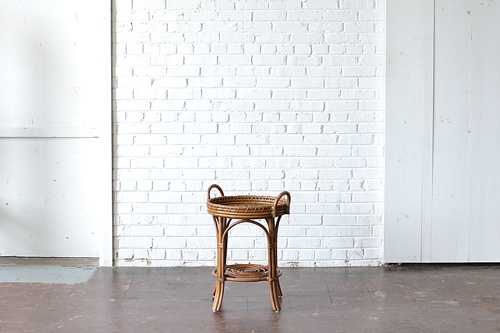 RATTAN SIDE TABLE – Another boho-chic beauty!  This unique rattan table is a perfect addition to any kind of party lounge.  The top can also be used as a removable tray so it's literally made for entertaining!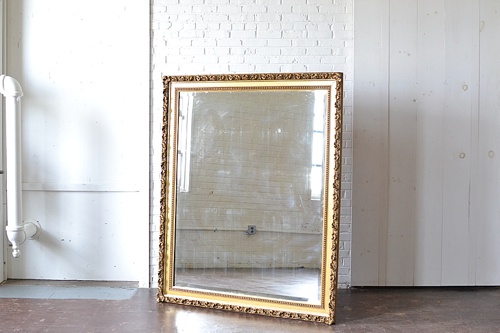 OVERSIZED GILDED MIRROR –  This oversized and ornate mirror is a stunner! A wonderful piece for hand lettered signage or guest seating charts! Definitely a statement maker.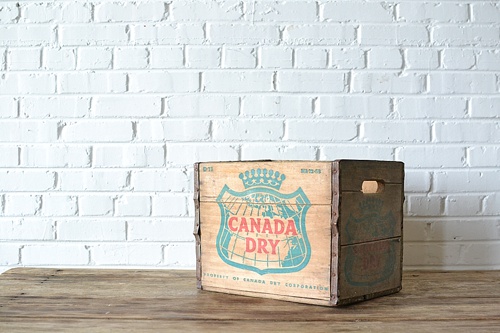 WOODEN CRATE #8 – How cool is this vintage wooden crate with the original advertising artwork from "Canada Dry" ginger ale. Great prop for catering or product shoots!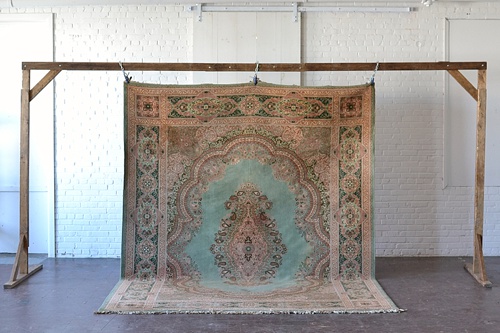 ALCOTT – We are in love with this large area rug!  She's simply gorgeous! With beautiful mint, peach, cream and copper tones this beauty will stun in any setting!
We're so excited to see how you style all these new finds at your next event!  Happy renting friends 🙂
Paisley & Jade specializes in vintage and eclectic rentals and custom fabrications for events, weddings, photo shoots, photo booths and other visual displays.  We maintain an inventory of gorgeous, unique furniture and decor pieces that you can use to create one-of-a-kind event spaces.  To learn how Paisley & Jade can help enhance your next  special event, please contact us today!