Categories: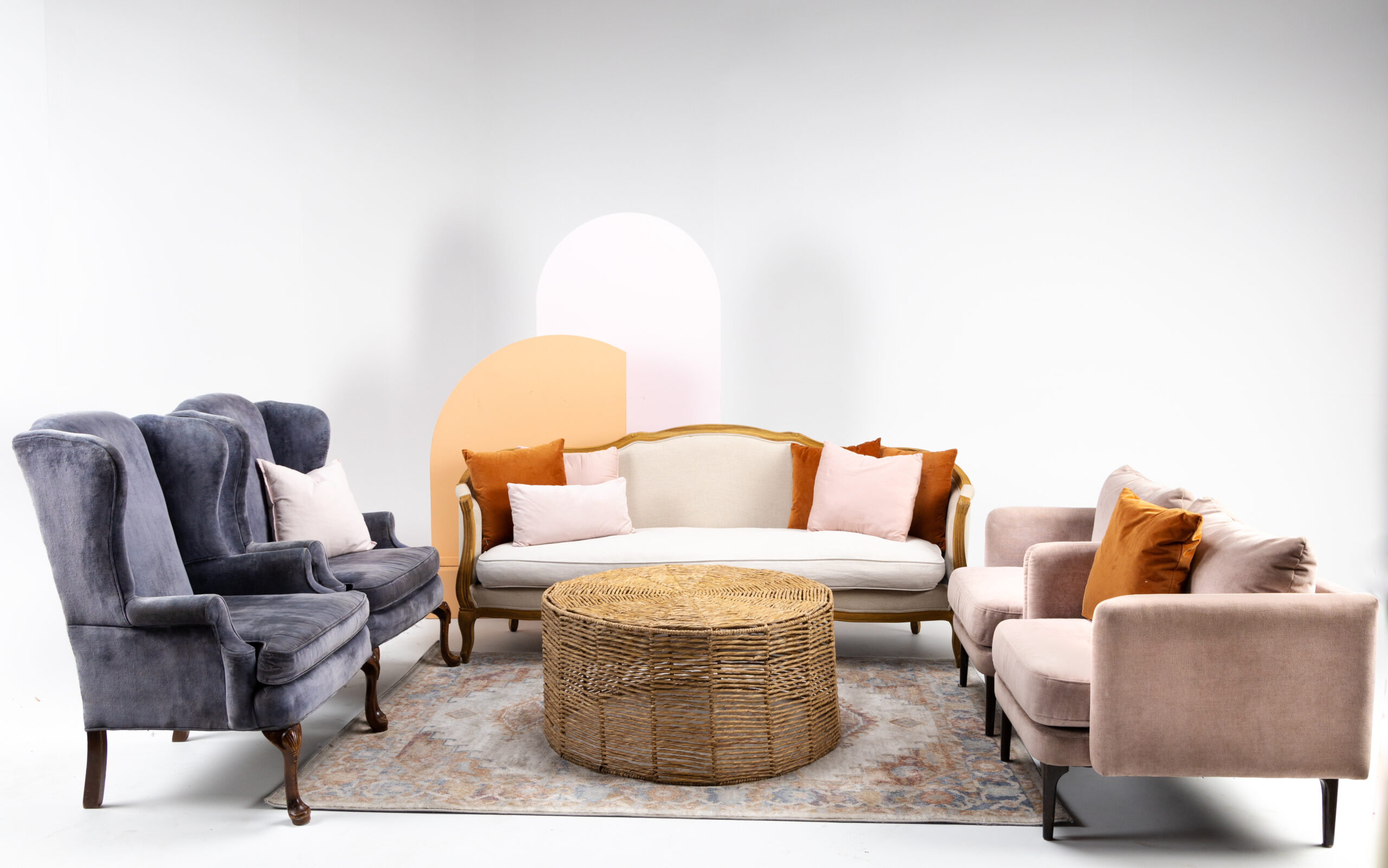 Hi friends!  Jamie, P&J's Director of Operations here!!  Jumping in on the blog today to share with you some amazing inspiration from my recent time at Engage!22 Dove Mountain! I can't wait to take you behind the attire inspiration boards from my time in Arizona and how I would use our #pandjpretties to bring the attire inspiration boards to life on the East Coast! But first, a little background info! For those of you that don't know, Engage! is a luxury wedding and event business summit bringing thought leaders together at the world's top locations. 365 luxury event professionals gathered together at the Ritz Carlton Dove Mountain this past December to connect, collaborate & inspire!
One of the major inspirations for the attire came from the natural surroundings of Arizona, of course! I mean, take a look at this magnificent view! What other kind of inspiration do you need?!
Attire inspiration boards were sent out to all attendees which I appreciated, because I am one who LOVES a good theme! Now time to show off some of the inspiration, starting with the opening session! This session was focused on "Desert Pastels".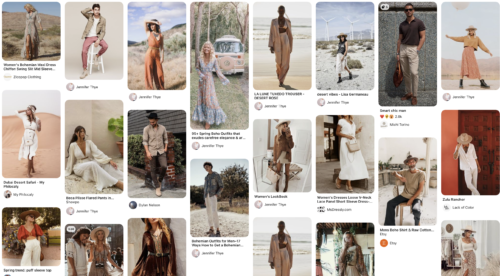 This neutral palate was right up my alley! In true P&J fashion, it was only natural (pun intended!) that this board inspired a cozy lounge setting!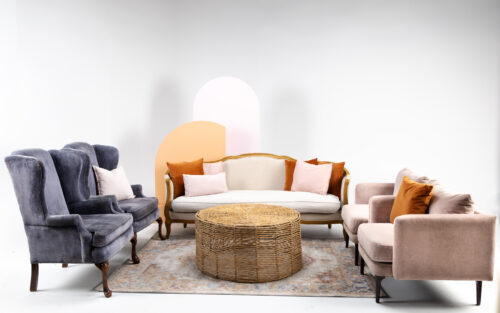 The Linden Curved Back Sofa created the perfect center piece for this lounge. Paired with the Holden Chairs and Hailey Chairs, I used the soft pink & blue hues as accent colors which are tied together perfectly with our Jewell Rug. You can't have a desert themed lounge without at least 1 rattan piece! I love how the Round Seagrass Coffee Table softens this look. The Short Rounded Terracotta Panel and Tall Rounded Pink Panel were the finishing touch! The panels add another layer of depth to the lounge! Don't be fooled though, no lounge is truly complete without pillows! (And you all know how much we love pillows at P&J!) I threw in our favorite Blush & Terracotta Pillows to compliment the lounge!
Later that evening, attendees headed to the welcome party which was a "Cowboy Chic" vibe!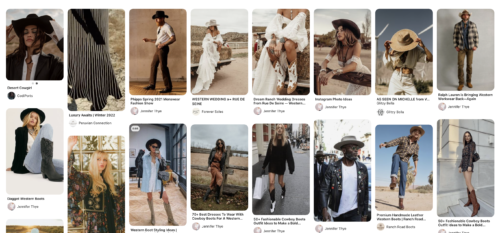 Grab your boots & buckles because it is party time! What better set up for a party than a fun statement bar?!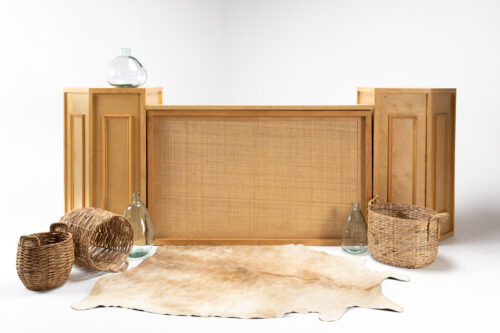 Our new Light Wood Shadowbox Bar with Rattan Insert is the perfect inspiration for this Cowboy Chic vibe! I love how you can elevate a simple shadowbox bar by adding 2 Light Wood Estate Corners! You have a statement bar in seconds! It wouldn't be a complete western vibe without our Cowhide Rug, Turquoise Vessels & Baskets! Here's hoping 2023 is going to be the year of statement bars & bar accessories! It's one of the places where guests spend the most time during your event, so let's make it memorable!
Day 2 was inspired by the "Colors of the AZ Sunsets", this board was definitely one to have some fun with!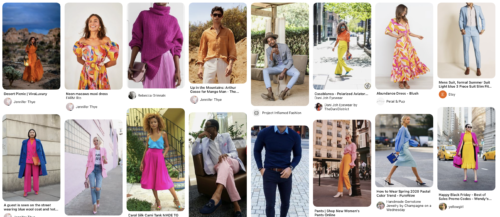 This was one of my favorite boards to play around with! I'm sure you all know what is coming…thats right, another lounge! This time, I went bold & bright!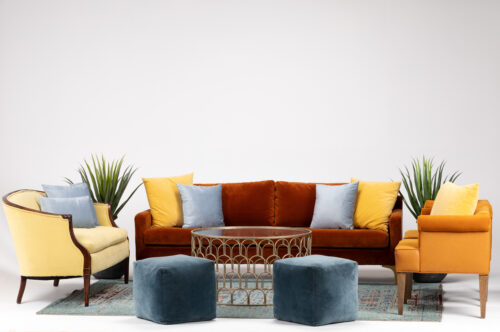 Inspired by the golden hour during the Arizona sunset, the Rexburg was a stunning piece to be the focal point of this lounge. The burnt orange color paired perfectly with the orange & yellow hues from the Pair of Barringtons and Rupert. Our Christie Rug ties in the other colors of the sunset by adding in the blue hues. What better center piece than our Gold & Glass Round Scalloped Coffee Table. It even looks like the sun! It wouldn't be an Arizona sunset if I didn't bring in some kind of greenery! Our Faux Potted Aloe Plants add that Arizona desert feel to the lounge! Completed with the Square Blue Poufs and Canary Yellow and Dusty Blue Pillows, this is a lounge that gives off sunset vibes for sure!
Next up we have the Dine Around Dinner & Stargazer Dessert Party which was inspired by a "Sky Full of Stars"!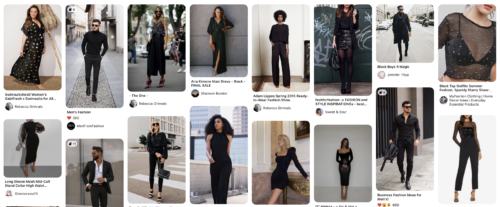 I love to get creative with our installations, so this was the perfect time to add a little sparkle! Cue the lights!!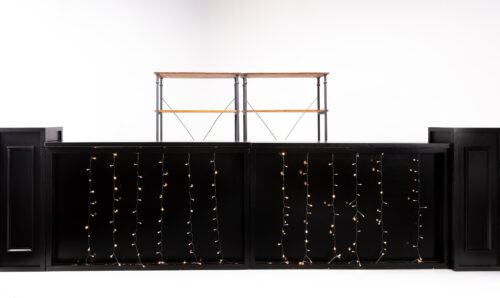 I love the look of a double bar! Our Black Shadowbox Bars are the perfect match for this starry night look! Paired with our Black Estate Columns on both ends, you can even add another column in the middle if you want to make a bolder statement bar! I couldn't complete this look without adding some twinkle lights! The possibilities are endless with our Shadowbox Bars! Did you know that you can opt to rent our bars with an open front so you can create your own bar magic?! The Wooden & Metal Industrial Shelving are always a great back bar option. Your bartenders work hard during your event, so let's make sure your bar not only looks good, but is also functional so your bartenders can work in style!
On the last day, we ended with the "Gemstone Glam" Gala! Did you know Tuscan, AZ is home to the biggest gemstone show?!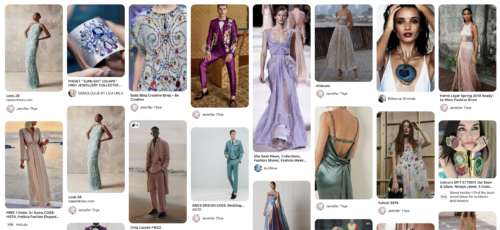 The state's gemstones include pink quartz, amethyst, opal, and garnet. Arizona's official gemstone is turquoise, duh! A theme this grand deserves a special set up! One that requires some customization, my favorite!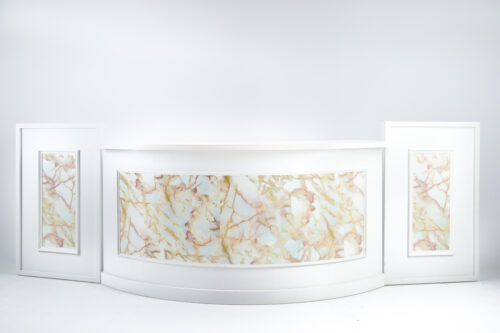 This bar takes the quartz! Our White Estate Bar paired along with 2 Oval Connector Columns creates a bar that will be sure to grab your guests attention! Even better, did you know that you can add removable wallpaper to make this bar completely unique to your event?! This pink quartz wallpaper was the perfect addition for the gemstone glam look! How could I not use it?!
#Teampandj definitely has our creative juices flowing over here! Who is ready for a year full of bold colors, statement bars & customization for events?! Let's get planning!