Categories: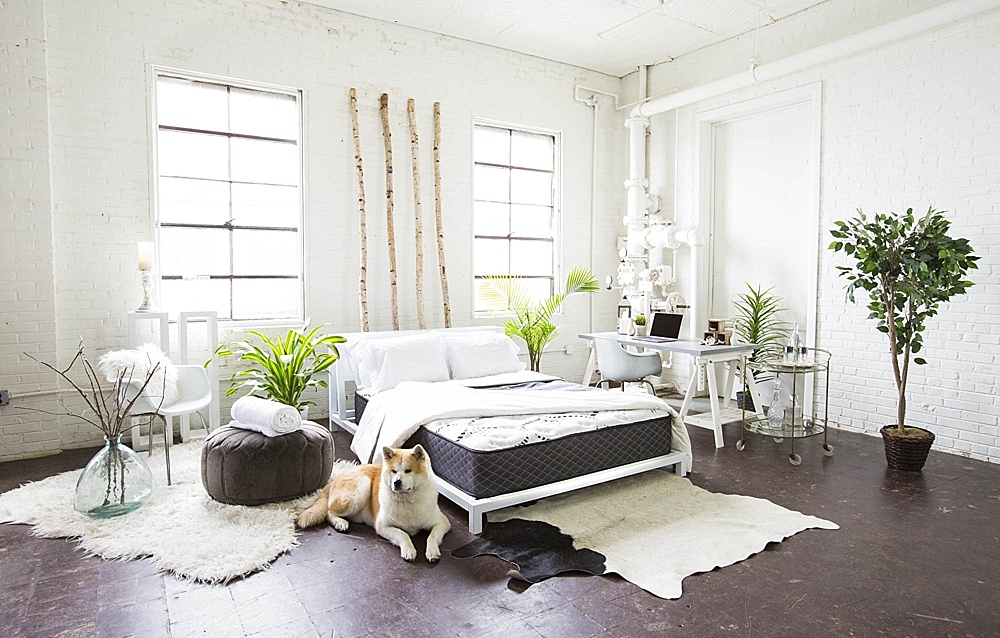 Every now and then we have a product shoot in our showroom and we wish the client would leave behind all of their awesome goodies.  Well this recent shoot with LUFT Beds and our friend and former neighbor Adam Mead, was precisely one of those times!  Between the comfortable mattresses and the adorable dog model, we almost invited this crew to just go ahead and stay at #highpointandmoore forever. But alas our new Shiba Inu friend Haus already had a home and the folks at LUFT were busy launching their new brand and product for their company right here in RVA!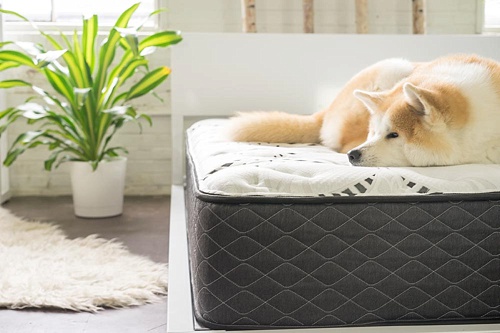 We adored the sets created by Land of Yogg for this modern shoot and know you'll enjoy scrolling through the stylish images below captured by Land of Adam!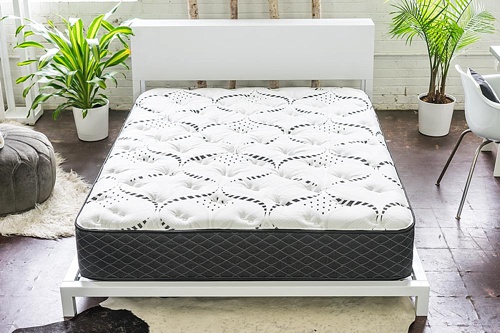 This simple and bright bedroom set up included a few stylish #pandjpretties like our Chowchillas, White Sheepskin Rug and Black & White Cowhide Rug.  These unique pieces really helped to tie in some simple colors and soft textures around the bed area.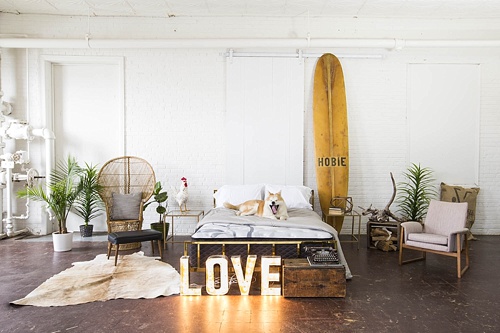 This California inspired set-up still has us swooning!  Can't you just envision yourself lounging in a loft space in Venice Beach snuggling with this pup?  This is what our boho-chic bedroom dreams are made of!  Our vintage Hobie Surfboard (which can be also used as a bar) truly shines in this design.  Some of our other favorite #pandjpretties used to create this look include the Tan Cowhide Rug, LOVE Marquee Letters, Wicker Peacock Chair, Midcentury Leather Ottoman, Gold & Glass End Tables, Wooden Prism, Large Driftwood, the midcentury Fernley chair and of course Henry The Chicken!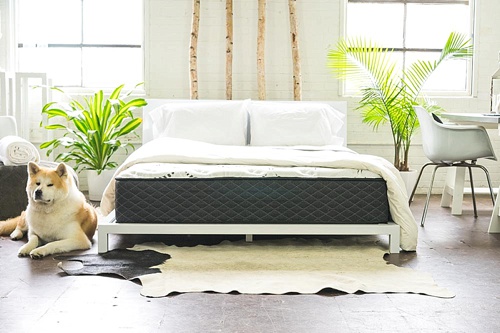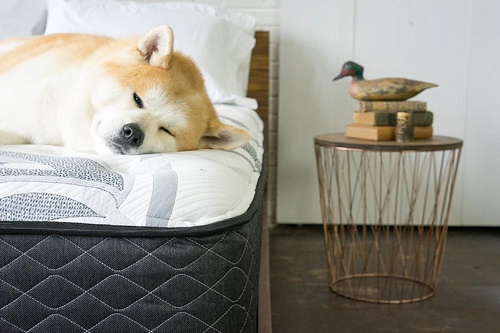 Sweet dreaming on a comfy LUFT Beds mattress accompanied by our Copper & Wood End Table topped with a trio of Vintage Books, a Moroccan Votive Holder and our lovely little Wooden Duck.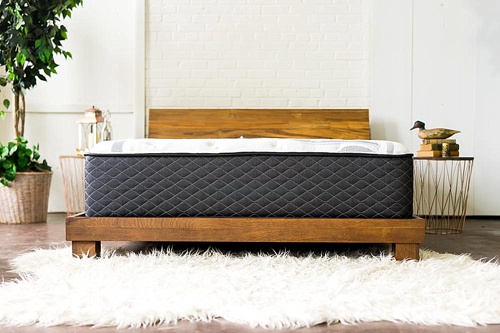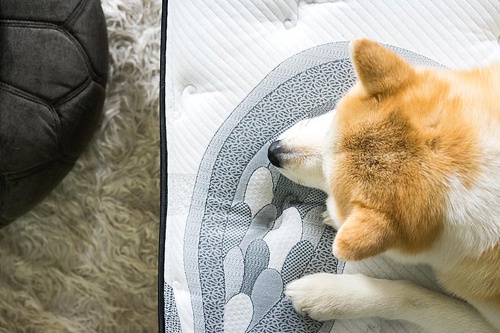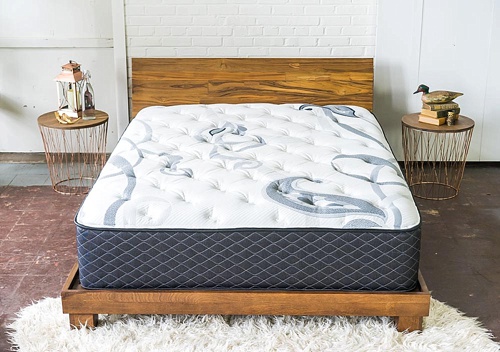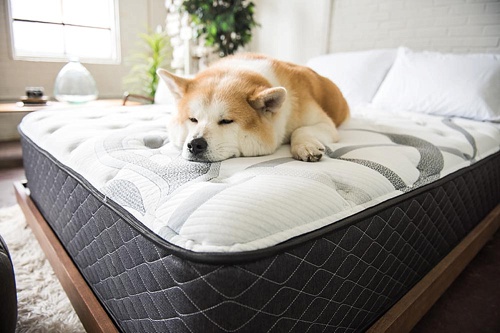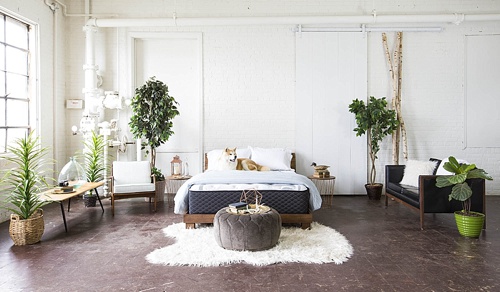 This look gives us all the casual yet chic & modern feels!  It incorporates even more #pandjpretties including the sharp Rochester sofa, Faux Potted Plants, Faux Ficus Trees, Midcentury Coffee Table and sleek Arnold chair.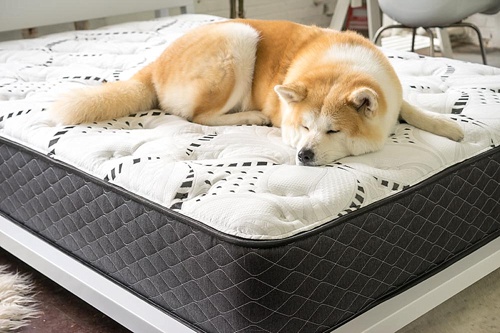 We loved having this creative crew in our showroom space and can't wait to see what's next for this local company!
IMAGES – Land of Adam 
DESIGN – Land of Yogg
PRODUCT – LUFT Beds
Paisley & Jade is a vintage & specialty rental company based in Richmond, VA and serving Virginia, North Carolina and Washington, DC.  We maintain an inventory of gorgeous & unique furniture and decor pieces that you can use to create one-of-a-kind event spaces, weddings, photo shoots, and trade show displays.  To learn how Paisley & Jade can help enhance your next  visual display or special event, please contact us today!