Categories:
It seems like using social media for a small business is always a love-hate relationship – on one hand, social media is this amazing platform to share work, connect with clients, and cheer on vendor friends.  But on the other hand, it seems like yet another item on the never ending list of "things to do"!  Between curating content, finding the right words to express your brand, and just plain remembering to be consistently present across all platforms – it gets overwhelming REALLY quick.  So today, we're sharing three things that transformed our social media approach, making it easier (and more enjoyable!) to regularly participate in some our favorite platforms like Facebook, Pinterest, & Instagram.
Creating a content flow:
One of our biggest frustrations was regularly having content to share & post at the ready.  While we always have plenty of professional photos from our amazing photography #friendors (and tons of #pandjbehindthescenes content), we were commonly feeling like we had writer's block for social media – nothing made us feel less like posting on these platforms than feeling like we NEEDED to post something ASAP.  Cue: the content flow!  Since we use our blog as the portal to our site, wouldn't it make the most sense that we would encourage our followers on social media to visit us there as well?!  Also, since we post three times per week, our blog is a treasure trove of content – a big solution to feeling like we have "nothing" to share.  So now, when a blog goes live, we immediately integrate that content into social media – scheduling Facebook posts, prepping Instagram photos, and pinning images from the post to Pinterest – giving us a ton of social media ready content!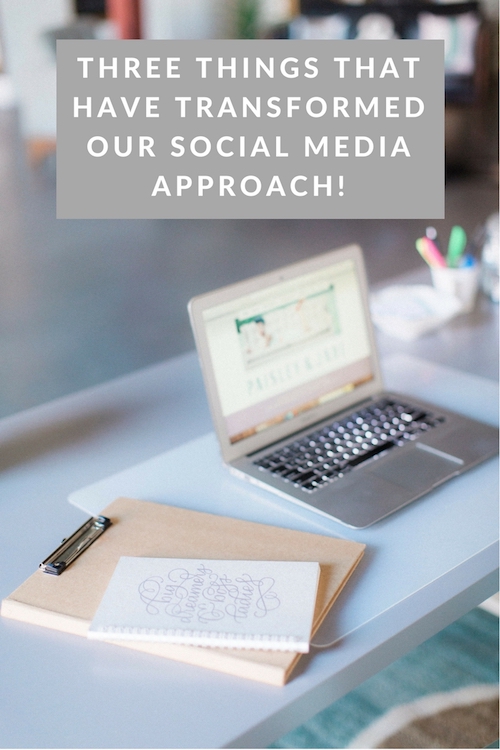 Processes & SOPs:
It might sound overly simple, but one of the best things we've done for our social media strategies is simply written down what our plan is!  This can be especially helpful if you are on a team of people responsible for posting, or are just the type of person that gets distracted easily.  If you were a graphic designer working on marketing collateral for a business, you would work within their style guidelines – font, colors, logo elements, and beyond.  Same thing goes for representing your brand on social media – you want to be consistent with your voice, types of content, how you format your text and so on!  The best way to do this is to come up with an SOP (Standard Operating Procedure) for the different platforms.  An SOP can be as simple or as complicated as you like – one page detailing what emojis you use and what kind of content is acceptable, or a multi page document outlining goals for that specific platform, explaining several different types of posts, and screenshots of sample content.  Below is a peek at a couple of pages from our Facebook SOP, which has been a game-changer for us in terms of making sure we are consistently working toward our social media goals!!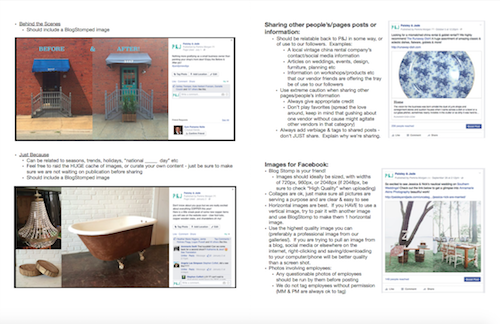 Block Scheduling:
Social media is a constant distraction – it seems like every time you put your phone down, another notification is popping up, and you just can't help but check on it!  It would be SO simple to spend most of our day scrolling through feeds, pinning pretty things and leaving comment love for all our favorite accounts, but there is WAY more to do than sit on our phones!  Enter: block scheduling for social media.  The concept of block scheduling is simply setting aside a certain amount of time on certain days to accomplish certain tasks, and has made us so much more efficient with our social media marketing.  You can really apply this to anything: setting aside 2 hours every Tuesday morning to schedule Facebook posts for the week, or dedicating 30 minutes at 4p on Mondays and Wednesdays for pinning.
For us, an example of this looks like the following:
At the end of every work day, Mandy (our Studio Coordinator), spends 15-30 minutes reviewing our instagram account with the goal of interacting with others.  She'll check out photos we've been tagged in, photos that have used the Paisley & Jade location tag, hashtags we use regularly, and hop onto some of our favorite hashtags and accounts to see what our #friendors are up to!  Bonus tip: if you're casually browsing insta at other times during the day or over the weekend, but aren't in a position to intentionally comment and interact, use the new "bookmark" feature to mark off things you want to make sure you come back to during your dedicated "interaction" time.  This is also a great place to quickly mark posts where you are mentioned in the comments but not tagged in the photo (since those can fall off your notification screen quickly).  By scheduling this time, we know that we are staying on top of a major marketing tool for us, but in a way that is productive and not distracting!
These three steps have absolutely changed our social media approach, and we hope they'll help you too!!  Let us know in the comments – what else have you done that's made a difference in your social media strategy?
Interested in more behind the scenes business content from P&J?  Check out our online shop, where we have a FREE resource, Hashtags for Event Professionals, available for download.  We also offer vintage & specialty rental coaching for companies like us that are looking to grow!
Paisley & Jade is a vintage & specialty rental company based in Richmond, VA and serving Virginia, North Carolina and Washington, DC.  We maintain an inventory of gorgeous & unique furniture and decor pieces that you can use to create one-of-a-kind event spaces, weddings, photo shoots, and trade show displays.  To learn how Paisley & Jade can help enhance your next  visual display or special event, please contact us today!